Ezidi girls pursue their passion for music in displacement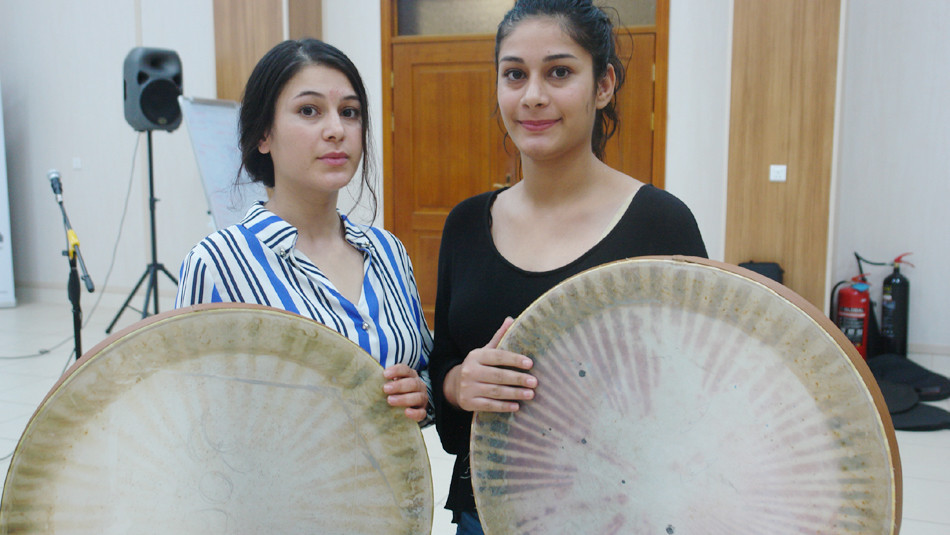 A group of displaced Ezidi girls and members of the host community in Duhok have established a band of tambourine players called (Chil Kazi), through which they aim to serve the culture and preserve the musical heritage.
The band was established three years ago with the help and supervision of experienced musicians who volunteered to train the members of the band.
Samira, a student at Duhok's Technical Institute and her sister, Wahida –both housed in Sharya IDP camp- have joined the band. "My dream is to become a famous tambourine player. The training I receive in this and has helped me get closer to achieving this dream," said Samira.
"I am ready for rehearsals whenever the trainer asks me to. The rehearsal days are very special and exciting for me," she added.
Meanwhile, Her sister, Wahida, said, "Playing the tambourine gives me great joy; I will never give up on this passion. Playing the tambourine has helped us alleviate the pains we have been through. We have been here in this camp for 5 years."
At first, sixty girls joined the Chil Kazi band, but now their number dropped to only. The band has a special trainer and they attend rehearsals several days in the week.
The band has brought together displaced Ezidi girls and others from Duhok.