Mosul Gift: Muhammad's project to earn a living after graduation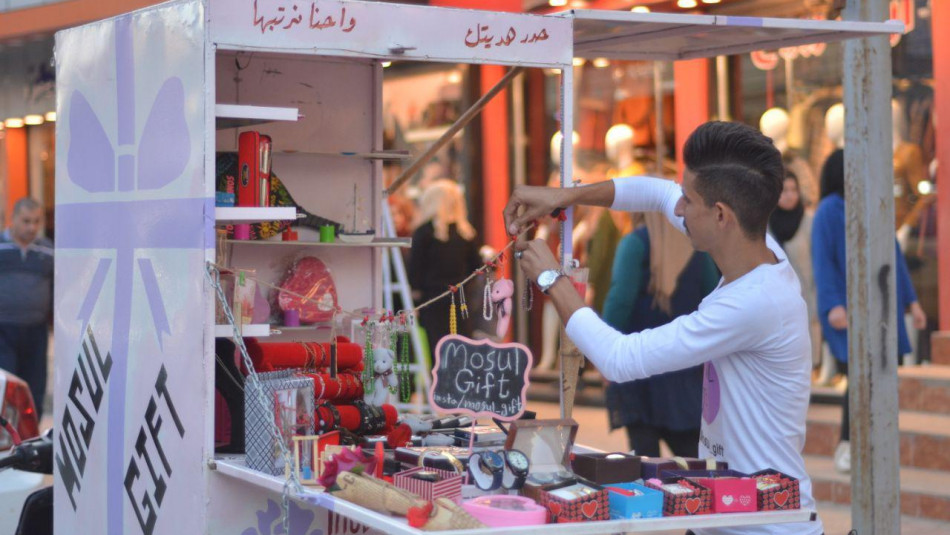 "Mosul Gift" is the name Muhammad Abdul-Hamid chose for his small project, which is a stall attached to a motorcycle, he uses for selling gifts, particularly on special occasions.
The project became Muhammad's source of income after he failed to get a government job after 16 years of study.
Muhammad Abdul-Hamid born in Mosul in 1997 and graduated from Mosul Technical institute in 2018. Like thousands of other graduates, Muhammad couldn't get a government job, yet he refused to sit at home and decided to tuck up his sleeves and start from nothing towards a better future.
"Mosul Gift is the name I chose for my project to support my city and prove that Mosul youth have the will and determination to overcome the difficulties and become successful despite the tough circumstances they are going through," Muhammad told KirkukNow.
"I started the gift stall with the support of my family and friends and all those who stood by me at the beginning, as it was hard for me to get over embarrassment."
Muhammad says he chose this sort of business so that he could go to places where it is hard to open shops, for example, in front of the enterance of the Mosul University campus.
Muhammad believes that what he can get from this small project is quite enough to support his family and meet some of his daily needs.
Muhammad urges young graduates to rely on their own potential campabilities and not wait for the government to find them jobs.