Ghanim Hanna: Carpenter for 70 years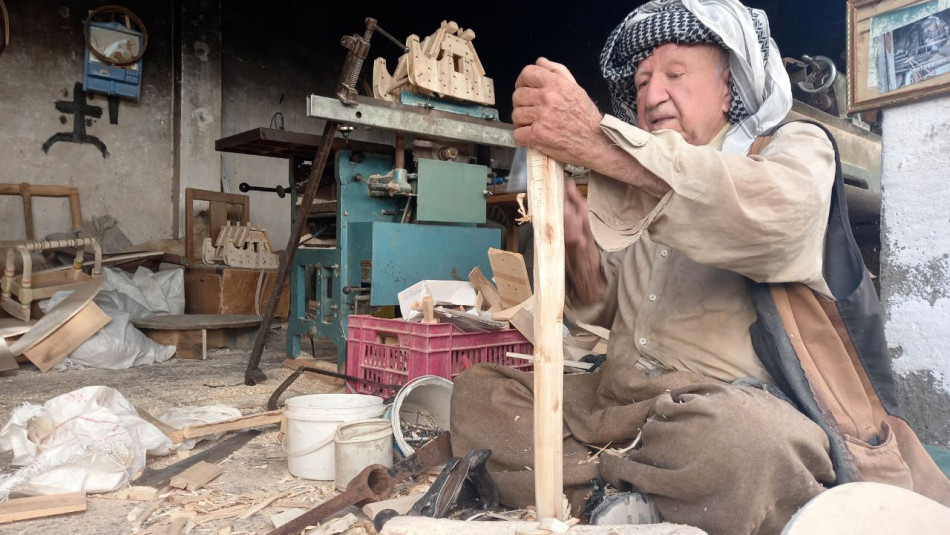 I am working as a carpenter since I was 10-years-old only. Now I have such passion for it that even I don't open my workshop for one day, I feel distressed.  
MY name is Ghanim Hanna and I am 80-years-old. People call me Ghanim al-Najar, the carpenter in Arabic. I am Christian from al-Qush of Nineveh plains.
I used to make Tambur, a musical instrument, bed for babies, handles for plough, tale of axe and pickaxe, pastry table and rolling pin and several other tools.
Due to family issues, I quit school when I was in class five.
There were about 13 carpenters in al-Qush and now I am the only one making hand made tools because I am in love with my profession and can't quit.
Customers of classic tools have diminished thus I am not making enough money yet thank God my sons support me.
I have one daughter and three sons. One of them lives in the USA and two others have a carpentry factor in Duhok.
My customers are not the Christians only. Some of them are Muslims, others are Ezidis and all know and come to me. I am not capable to work like in the past but still people are satisfied with my products.