Rounak believes in Yoga as relief for IDPs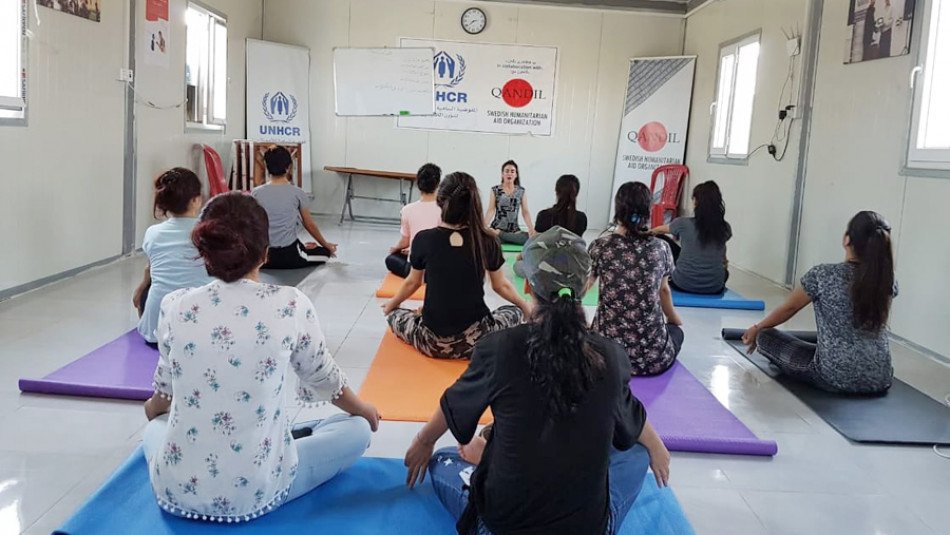 Rounak Suleman, 24, practices Yoga with Ezidi women and girls in an IDP camp. KirkukNow
 Whenever I go to any camp for the Internally Displaced Persons IDP camp, women and girls immediately ask me for a yoga course and I am delighted since it's beneficial for all.
My name is Rounak Suleman, 24. I am originally from the settlement of Dihola of Sinuny sub-district of Shingal district. I am living since seven years in the IDP camp of Chamishko as Daesh took over Shingal in 2014.
When we were displaced, I have not quit my education and got a diploma in 2018. Early 2019, I took couple of courses in India about psychology, English language and Yoga.
I got a certificate in Yoga training following a three-month course.
In March 2019, I proposed a Yoga class for Ezidi women to Qandil, an NGO, whom approved it and started the first course in May.
I proposed the same plan to several NGOs and all welcomed it. Hundreds of IDP Ezidi women and girls took the classes.
In the beginning some participants had no idea about Yoga but later they became familiar.
Yoga has many benefits in particular to those whom suffer from trauma and psychological disturbance.