Bride and groom open shop for orphans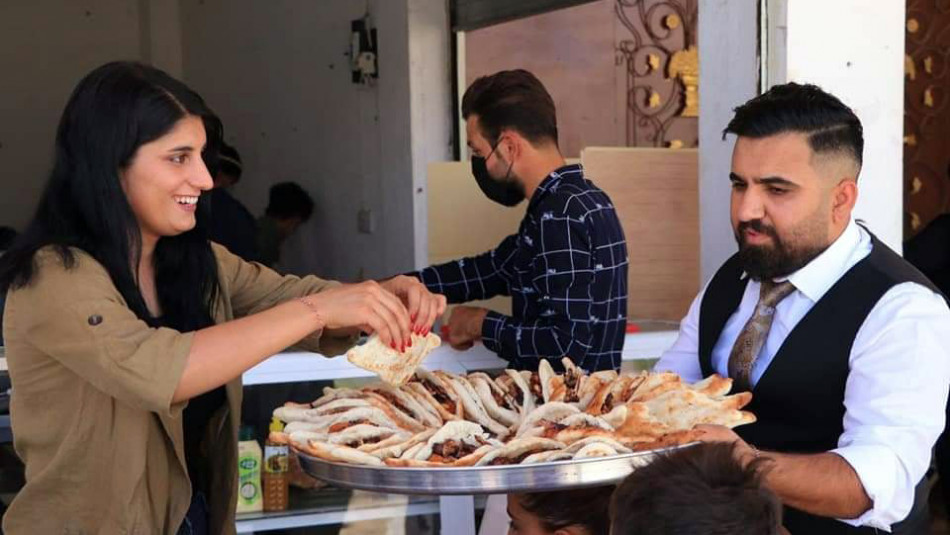 The couple alike all other couples were dreaming of a nice engagement party, a crowded wedding, and a luxurious honey moon, have opened a small sandwich shop for two young jobless locals of Shingal so that they also use the profits as aid for kids lost their parents in the war-torn region of the Ezidi community.
My name is Nayef Sabri, a civic activist in Shingal, engaged with Mona Khero. We both agreed to save the money we have allocated to spend for gold, wedding and honey moon.
Amid the debris and rubbles of the houses and full blocs destructed by the war against Daesh, we have opened a small restaurant called (Dilek Fast Food).
We have also taken our wedding photos there.
Helping children whom lost their parents was more noble for us than holding a wedding and spending the honey moon together.
The small shop has provided a meal for 70 orphan kids in the first day of the opening.
My wife told me that bring smile into the lips of those innocent kids is invaluable for her.
We believe what we have done is a small step compared the big catastrophe and the atrocities our community suffered at the hands of Daesh.