In a volatile and disputed territory, it is not easy to be a journalist so how if you are a woman and receive death threats saying even you body won't be found?
This happened to me and my cameraman in Khanaqin. We have been so panicked and shocked that so far have not recovered yet.
I am Marwa Kalhouri, 27, correspondent and office manager of Ishraq TV cahnnel in Khanaqin, the first female presenter working continuously for six successive years.
I have joined the media in 2015. My first station was Gali (people of) Kurdistan GK TV, for PUK, in Sulaymaniyah where I was presenting a show in Kalhouri Kurdish dialect.
Later I joined Madniyat (urban life) Radio in Khanaqin as an anchor. I left both media outlets because of the low salary we were receiving once in two months, not even worth mentioning.
In 2018, I have decided to work for Ishraq (Shine) TV and now I am in charge of the TV office in Khanaqin. Ishraq is under the union of Iraqi TV & radios run by the leading Shiite parties, broadcasting most of its shows in Kalhouri with head office in Bagdhad.
Threat of eradication
In May, Marwa and two of her cameramen go to cover a story about drying up, burning and cutting out palm trees in Kahanqin farms. They investigated who is behind this phenomena, and what harm it causes to the farmers.
"On May 27th, we have done all the scheduled interviews about 10 am. The VT was perfect with very good video, photos and headed back to office," Kalhouri said.
"I uploaded some photos and posted a promo for the show saying (our new report about uprooting palm tree farms in Khanaqin with support of some parties and sides). Shortly I found my photos taken from my Facebook account on several pages with dirty words, and merciless defamation. It was all pre-planned."
One of those pages called Dolphins of Diayala posted two personal photos of Kalhouri stating "Wonderful Kalhouri, you could fool Kurdish parties in Khanaqin, all the officers, officials and first of them was the mayor."
A page called Dolphins of Diayala on May 28th, posted two personal photos of Kalhouri stating "The smart presenter Marwa Kalhour, though works each day for a channel yet she could fool the Kurdish parties in Khanaqin, all the officers, officials and first of them was the mayor. Greetings to the daughter of Khanaqin, Ge them down."
Kalhouri said this is humiliation and provoking people against her."I have never fooled any one or party and I professionally did my reporting so why to post my personal photos?"
Kalhouri said she was confused and had no idea what to do as threats were escalating. One of the cameramen received death threat via SMS from a number unveiled to KirkukNow.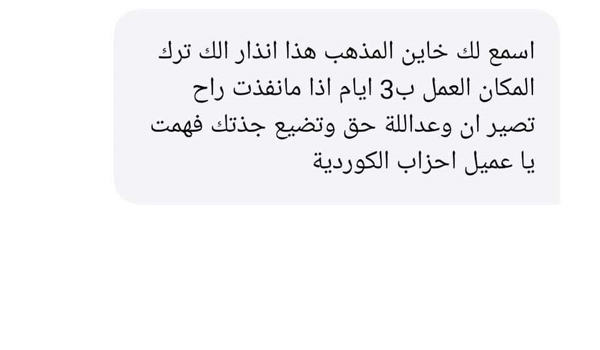 "Listen hey you traitor, this is a warning for you to quit in three days or we will impose rule of God and eliminate your body. Is it clear you spy of the Kurdish parties?" This was the message received in Arabic.
Kalhouri was shivering to death when she saw the SMS. The team were really scared while Kalhouri was thinking how to keep her team safe.
The team decides to reduce its moves and limit their reporting to few safe areas and keep the relatives updated. She has informed the headquarter of Ishraq TV in Baghdad.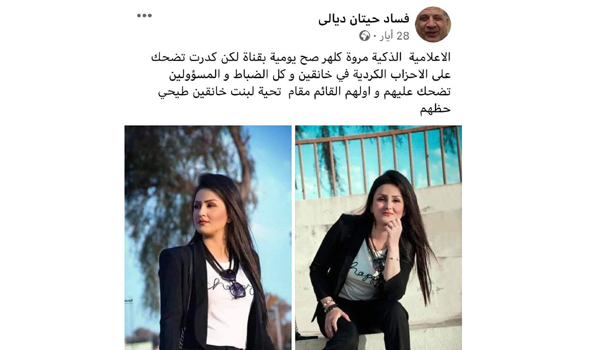 The threat frightened our families as well. They were guarding the team. The head office asked them to limit their moves and resort to law and police. "In every second we were expecting death and the end of our life."
The TV channel offered security staff for protection of its team but it was rejected thinking it leads to worse and negative consequences.
The team decides to file a complaint to police in order to find the source of the threat.
"We told them all we knew, phone number and Facebook pages and we are still waiting for the results of the investigations."
Kalhouri said the case has been reported as a threat against journalists and the latest updates state the court has contacted Asiacell telecommunication about the contact details of the phone number yet no feedback.
Court has contacted Asiacell telecommunication about the contact details of the phone number yet no feedback
The district of Khanaqin, north of Baquba, center of Diyala province, on the border with Iraq, is part of the disputed territories between Baghdad federal government and Erbil- based Kurdistan Regional Government KRG.
It's one of the territories where freedom of press is restricted "and journalists face daily problems and obstacles," Kalhouri added.
"I believe all the pressure aim at intimidation of the journalists and stop them from reporting and monitoring but despite all of that I am still working… It is a special feeling to serve your town and publicize the Kalhouri dialect in the media."
Kalhouri said media is one of her childhood hobbies. "When I was watching female presenters I wished one day to  go on TV. Though my dream has come true now and passionately work, threats and defamation is turning my dream dark."