The barriers are many for journalists as the road toward success is not east since it requires self-confidence and determination in addition to passion for your work in order to climb to the top.
My story in the world of media alike other women journalists has not been silky: humiliation, defamation, abuse, harassment even on air while everybody is watching you. They harass you in order to break you and stop you.
Besides, some spread mean rumors and others make fake accounts on social media. These are a handful of a series of obstacles omen in the media face.
I am Nergiz Qadir, working in the media over a decade. I started in a radio station as morning program presenter. Later I joined Kirkuk Sat TV as editor, producer and anchor as well.
Ahead of that, I worked as a reporter for several websites and papers as well.
The moment you want to convey voice of women of your community and take a place in the media institutions, you have to be ready to face violations. The vital point is how to overcome it and pass. You have to be determined since if you quit, they win.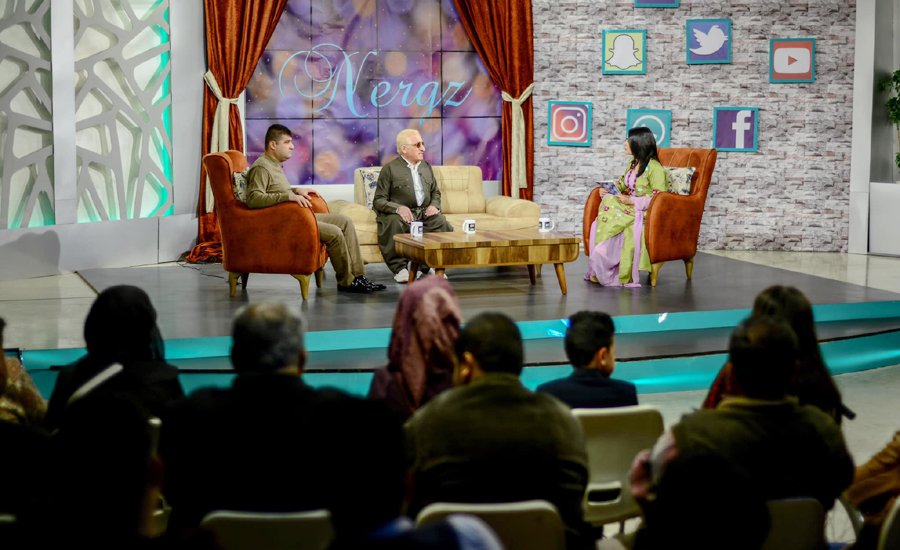 In October 2018, I was presenting Good Morning show for Kirkuk Sat TV and receiving phone calls about the problems people face in their daily life. Someone called and introduced himself as Khalid, from Koya district of Sulaymaniyah province.
He said he was a Peshmerga of PUK. He started reproaching me and used improper words that even shy to mention it here.
I told him your words are reflection of your education and culture which never touches me or my show. You are insulting yourself only. That video was edited and circulated in the social media with different captions against me generating hundreds of negative comments.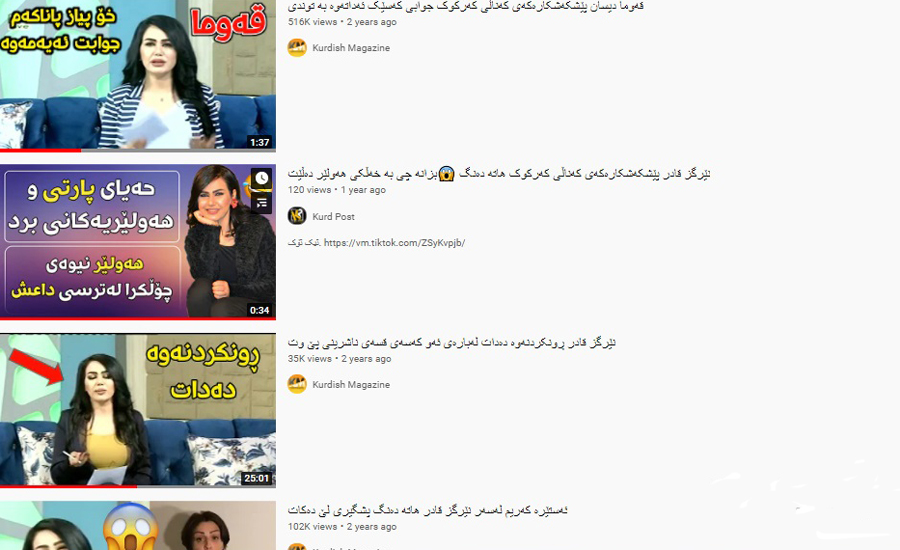 I have confronted sexual harassment tens of times in my air shows. They attack you and threaten you for no reason. Sometimes supporters of the competing political parties turn the talk shows into political feud then attack me and I pay for it at the end.
None of these were simple to overcome because they do not stop by insulting and hurting me and they attack my family as well.
The videos of the talk shows later were edited and promoted on social media in order to intrigue more insults against me.
For example, in another show I said the Peshmerga (Kurdish fighters) of the Patriotic Union of Kurdistan PUK have played role in protection of Erbil from Daesh attacks but unfortunately the video was reposted saying I have insulted the Kurdistan Democratic Party KDP and the people of Erbil while I myself have grown up in Erbil and have never had any bad intentions.
KirkukNow has watched over seven videos on YouTube insulting Qadir but all were improper of circulation for the improper words used in the caption and comments.
Some other people sent videos and voice messages threatening, insulting and abusing me. They post strange things about me to intimidate me but I made my decision that there is no retreat.
I do live in a city of ethnic, sectarian and political conflicts so working for media in Kirkuk as a woman is harder than other cities of Kurdistan region. Besides, following the liberation of the city in 2003, the city has never been stable making it harder for women since the approach of the public for seeing women on screens is different, another challenge for women.
I am not a pessimist person; however, the path is not floral for women in the media, still women are given good chances in the media institutions. In return, women themselves should be smart enough to survive the attempts that want to employ women as dolls.
Years of working in the media taught me that sexual harassment, exploitation of women for other purposes, humiliation, gender-based barriers, are frequent challenges which reduced presence of women in the media.  
Women themselves have to learn how to pass these barriers. The medicine is self-confidence, persistence, keeping your voice loud and passion for media.
I will never forget the support my family, friends and media outlets offered me. It is vital to have your family behind you when they don't care about the waves of defamation and rumors aiming at ousting women from the sector of media and a blow at the gut of women rights.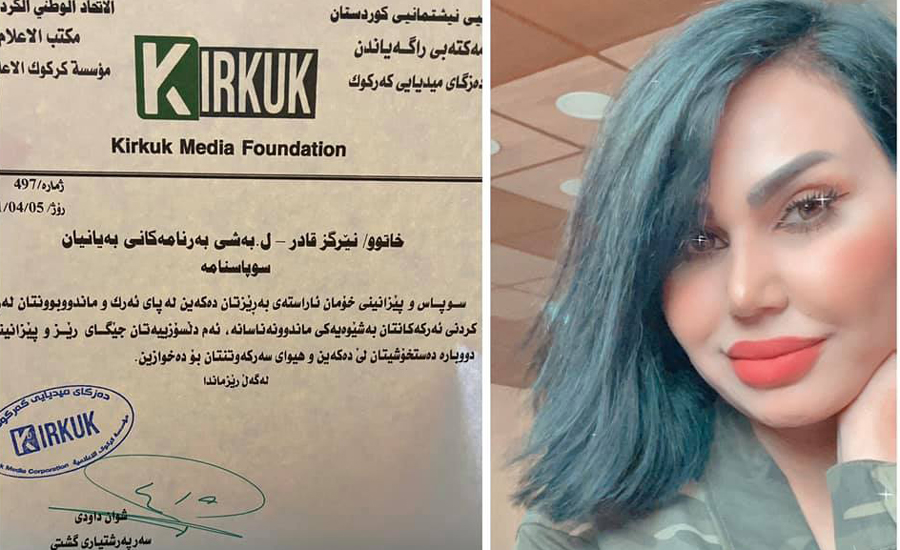 My message for female journalists and activists is firstly you should depend on yourself and trust their skills and never give up then they will be acknowledged everywhere however tough is the process.
The caller Khalid was really impolite and aggressive but I managed to control myself because that's what he wants. I have controlled my feelings and facial expressions since at the end you have to act professionally.
I asked the control staff to terminate the phone call and receive another, just simply.
 Lady presenters have to remember all that time that any calls on air and reproaches you, he aims at breaking you and your show and throw you away out of the screen.
The next day I was more warmly receiving phone calls and insisted on going on in my profession. Now I am in charge of all the shows of my TV channel. I have got a degree from the university and work for NGOs as well.
All photos from personal account of Nergiz Qadir in Facebook.