Two Kurdish channels in Iraqi Kurdistan await court to take a just verdict in their lawsuits filed against Mukhtar, guide of a district, of an Erbil neighborhood attacked their reporters while covering demonstrations by the locals against absence of drinking water in the peak of baking summer.
On August 11th 2021, the Mukhtar of Badawa neighborhood in Erbil attacked the crew of Speda TV for Kurdistan Islamic Union Yakgrtw and Nalia Radio and Television NRT, funded by Shaswar Abdulwahid, leader of New Generation party (Naway Nwe) stopped their live coverage, insulted them and broke their equipment.
Akar Faris, reporter of Speda TV and his cameraman Abdullah Mahmood, Choman Mohammed, Erbil correspondent of NRT and the cameraman Said Ahmed made it to Badawa 10 am. The protestors shut the 100 m circle street in Erbil.
Speda TV has launched liv coverage and was interviewing people.
"I was interviewing 3-4 people in the live coverage complaining of lack of drinking water. Suddenly some one popped up and said he is the Mukhtar. He said those people lie and he provided them water by himself," Akar Faris said.
Niaz Osman, the Mukhtar appointed by ministry of interior to register a data for all residents of a neighborhood, asks an old man to approve his claims yet the old man said they have no water and the Mukhtar is lying.
VT shows the Mukhtar talking to Speda TV on August 11th, 2021. SPeda TV
The Mukhtar gets frustrated, attacks the reporter. "He was not by himself. Two others in civil uniform attacked us. They were pushing us and threatened to break our cameras. They kicked us and stopped the live coverage, Faris added.
"They had no guns but they were kicking us yet no injuries. We stopped coverage for our safety and left the place."
We stopped coverage for our safety and left the place
Mohammed said the Mukhtar promised to speak to NRT live coverage at 13.35 Erbil time. "In the live coverage he told us you're are a channel creating problems. Immediately his brother attacked the cameraman so I asked why yet he and his brother attacked me and Sa'id the cameraman by boxing."
The brother of the mukhtar follows them and the Mukhtar takes the microphone and hits the ground and breaks it. "We stopped our coverage under this threat."
He criticized civil activities police who were available yet took no any action.
"We were sent away and stopped coverage then they interfered. I wanted to bring back my Mic and they said they will bring it."
NRT team decided to cover the protests again.
"This time, the Mukhtar urged people to beat us. He put his hand on the lens of the camera. They wanted to attack us yet the protestors stopped them so we left at 14.10 before the protests come to end."
These violations come amid legal protection to journalists enlisted in press law of 2007 as item 1 of article 7 states journalists fulfill their duties independently per law. Article 4 gives the right to journalists to attend conferences and public gatherings and events.
A report by United Nations Assistance Mission to Iraq UNAMI about freedom of expression in Iraqi Kurdistan from March 2020 to last April, published in May, concluded "a democratic society requires a free press and other media able to report on public issues without censorship or restraint. Citizens also have a corresponding right to receive media output."
"Ultimately, the patterns highlighted in the report reflect a trend which risks reversing the positive progress made in recent years towards a democratic Kurdistan Region where freedom of expression and the rule of law are valued.
The report documented at least three incidents where journalists covering protests were arrested at demonstration sites, despite being identifiable as representatives of the media.
On 16 May, eight male journalists from various media outlets were arrested by Kurdistan Regional security forces while covering demonstrations in Duhok against late payment of government salaries.
On 28 June, a journalist covering a protest of street hawkers was arrested Kurdistan Regional security forces in Duhok. UNAMI/OHCHR documented at least eight incidents where security forces prevented television journalists from accessing demonstration sites in order to report on events, thereby violating their rights to both freedom of movement and freedom of expression.
In addition, journalists reported that whenever they were arrested by security forces, their work equipment or memory sticks were confiscated. In some cases, even if the memory stick or equipment was returned, journalists reported that the content had been deleted or corrupted.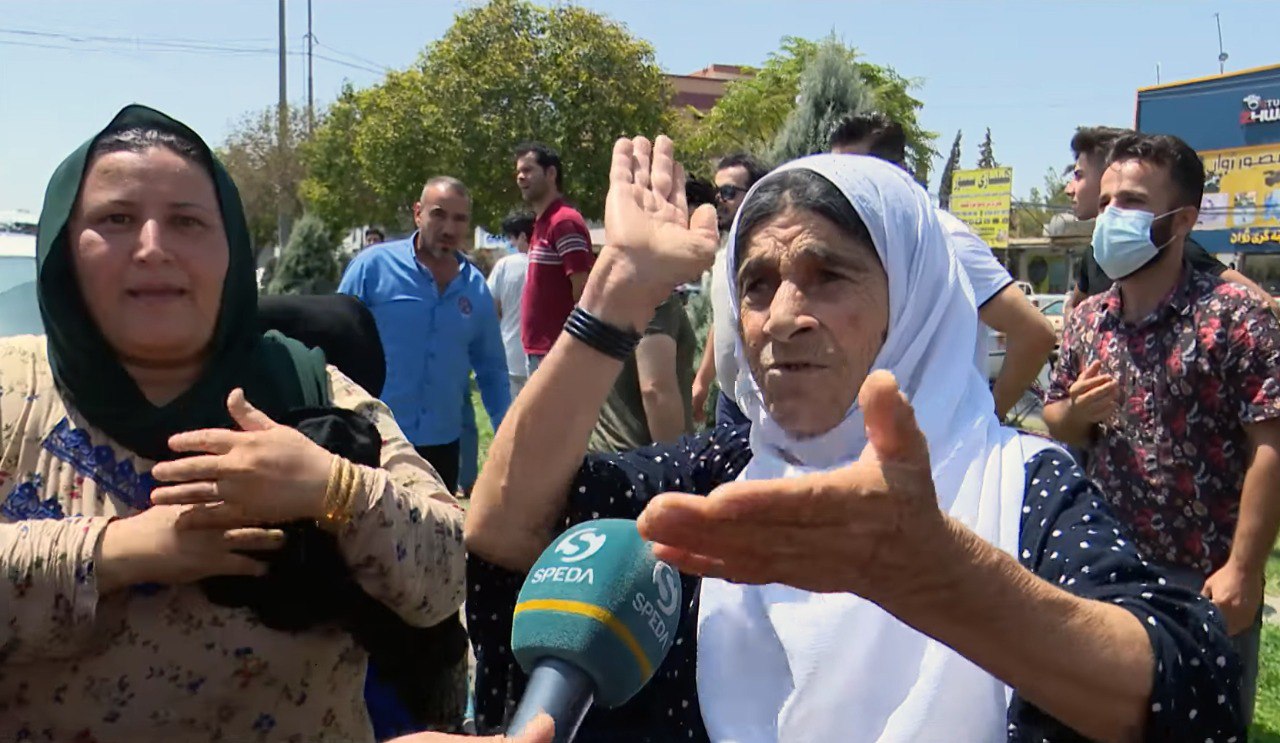 Both Speda TV and NRT look for the court to punish the violators whom attacked their teams. NRT filed a lawsuit to Badawa police station and Speda TV considering a lawsuit.
"It's a threatening precedent as harassment of journalist reached a level coverage of social issues and public utilities by journalists is hampered and harassed while in the past, they were facing difficulties when covering political and security issues," said Abdul-Karim Ahmed, director of Speda TV.
Ahmed said we want to take the rights of our reporter and cameraman by law and put an end to these breaches against TV channels. "We will file lawsuit these days."
Najat Ahmed, head of NRT office in Erbil, said they reported the case to police the same day.
VT: press conference by admins of Speda TV and NRT about the harassment by Badawa Mukhtar against their teams covering the demonstrations
KirkukNow has contacted Erbil police about the claims their patrols were available and have not interfered to protect Speda and NRT journalists yet they declined to speak to the media.
Kurdistan journalists' syndicate on August 12th called on the KRG ministry of interior to take legal procedures against the perpetrators and avoid its repetition.
The syndicate condemned the harassment, "unprecedented form of violence against journalists."
The Mukhtar is appointed by the ministry of interior to record a thorough statistics of the residents of one neighborhood or village secretly and to share it only with security services in case of any doubtful actions or events threating safety and security.
Lawyers call on the public prosecutor to take action against the Mukhtar and put an end to his service.
Goran Dibagayi, lawyer of network of journalists and proxy of NRT, said the case is at court and await first trial session. "There are enough proofs such as videos showing how the Mukhtar in an uncivil way humiliates the journalists that public prosecutor should filed a case the Mukhtar and fired him."
 KirkukNow has been informed the Mukhtar whom declined to talk to the media has been suspended.
Dibagayi in his petition asked to charge the Mukhtar per item 413 of Iraqi penal code about physical abuse.
"Any one on purpose attacks some, beats him or takes illegal action, injure him, to face imprisonment up to one year, and or financial penalty.
UNAMI has called on the KRG at the end of its report to "take immediate steps to end the practice of harassment, intimidation and reprisals against journalists, human rights defenders and activists."