"How you managed to come here? Are you looking for problem? You don't know this area is prohibited? An officer of the Iraqi army in the checkpoint of Dubiz district in Kirkuk province told me.
Following this short conversation, he took my mobile and all other reporting equipment. They detained me for seven hours and later sent me to court where I was out on bail.
The story began when I wanted to cover the dispute over agricultural lands between Kurd and Arab farmers in the sub-district of Sargaran. Each party set a deadline for the other.
I am Soran Abdul-Karim, worked for papers, radio stations, websites and TV stations for the last 13 years. The last job was as a reporter for Zhiyan media network based in Sulaymaniyah.
As a journalist based in Kirkuk, I have faced many challenges and barriers in my carrier.
The last violation against me
I was arrested in the district of Dubiz in the village of Plakana on December 14th 2020. I was trying to cover the discord between the farmers which was about to escalate into direct armed confrontation.
On December 11th, commander of Kirkuk Joint Operations' Command, an umbrella for Iraqi security forces and Shiite paramilitary Popular Mobilization Forces PMF, has met both sides in Palkana but no concrete results on the ground.
Following the meeting, some Kurd farmers told me the Arab gave them a 72-hour notice to evacuate or they will force them to do so.
On December 14th, the deadline, I headed to Palkana with four colleagues. I was planning to cover the issue from both sides but finding our way to the village was not an easy route.
I have passed five checkpoints and made there at 10 am. I talked to the Kurd farmers and launched a live coverage for Zhiyan Network.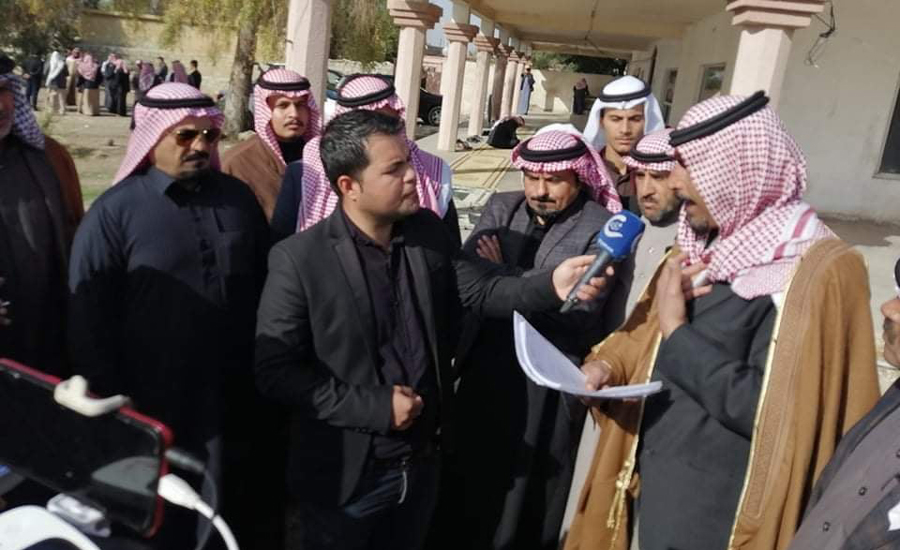 Palakna is one of 42 villages of Sargaran sub-district northwest of Kirkuk. It's home to 25 families looking after 60,000 fertile donums beside oil.
I told the Kurd farmers I will talk to the Arab farmers but they told me the army and Iraqi security forces ISF might arrest you because they have not let anyone in. I had no clue what was the reason behind this procedure.
Arab farmers were in the same village but in order to avoid direct contact with the Kurd farmers, unit eight of the Iraqi army set a temporary checkpoint in between.
I passed two checkpoints till I met the Arab farmers where they took me to the Diwan of Shimmar tribe chieftain. They warmly welcomed us and expressed their views in my live coverage.
Alike the Kurd farmers, they presented some documents as proof for ownership of the farms.
After two hours, I left the region.
More harassment to come
On the way back to Kirkuk, an officer stopped us in the first checkpoint of the Iraqi army close to Palkana. What are you doing here? How you made it here and what for?
I and my other four colleagues told him that we are journalists covering the dispute between the farmers.
The officer turned nervous and angrily said, "Are you here to instigate feud? He shouted several times. "I have to delete all you have recorded. I will be punished because of your interviews."
We rejected his request and insisted that as journalists we have badges and has the right to interview people.
"This is useless. I allow only those authorized by Kirkuk operations."
This is useless. I allow only those authorized by Kirkuk operations.
The officer called his seniors whom instructed him to take our cell phones and reporting equipments. He asked us immediately to switch off our phones without giving us a chance to call our media outlets or families.
They put us in an army truck surrounded by three Hummers for two hours and half. After they took us a bit away from the checkpoint as the deadline was close.
After three hours of detention, an army officer told us the judge has ordered to arrest you per article 240 of Iraqi penal code and will be sent to court.
Per that article, any one violates instructions of a civil servant on duty, will be punished for up to maximum six months in prison.
The officer told us you will be handed over to Sargaran police and will be questioned there.
You will be handed over to Sargaran police and will be questioned there
We were sent to Sargaran sub-district police about sunset time in a truck with tow hummers ahead and two in the back. The officer on duty in the police station interrogated all of us in detail. We asked him to get back our phones and they allowed us to use it only two minutes to talk to our families and newsrooms.
The news of our arrest was circulated in the media rapidly. Some unions and NGOs also sent out statements in our favor. That was a push to accelerate our release. They asked us each to bring five people as patron.
We got back our phones to contact people but it was hard since time was 9 pm. Later they said three patrons each are enough. Some villagers of Plakana showed support and it was done.
They told us you will be freed but the next day you have to present in front of judge in Dubiz district.
Once freed, we decided to head to Erbil in order to avoid the same incident with Kirkuk military checkpoints. The new route was an hour and half longer but safer so we had to take that option.
On December 15th, We travelled from Kirkuk to Dubiz court where the investigation jusdge questioned us in detail. We were detained for six hours and freed us on the condition of presenting a support letter from our media outlets saying we will never be back to that area. We were out on bail each for one million Iraqi Dinars ($630).
The net day we took the support letters which took them hours to approve it. They shut the cases. Following media coverage of our detention, Kirkuk operations' command said we have been to the area unauthorized.
The ISF claim that Palkana is a no man zone while villagers live there and Iraqi army deployed a unit there.
Since then, I have no dared to go back to that region. It was the moment I realized I am not free to cover all around Kirkuk region. I cannot freely cover any area where those troops are based.