A family music band in an IDP camp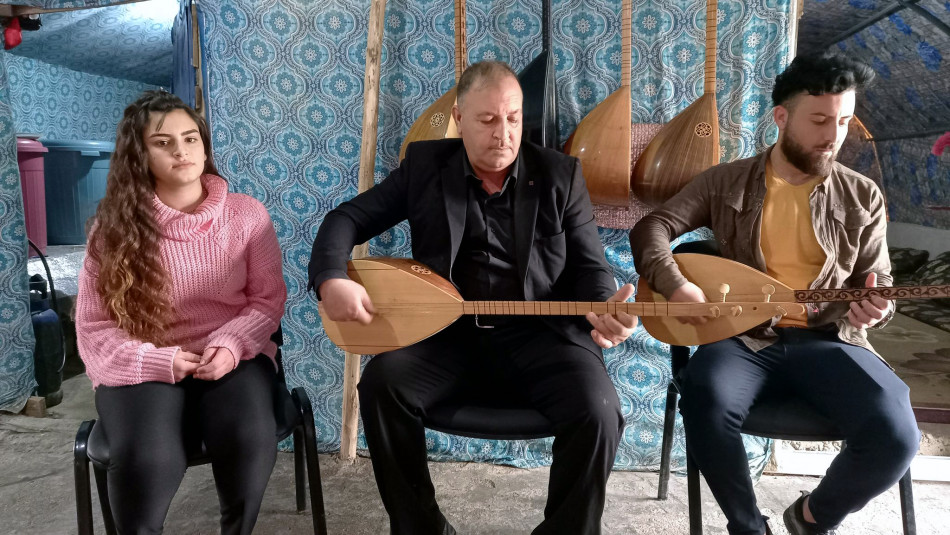 As life is not easy in in camps for displaced people, we spend part of time in training how to learn playing new music instruments. I do write lyrics and compose melodies.
My name is Dawood Qirani, 45, and I am living here in the Kabartw IDP Camp for years after leaving my home town in Siyab Sheikh Khidir in Shingal district of Mosul, following ISIS control over the region in 2014.
Hundred thousands of Eizidis, a monotheist religion whom Islamic militants accuse of being Defectors, fled their home towns toward Shingal Mount and camps of Duhok northern province.  About 6,500 were taken captives out of which only 2,500 have been rescued, mainly children and adolescents. In 2015, Iraqi troops took control of the area. More than 80 mass graves were found where thousands of Ezidis and Shiite Turkmen are buried by extremist Sunni Islamists of ISIS. Iraqi authorities so far has exhumed one fourth of the mass graves up today.  
In 1993, I wrote the first lyric. Most of my lyrics were about love and joy but since them I am resembling our suffering in the dark days under ISIS control.
Camp life gave me a better chance to promote my music. I have taught my girls how to play music and enchant our miseries. Now we are an artist family. With my two daughters and son, we sing and play music. We convert our suffering into art material making use of the spare time we have in camp life.  
Some of the popular singers admired my lyrics and used it for their hits.