Khidir's delicious fava beans source of income and consent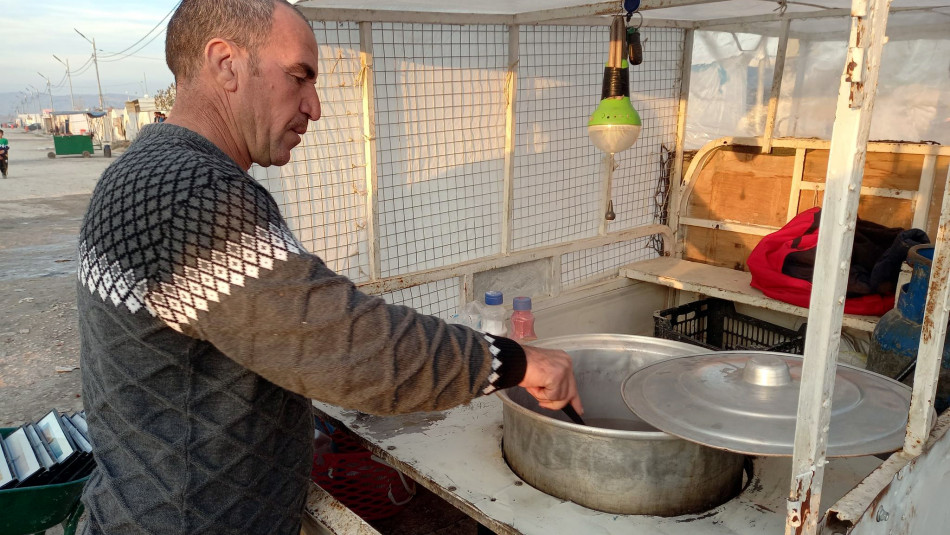 In Kabartw camp, I am well known as the bean seller which is a surname by my sellers who say my fava bean (Foul in Arabic, Paqla in Kurdish) is tasty.
My name is Khidir Elias Habo, 44. I am orginally from Tal Qasab village of Shingal. I was displaced over six years ago due to Daesh to Duhok.
I sell boiled broad beans across all seasons of the year. I usually buy good ones; I pay more to get number one dried brown fava beans.
Every night I soak 5-10 kg of fava beans in water. I boiled it at 7 am in the morning.  I start selling at 9 am in the camp bazaar till 8 pm. I sell all of it all the time and nothing remains because every body likes it as I have good experience in preparing it.
One small dish is for only 250 Iraqi Dinar (about fifteen cents). I make 15,000-20,000 IQD ($10-12) a day for my 8-member family.
I have six children. My eldest son is 13-years old. He helps me in preparing the meals. My wife is sick so I do take care of everything.
My priority is making people satisfied which is very important to me. It is true that I do work for long hours and make small money but the appreciation by my buyers makes me my tiredness easier.