ISIS war turned Abu Omar from technician to potter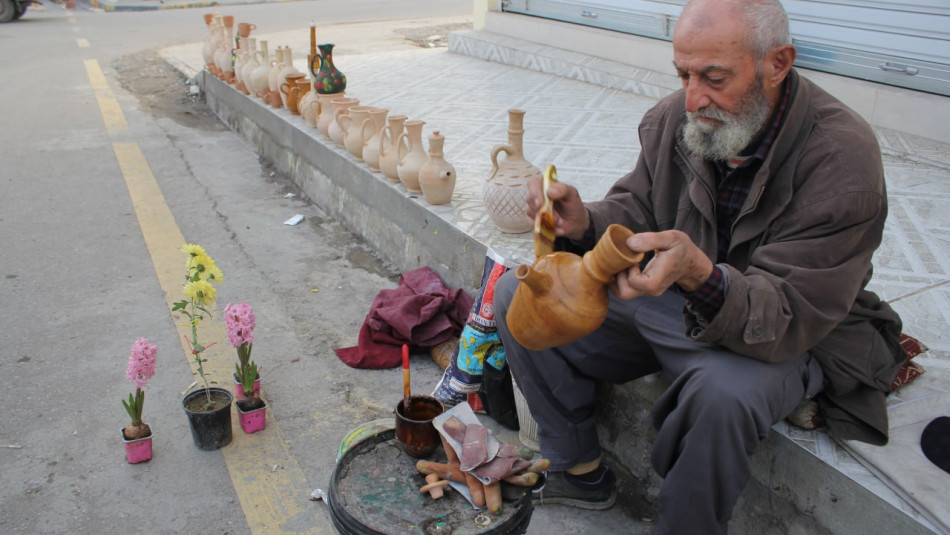 My name is Qasim Yahya Omar, 77, known as Abu Omar. I used to repair old radios and televisions.
My house and shop in the Sha'arini neighborhood of ​​old Mosul were destroyed by bombings of Daesh (ISIS) war.
I was thinking of something to compensate for the loss of my job and make my family's livelihood. My brother suggested to sell the pots he makes on the streets.
My brother has been making pottery for a long time and his profession is known as a potter.
I liked the proposal and became a potter and learned how to develop my profession, especially by painting and making patterns on the pots and dishes. This attracted the attention of buyers.
I sell each piece for three to six thousand dinars (2 to 4 USD).
I will not sell only the piece that is rebuilt in the shape of the minaret of Hadba because it is very important to me.
From this profession I learned how important it is to drink water from pots and pans, because it is clean, alive and useful for the kidneys.