Hussein turns bullet casings into paintings calling for peace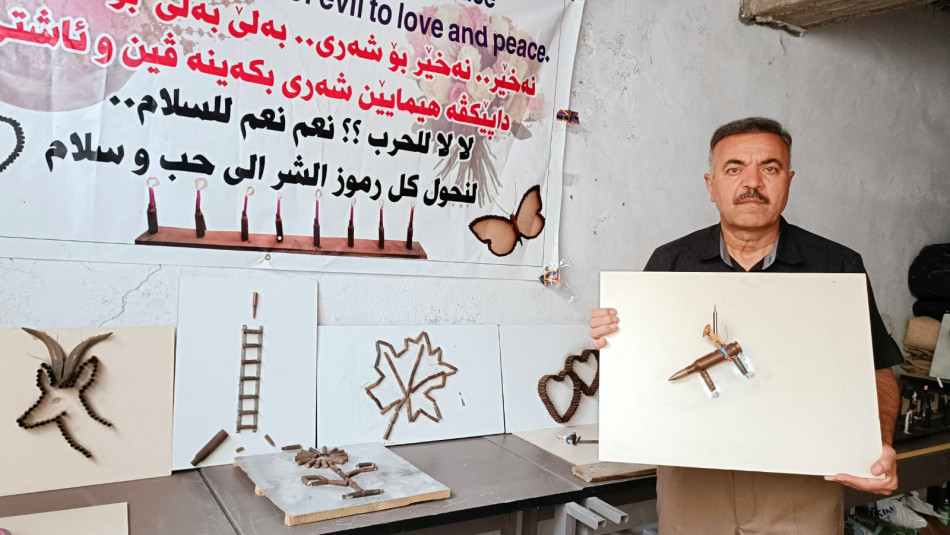 My name is Hussein Haji Osman, they call me "Hussein Baadri." I thought of collecting the empty bullet casings that Daesh (The Islamic State of Iraq and Syria ISIS) militants fired on the Ezidi (Yazidi) citizens and turning them into paintings that embody peace and coexistence.
 Two years ago, I visited with a number of Yazidi survivors from the grip of ISIS, the village of Kocho in Shingal (Sinjar- Ninewa province), where 13 mass graves containing the remains of the slaughtered Ezidi civilians were found, and this idea have come to my mind.
 I have collected more than 2,000 empty bullets for a variety of weapons.
 To date, I have made 25 paintings using bullet casings, which I have turned into pigeons, trees, and a drum machine.
 My only goal from this is to tell the world that we are transforming the symbols of evil with which ISIS killed hundreds in Shingal into paintings that express peace, humanity and coexistence. We do not want war, and we adore peace.
 I exhibited my paintings in the Kurdistan Parliament Building, Ba'adry, Sheikhan and many other places.
 In addition to my work in the field of art, I am also an activist and writer. I have written 12 books, six of which are about the genocide committed against the Ezidis on August 3, 2014, some of which are stories of women and girls survived ISIS captivity.