Saman Naqi, a resident of the multi ethnic city of Kirkuk has turned his house into a place where volunteer teachers run educational training courses for children who come from poor families.
Saman, who is from the Kakayi religious minority, says his aim is providing support to students whose appalling living conditions made them unable to hire private teachers.
Currently, 50 needy students, mostly children of displaced families, are attending the classes which are devoted for 6th and 9th grade studies.
"I have devoted my house for students whose families are illiterate or cannot afford to pay for private tuition", he said. "If I had more volunteer teachers I would receive more than 50 students."
His non-profit project was commended by the Kirkuk directorate of education, yet he says he hasn't been given any logistic support.
Saman Naqi says that the majority of the students are of displaced families, reaffirming that the students are being admitted indiscriminately based on urgency.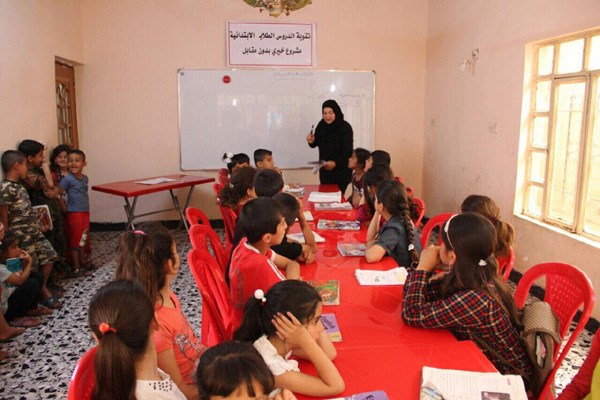 Avin Falah, a ninth grade student is attending math and English classes. "Our family is poor and we live in a rented house. These training courses are of great benefit for us", she told KirkukNow.
Meanwhile, Ali Ibrahim whose family fled Mosul after the Islamic State group swept through their city in 2014 said, "I got much better after participating in these courses. They provide us with all educational materials. I would like to say thank you."
Saman Naqi is very keen to eradicate illiteracy in Kirkuk. He indicated that he plans to open illiteracy eradication courses for men and women, and for this aim he asked for cooperation from relevant organizations.