Mustafa al-Kadhimi, with the support of Shia, Sunni, and Kurds, was designated by the Iraqi President Barham Salih to form the new Iraqi government.
Today, Thursday, April 9, 2020, President Salih in Salam Palace named intelligence chief Mustafa al-Kadhimi as prime minister-designate in the presence of numerous Iraqi politicians.
The presidential decree depends on article 76 of the Iraqi constitution, providing al-Kadhimi with 30 days to propose his cabinet to the Iraqi Council of Representatives to vote on.
According to the Iraqi constitution, the president can designate another candidate in case the previously designated candidate fails at forming the government in the 30 days.
Adnan al- Zurfi, was the second prime minister-designate named by Salih on March 17, today announced his withdrawal for the premiership.
Al- Zurfi in the statement, states that he attempted to rescue Iraq and put the country back on the right path. He failed to do so due to internal and external factors, so for the sake of territorial integrity, he withdrew, according to the statement.
He still had one week to propose his cabinet to parliament, but due to numerous Shia parties' opposition to his designation, he withdrew.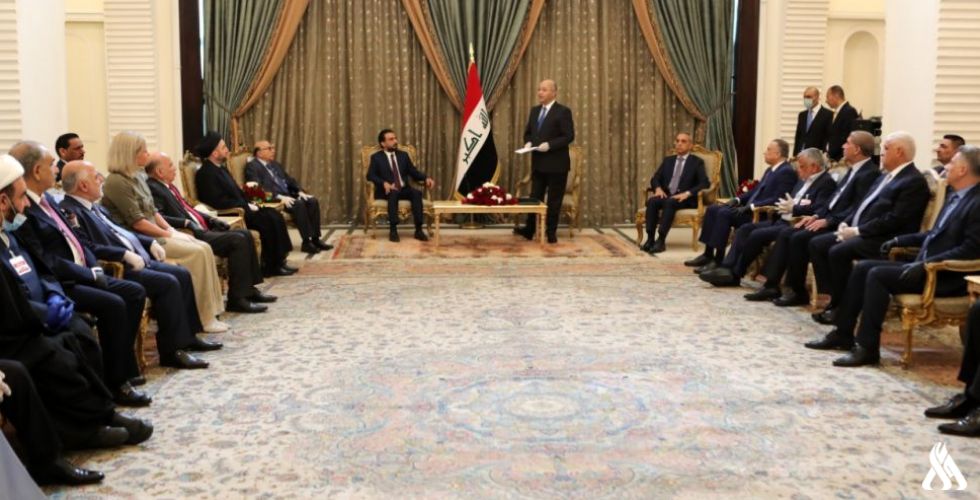 The designation of al-Kadhimi has been supported by the three main ethnic components of Iraq, Shia, Sunni, and Kurds.
Nechirvan Barzani, Iraqi Kurdistan President, in a statement issued on Wednesday, stated that they support the designation of al-Kadhimi for the formation of the Iraqi government and asked the political parties, including the Shia to support him.
Mustafa Abdulatif al-Kadhimi, 53, is a graduate of the college of law and became head of the Iraqi National Intelligence Service (INIS) in 2016. He is married and has two daughters.
Mustafa al-Kadhimi had worked as the editor of the Iraq Pulse for Al-Monitor and a weekly magazine published by Xendan outlet. He also worked in numerous humanitarian organizations.
al-Kadhimi is the third prime minister-designate since February when Mohammed Tawfik Allawi was named to form the government but could not attain parliament confidence.
The outgoing Prime Minister Adil Abdul Mahid resigned in December 2019 due to the social uprisings, and since then the political parties had not been able to nominate a candidate who is accepted by them,
The Iraqi social uprisings started last October due to the rampant corruption and lack of services and job opportunities. Over 600 protestors have been killed, and more than 25 thousand have been injured.