Hussein is giving up on his hobbies: playing football with his friends, painting, and video gaming. He instead works with his father every day to make a living for his family.
COVID-19 has placed the burden of his family's wellbeing on Hussein's shoulders. With the end of the 2019-2020 academic year approaching, Hussein and his family have had to work to compensate for a loss of income over the past three months during which his family was unable to work due to the spread of coronavirus.
"I really liked sports and painting, but we lost everything due to the coronavirus, and there is no place for me to enjoy my pastimes." Hussein told KirkukNow.
We lost everything due to the coronavirus, and there is no place for me to enjoy my pastimes
Hussein, 11, belongs to Shabak minority and is from Nineveh. For more than five years following their displacement, Hussein and his family have lived in the Bardarash district of Duhok where he and his father sell second-hand goods.
"During the curfew, I played video games at home but afterwards, I would come to the bazaar to help my father," he said.
Hussein also likes computer and language courses, "but we do not have money, and I cannot register for the courses."
I cannot register for the courses
According to Iraq's labor law, employment of children under the age of 15 is prohibited and subject to legal penalties.
Since March, the federal and regional governments have enforced a curfew to contain the spread of COVID19. The restrictions had been relaxed, but both governments are again imposing strict measures amid a surge in the coronavirus cases.
"It has been a long time since I've gone to school… I have forgotten most of the what I learned," Hussein said, who is a third-grade student.
I have forgotten most of the what I learned
The Iraqi Ministry of Education closed schools halfway through the 2019-2020 schoolyear due to coronavirus. The closure of schools has had a major impact on students, especially primary school students.
Fatima Hamad, 12, is a sixth-grade student immediately remembered her classmates and the joyful moments she had with them when she heard that Children's Day was approaching. "Now, there is nothing left, just coronavirus. We just hear talk of coronavirus and illness," she said.
Hussein Gharib talks to KirkukNow at the place of his work, 2018. Video: Ammar Aziz
On 1 June, Children's Day is celebrated across Iraq with a variety of activities and carnivals. However, no activities took place this year.
"I don't know what to do at home; We are going crazy. Sometimes, I take out my school textbooks and read them, but I soon lose the energy," She said, adding that the amount of news she has heard about coronavirus frightens her.
I don't know what to do at home; We are going crazy
Shabak children and their families have experienced a life full of adversity. Like other minorities in Nineveh province, they were subjected to violence and persecution by the Islamic State (IS) from 2014 to 2017.
Many Shabak families still live in displacement. 10 percent of the 787 thousand Internally Displaced Persons (IDPs) in the Kurdistan Region are from the Kakai, Turkmen, Shabak, and Armenian communities.
Zainab Hussein, 45, is a Shabak woman and lives in Darawisha village in Nineveh. She told KirkukNow, "I cannot buy daily necessities for my child. He likes to go places, but the curfew and the constant lack of money prevent him from having fun. We are looking for assistance from humanitarian organizations."
I cannot buy daily necessities for my child
Zainab has been displaced and living in Duhok for five years. She has a 12-year-old son and she remarried after losing her first husband.
"My husband is a laborer and we are renting a house without any assistance. That is why it is very difficult to provide clothes and other necessities for my child."
One concern Zainab, her children, and other Shabak families share is protecting themselves from the novel coronavirus. To do that, they must purchase supplies at the local pharmacies, which some of them cannot afford.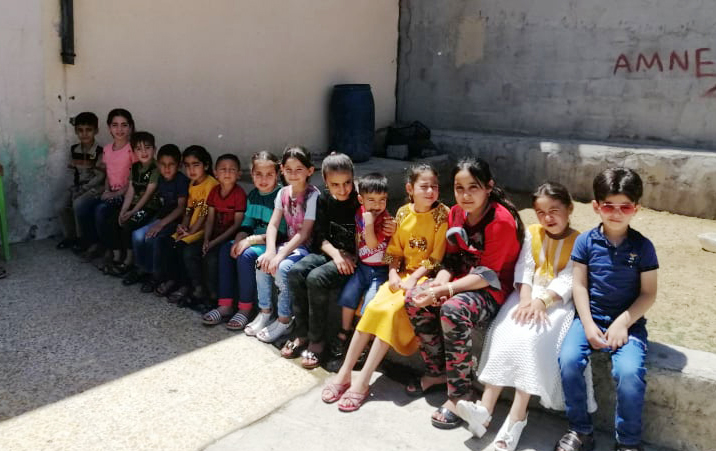 "My health is not good at all; I have stayed indoors since the curfew was announced. I am always busy with my cell phone and video gaming. I do not know what to do," Mohammed Jumma, 12, said.
Mohammad left school when he was in the sixth grade due to his health condition and his family's economic difficulties. He said he would like to return to school with the help of a humanitarian organization, adding, "it is my goal to go back to school, even if it is just for one moment."
It is my goal to go back to school, even if it is just for one moment
According to the Universal Declaration of Human Rights, everyone has the right to education. The Iraqi constitution also guarantees the right to a free education for citizens.
The Shabak minority in Iraq is estimated at 300 to 350 thousand people, 60 percent of whom are Shia, and 40 percent are Sunni. Most reside in Bartella, Bashiqa, Hamdaniya, Tel Kaif, Mosul, and other villages in the Nineveh plains where few services are available.
Nasr Hassan, who has worked with a children's rights organization in Nineveh, said that the coronavirus virus has left children with a great psychological fear that may last for many years.
Hassan believes that social distancing and the lack of recreational activities places the health of children in jeopardy because they only have their smart phones and video games. This kind of sedentary existence is incompatible with the energetic nature of children.
"Worst of all is the interruption of their education and the subjects they have studied; now they have forgotten most of [what they learned in school]. They have to be re-taught. Generally, in this situation and in the future, working with these kids will require awareness [of their situation] and special [teaching] plans," he added.
Iraq is experiencing a surge in coronavirus cases, which according to the Ministry of health, is increasingly posing a threat to communities. Meanwhile the government lacks a plan for phasing out emergency restrictions, particularly with regards to normalizing the lives of Iraq's children.