ISIS demands to be handed over a 23-year-old Ezidi woman (whom they had kidnapped when she was underage and forcibly "married" to an ISIS Amir), in exchange for releasing a policeman they hold hostage.
Hala Mahlu Ravo was kidnapped by ISIS in August 2014. She was rescued in Kirkuk two years ago, but was put in prison by KRG authorities in Erbil until her release today (23 August 2020).
The policeman whom ISIS holds hostage, is 40-year-old Jalal Baban. He was Kidnapped at a village in Diayala's Qara-Tapa subdistrict.
For one year and eight months, Hala has been imprisoned at Erbil's Women Correctional [Facility]
Dakheel Mahlu Ravo, a brother of Hala, told KirkukNow before her release: "For one year and eight months, Hala has been imprisoned at Erbil's Women Correctional [Facility]. With the help of Kurdistan Women Union and Erbil's security forces, we were able to get to see her. She is physically and mentally in a very good condition."
"We made a lot of inquiries, but we couldn't find anything. Until Hala called us from inside the prison a while ago, and asked us to get her out," Dakheel added.
Soon after, Hala's family had met with the Mir of the Ezidis to ask for his help in getting her released.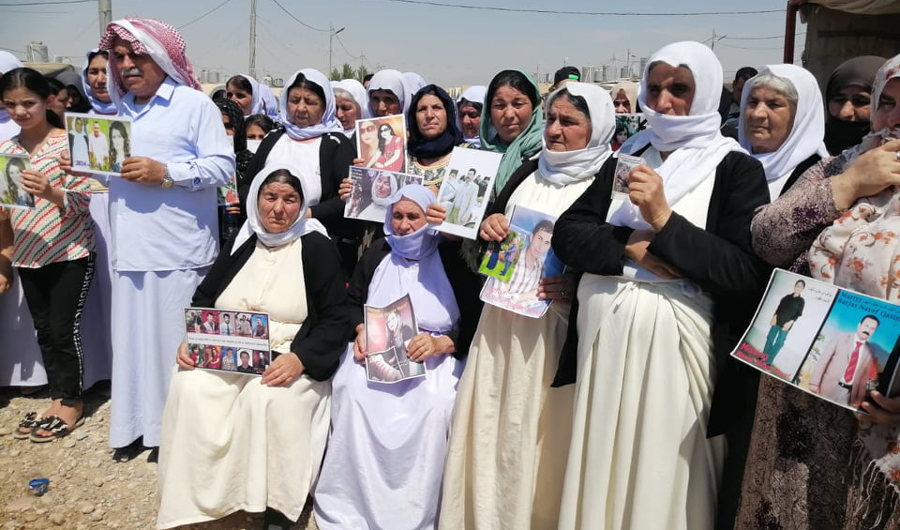 Hala Mahlu Ravo comes from Giruez subdistrict in Shingal district. She had three brothers and three sisters. ISIS militants have killed her father and one of her brothers. The fate of her two other brothers is unknown. Her three sisters were also kidnapped by ISIS, but have been rescued.
ISIS militants have sent recorded voice messages of the hostage Baban to his family through Telegram, and have given a period of 10 days for the exchange to take place.
Izzadin Karim, one of Baban's family members, told KirkukNow on Friday: "Along with Jalal Baban, one of his cousins was kidnapped. He was released in exchange for $57,500, but for Jalal to be released, they haven't asked for money, they want to exchange him for Hala.
We absolutely don't ask the Ezidis to hand over that girl to ISIS in exchange for the release of Jalal Baban, but if the girl is released from the prison in Erbil, they might change their demand.
We request the Kurdistan Regional Government to do all they can to get Jalal out. We are awaiting the release of the girl. What happens after that, we don't know yet."
Jawhar Ali-Beg, deputy of the Mir of the Ezidis, told KirkukNow: "We categorically reject the handover of Hala to ISIS; over our dead bodies!"
He added: "Hala is innocent. That ISIS Amir will never see her again. We prefer to die rather than meet that demand by the ISIS Kalif."