This morning (6 September 2020), graduates with an engineering degree blocked all three entrances of the state-owned North Oil Company in protest. They say the director of the company meddles in their hiring process.
Sazan Zahir, one of the protesting graduates, told KirkukNow: "The manager of the North Oil company meddles in our hiring processes; we don't accept this."
Sazan claims that the company has informed the government that of the 1000 employees they were ordered to hire, 650 of them should be graduates of institutes, high school and elementary school graduates, and only 350 graduates of engineering colleges.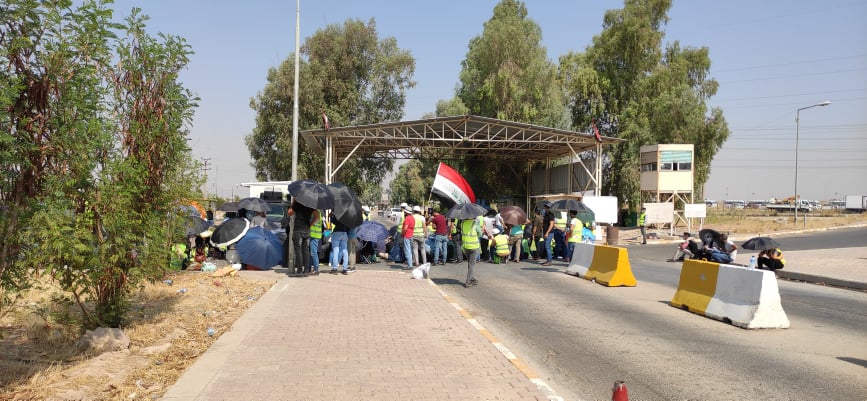 The hiring decision by the authorities comes after graduates have been protesting more than 15 times since 2019, and for a while pitched tents in front of Kirkuk's municipality building.
Sarmad Ali, another protestor, told KirkukNow: "We will stay by the entrances of the North Oil Company until the issue is resolved."
He added that they have been protesting for months, and that they will not accept the hiring process to be done online, because "people with money and connections, who never took part in the protests with us, will be hired."
The graduates demand that at least 800 graduates should be hired to fill the 1000 vocations, and that the process should not be done online.
KirkukNow has tried to contact government officials in Kirkuk and officials of the North Oil Company several times, but didn't receive a reply.