Instead of an evening breeze, Azeema and her neighbours are forced to breathe in smoke from burning rubbish, a hospital's medical waste and smoke from an oil facility. The air pollution has made life for residents of two of Kirkuk's neighbourhood difficult.
"We live inside the Bermuda triangle: Our house is near the Azadi hospital and odour from the hospital's [waste burning] oven reaches us. Smoke from burnt garbage in the Chiman area reaches us as well, along with smoke from the oil wells of Jabal Bor," said Azeema Azeez, a resident of Kirkuk's Karama neighbourhood.
Azeema and her neighbours whom KirkukNow spoke to, stressed that smoke has made their life unbearable. They fear that the air pollution will affect their health and cause illnesses.
The neighbourhoods are located in the eastern parts of Kirkuk, near the Kirkuk-Sulaymania road.
We can't even use air-conditioners, because it brings in smoke which makes breathing difficult
Ari Ahmad, a resident of Darwaza neighbourhood, said: "Smoke and strong odours from the rubbish burning at a rubbish depository of Chiman area come our way. We can't even use air-conditioners, because it brings in smoke which makes breathing difficult."
The rubbish depository in Chiman area belongs to the Kirkuk municipality.
The depository is meant for temporarily collecting rubbish to be transferred to another location in Laylan subdistrict.
But Ari said: "Most of the time the rubbish is burnt there, and the smoke comes our way. We neither can't stay inside our homes, nor go outside. We have small children; we can't leave our homes and go stay at other neighbourhoods whenever they burn the rubbish."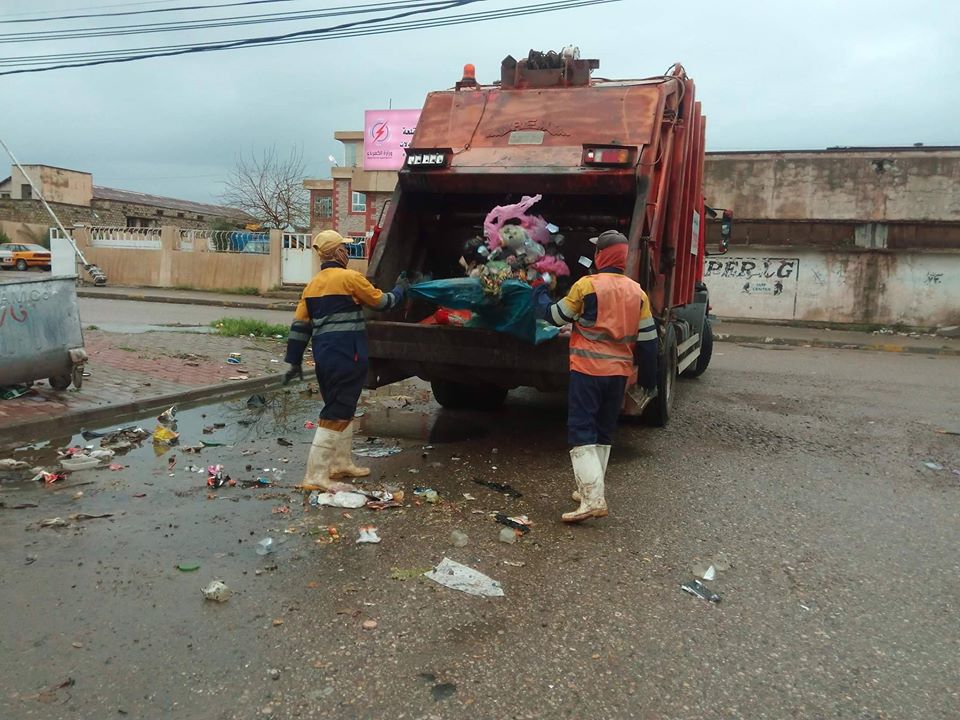 The Kirkuk municipality collects 900 tons of rubbish every day in Kirkuk City to be sent to two rubbish repositories. After a filtering process, the waste material is supposed to be sent to a main facility in Laylan to be buried underground at a rubbish dump.
Ismael Jalal, an official at the Kirkuk municipality responsible for projects, emphasized that in the past two years they haven't had the adequate budget for collecting and disposing of waste material. The lack of funding was due to delays in passing the budget law.
That issue was later resolved by the minicipality in cooperation with the Kirkuk Administration, yet the problem of collecting and disposing of rubbish still remains in some of Kirkuk's neighbourhoods.
Ismael Jalal added: "Due to unemployment and to make money, some people who own motorcycles would collect and transfer the rubbish from some residential areas in exchange for an amount of money. Some of them would take it to the Chiman depository and burn it there, or they would throw it away somewhere and others would set it on fire. That is the problem.
I assure you, none of that rubbish is being burnt by the municipality
I assure you, none of that rubbish is being burnt by the municipality. It is done by people who collect plastic and iron among the waste material."
Kirkuk municipality has reached out to Kirkuk's Joint Operation Room to go after those who dump and burn rubbish outside the depositories.
Faraydun Adil, head of Kirkuk Municipality, told KirkukNow last August: "Baghdad has reduced Kirkuk's clean-up budget from 1,2 billion [around $1 million] to only 200 million Dinars [around $168,000]. And that's the main cause for the problems regarding rubbish in the city."
According to the Municipality's numbers, 1300 tons of rubbish is currently collected and disposed of every day. That leaves, from the amount Baghdad has sent, only about $0.42 for each ton that has to be collected and disposed of.
Shikofa Muhammad, a member of the invrionmental advocacy group A Green Kurdistan, said: "People whose homes located between the Chiman dpository, the Azadi hospital and the oil field of Jabal Bor, are in danger; the area is not livable.
Medical waste must be buried deep underground. But unfortunately, that is not taken into consideration."