A 10-year-old child learns how to drive a tractor and works as a driver for his father, who collects and disposes of rubbish in their village. The child gets paid 50,000 Iraqi Dinars (about $42) per month.
The Komptlar village is located in Kirkuk's Turkmen-majority Yaychi subdistrict (12 km west of Kirkuk City). There are about 415 families living in the village. The villagers pay the costs for rubbish collection out of their own pockets.
The child is Ghassan Kan'an, he told KirkukNow: "Helping my father in collecting and disposing of rubbish makes me happy; he can't drive and collect the rubbish at the same time, that's why I drive the tractor."
Ghassan works with his father 2 days a week: every Thursdays and Saturdays.
"My father pays me 50,000 Dinars per month for driving the tractor."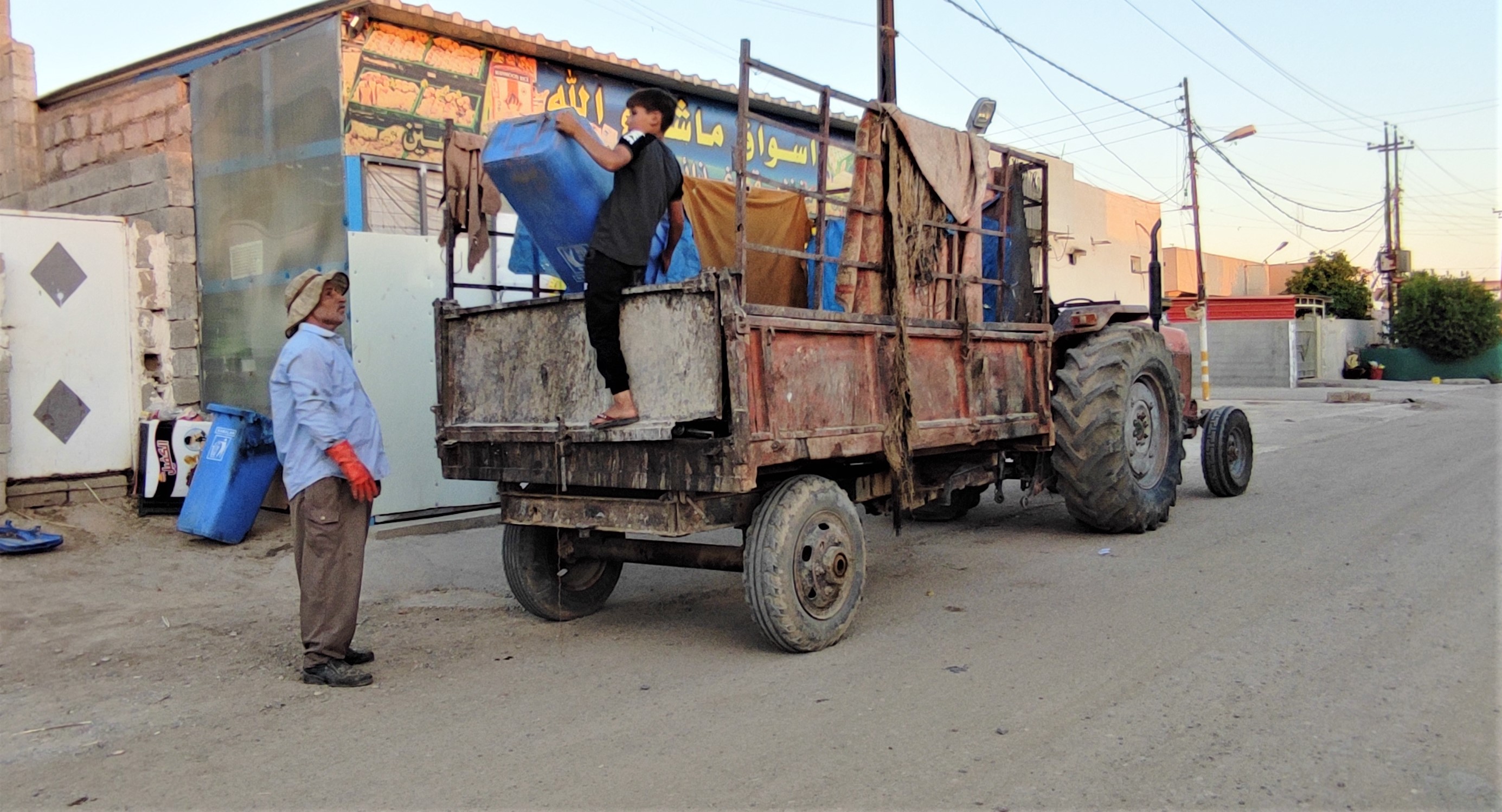 He is in the 4th grade and says: "I would like to finish school and become a pilot."
I would like to finish school and become a pilot
Under Iraqi labour laws, it is not allowed to employ children younger than 15.
Kan'an Muhammad, Ghassan's father, said: "No one is willing to work for a law wage as driver for the tractor, that's why I was compelled to teach my son driving so he can drive and I collect the rubbish."
Kan'an says his son doesn't do well in school and has failed in four subjects, and counts that as another reason for employing him. "Even though I pay him 50,000 Dinars per month, it hurts me to put him to work, because he is my only son. But I am compelled."
Each family in the village pays Kan'an 5,000 Iraqi Dinars in exchange for collecting and disposing of their waste material, a task that is supposed to be done by the government.
Residents of the Komtlar village speak with pride about their village
The Komptlar village was destroyed in 1987 by the Ba'th regime and was rebuilt in 2003.
Faraydun Adil, head of Kirkuk Municipality, told KirkukNow last August: "Baghdad has reduced Kirkuk's clean-up budget from 1,2 billion [around $1 million] to only 200 million Dinars [around $168,000]. And that's the main cause for the problems regarding rubbish in the city."
The village is known for being clean and loving nature.