"Ruins, heaps [of rubbish]… and the families who live nearby, have been using it as a site to dump their waste in." This is how Khalil Hasan, displaced from Tal Afar since 2015, found his home after he was forced to return to it.
49-year-old Hasan, while talking to KirkukNow, wondered how he can rebuild his house when can barely make enough for his daily living costs, using his small cart to sell vegetables.
Hasan spent five years in one of the IDP camps, until he heard last week from the camp's administers of the intention of the Ministry of Migration and Displacement to close it down in accordance to a plan to close down all IDP camps before 2021, aiming to return the nearly 1.5 million IDPs to their home regions.
"I don't have enough to afford removing the rubble of my demolished house, let alone rebuilding it. I don't know what I'll do, but I went to the house of one of my acquaintances until I can find a place to shelter me and my family," Hassan says with desperation.
I don't have enough to afford removing the rubble of my demolished house, let alone rebuilding it
In a statement, on 30 October the United Nations Assistance Mission for Iraq (UNAMI) announced its support "for voluntary, safe, dignified and sustainable return" of the displaced, and that it is working to ensure that the displaced who are returned to their home regions receive the necessary support.
The statement ends with: "The United Nations is tracking developments closely and has been in constant communication with the Government of Iraq on planning for longer term durable solutions for all vulnerable IDPs in Iraq."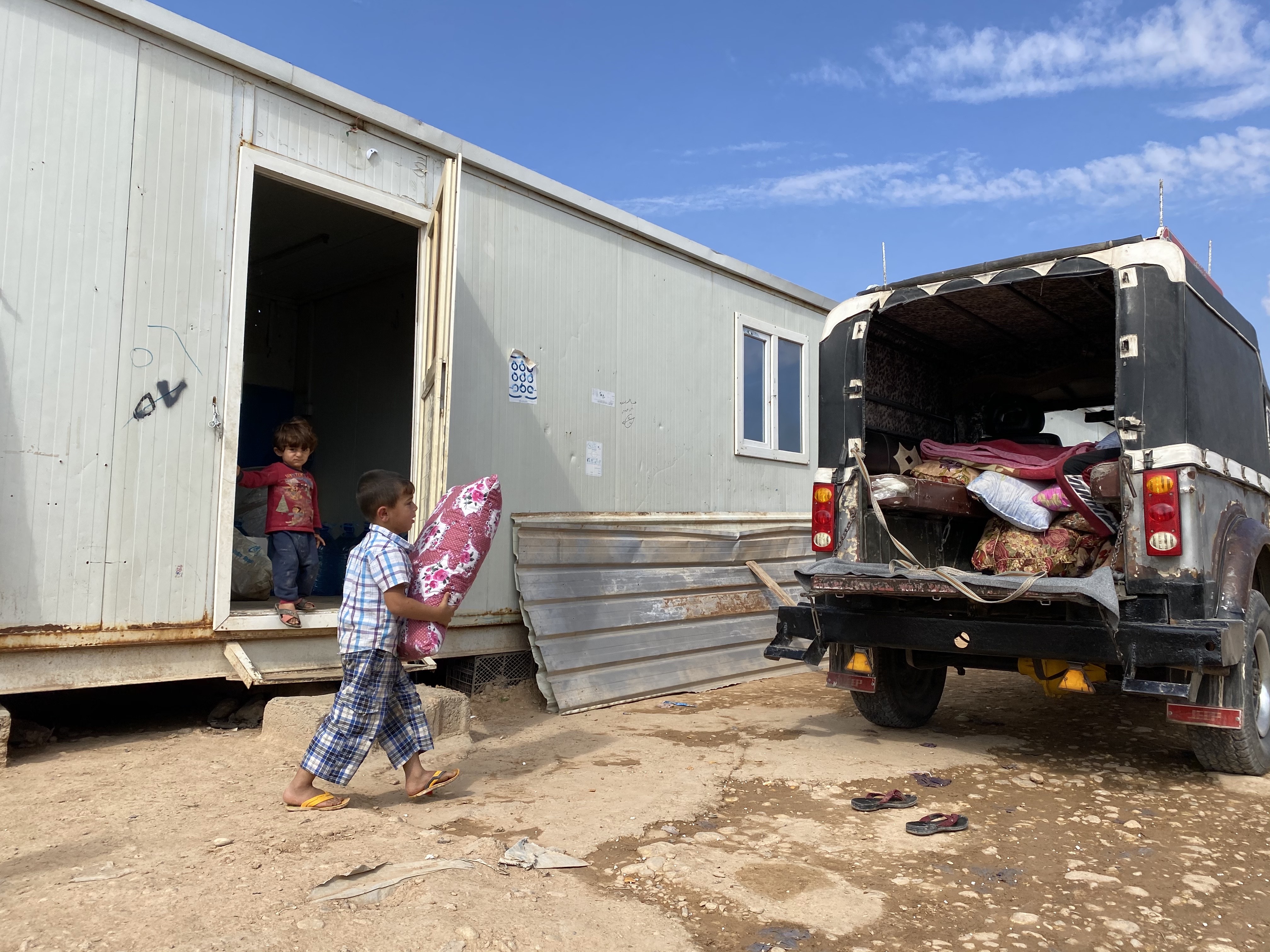 While the Euro-Mediterranean Human Rights Monitor, a European human rights organization based in Geneva, warned in a report on 4 November that safety for many of the displaced that the Iraqi authorities plan to repatriate is not guaranteed and that there is risk of making hundreds of thousands homeless as many houses were destroyed during the ISIS war and the absence of a plan to help them rebuild.
Maryam Sa'eed, another IDP who was recently returned to Tal Afar after years of displacement and hardship, and who is in her 50s, says that returning her has only increased her family's hardships as they have lost their breadwinner and now rely on her pension, which is not enough to live on.
"It is winter now, and my house is not suitable for living. It was completely burnt down, with all the furniture and appliances. When I returned two weeks ago, some neighbours helped me repair a room and the bathroom," Maryam says, wiping her tears with the edge of her dress.
some neighbours helped me repair a room and the bathroom
"It would have been better for the Iraqi government to find a solution for families whose homes were damaged before returning them. It seems that there is a political objective behind this, which overshadows the humanitarian conditions that the displaced live in," Maryam added.
The Ministry of Migration and Displacement has so far closed down 10 IDP camps. All the camps in Baghdad and Karbala provinces have been closed, with Kirkuk and Salahuddin provinces to follow soon, according to the ministry.
Numbers from the ministry confirm the return of dozens of displaced families from Karbala, Baghdad, Erbil, Kirkuk and Turkey to the Tal Afar.
And according to those numbers, a total of 18,500 families are officially registered to have been returned. But the real number of the families that have been returned is estimate to be about 24,000, as many do not register themselves.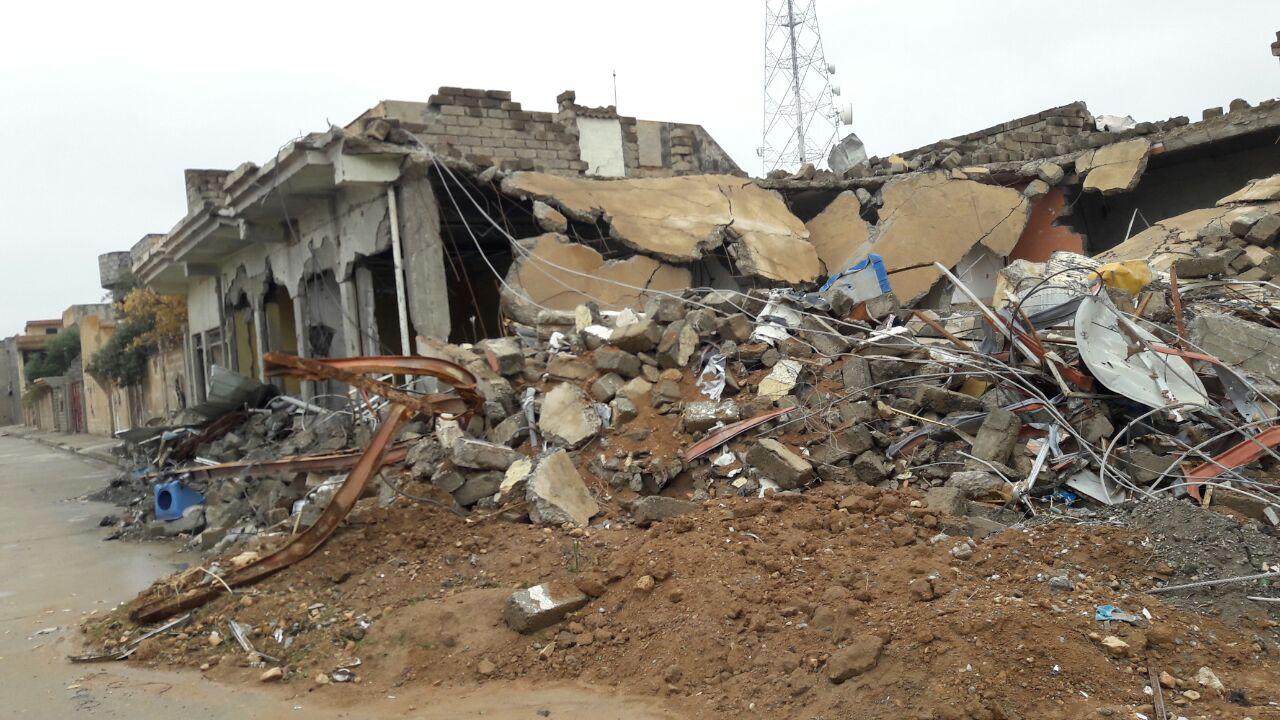 The mayor of Tal Afar, Qasim Muhammad Sharif, had said earlier that the reason why many don't want to return to Tal Afar is because their homes were destroyed during the ISIS war.
He told KirkukNow: "Thousands of houses were destroyed during the control of ISIS over Tal Afar, according to statistics from the Civil Defence Directorate, which has compelled some to occupy the houses of others who haven't returned yet."
"Some of them come from the nearby villages which were completely destroyed. 14 villages were completely destroyed."
He added that lack of jobs and lack of services and compensation from the government are also among the reasons that people are reluctant to return. But he says that around 1,000 IDPs have returned home from Turkey in the past few months.
Half of the IDPs from Tal Afar returned home after their town was retaken from ISIS militants in 2017.
The town, which is located about 69 KM west of Mosul, was taken by ISIS in July 2014, which has caused the displacement of most of its near 225,000 inhabitants.