Two attacks took place last night in the villages of Kirkuk's Daquq district as more units of the Iraqi army were spread in the region.
Last night (26 November), an Iraqi army unit of 45th Brigade was the target of an IED attack at Ali-Sara in the south of Daquq district.
A source from the security forces told KirkukNow that four soldiers were injured in the explosion. The injuries of two of them were severe and were taken to a hospital.
On the same night, gunmen launched an attack near Anana village in west Daquq district, followed by clashes.
A security force says that the attack has led to a villager getting wounded. Units from the Federal Police rushed to the area and then shelled it.
Units from the 45th Brigade were deployed around the Kaka'i villages in Daquq at the start of June, and the Federal Police has been in charge of Daquq town security since then.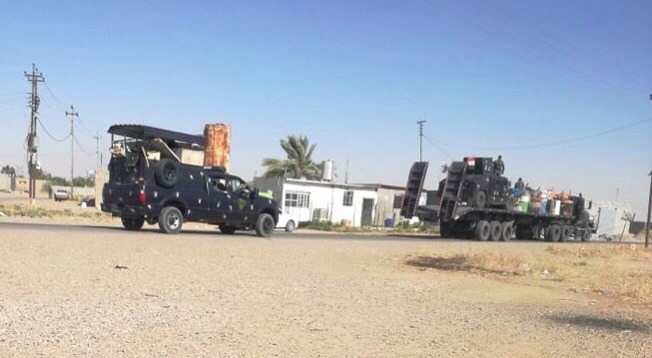 Army units were spread in Daquq's Haftaghaz region yesterday, followed by shelling Hartigan on several locations.
KirkukNow has learned that gunmen had been detected in the area by the army's thermal cameras.
The commissioner of Mansour village in the Haftaghaz area, Mahmoud Ibrahim, told KirkukNow: "There is ISIS activity from time to time. One could say that it has increased, but they are not a danger because there is a sizable security force and more has been stationed."
Meanwhile, the Joint Operations Command keeps reassuring people that ISIS is being weakened and eradicated.
Major General Tahseen al-Khaffaji, a spokesman for the Joint Operations Command, told the semi-official Al-Iraqiya channel that ISIS is "in a phase of great defeat and eradication."
Security has been deteriorating in the past year in Daquq district. At the same time the outstanding disputes over land ownership have been leading to tensions and clashes between Arab farmers and other ethnic groups.