While praying and wailing, she often raises her hands and looks upwards asking "God, what have we done to deserve this?" while looking at pictures of her slain children and grandchildren.
Six years after the genocidal assault on the Ezidi community by ISIS, Shamé keeps hoping and praying to see her missing children and grandchildren.
"There are no tears left in my eyes, my heart is broken; what's left to me are only their pictures," Shamé said.
A known woman among Ezidis, she is dubbed 'Mother Shamé' and 'Mother of Martyrs.'
what's left to me are only their pictures
Her name is Shamé Déro Hasan, she is 65 years old. Five of her six sons, along with their wives and children, were killed or gone missing during the attacks by ISIS militants in 2014.
Although six years has passed since the genocide, for Mother Shamé her wounds still feel fresh and cannot talk of her lost family without bursting in tears.
Sitting in a tent at the Cham-Mishko Camp in Zakho, she starts praying and complaining about the fate of the Ezidis.
"Before August 2014, we had a good life together. We were content with what we had. All my offspring were around me," Shamé told KirkukNow.
Shamé had three daughters and six sons. Counting their spouses and children, together they were 64 persons. She raised her children as a single mother, as her husband was killed in the Iran-Iraq war in the 1980s.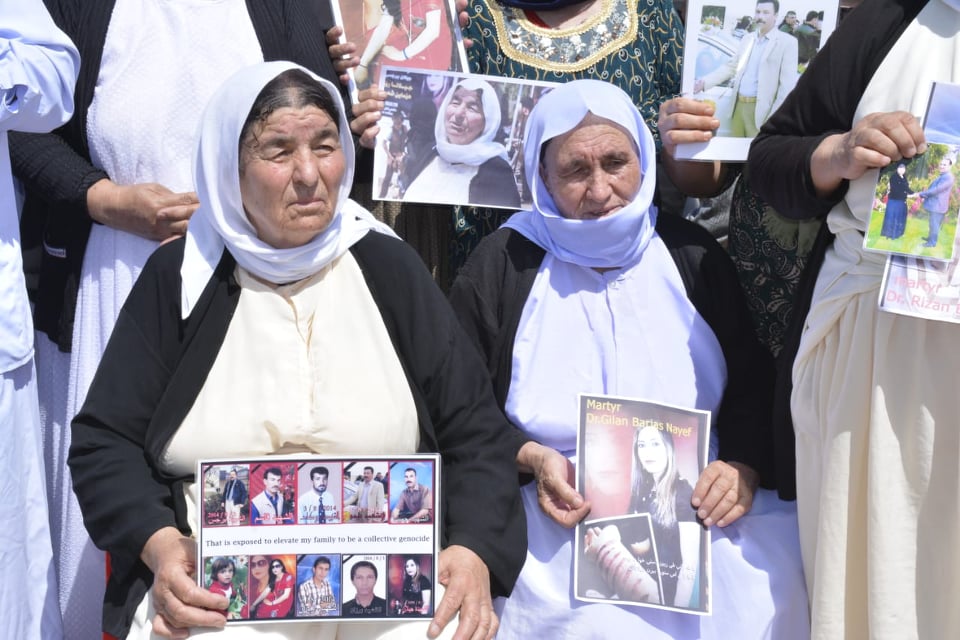 "I was a mother and a father. We had a simple life; fate didn't allow for it to go on."
At 8:00 AM in the morning of 3 August 2014, Shamé and her family were having breakfast home (in Shingal's Giruéz subdistrict) when they heard the calls from ISIS militants. They only have time left to run out and head towards Mount Shingal.
"Of the 65 members of the family, only 33 of us reached Mount Shingal. They rest, 32 persons, five of my sons among them, were caught by ISIS."
Only one of Shamé's sons escapes, with a bullet in his leg, and reaches Mount Shingal.
32 members of my family were caught by ISIS
According to what Shamé has heard, her sons refused to convert to Islam when ISIS militants had caught them.
The five sons of Shamé who got caught were all shot dead by ISIS militants along with two of her grandsons.
Their wives and children would be taken to Ba'aj in western parts of Nineveh province, where one of the granddaughters of Shamé named Jilan commits suicide when ISIS militants want to force her to marry an ISIS amir.
Jilan's suicide has become a known story in the Ezidi community.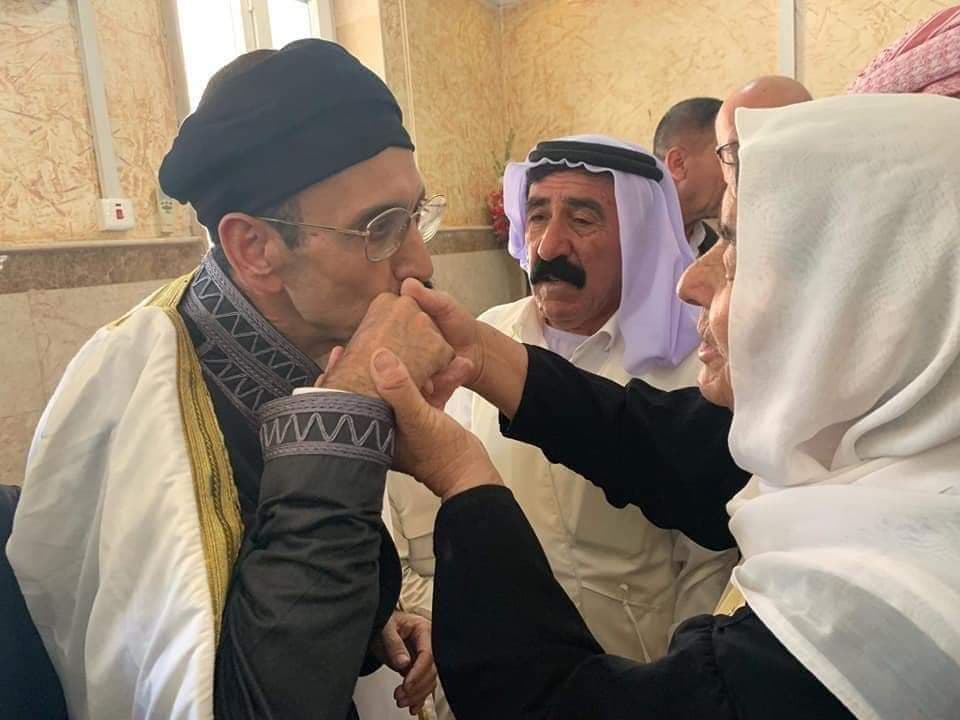 Shamé later receives more devastating news.
"My son Ahmad finds a way to contact his nephews [and nieces], but an ISIS militant picks up the phone and says he will kill them all."
When she hears that all of the 32 members of her family have been killed, Shamé goes to the edge of a cliff on Mount Shingal to commit suicide, but one of her grandchildren begs her not to do it and changes her mind.
"I changed my mind because I knew that even death will not comfort me, and a number of my children and grandchildren are still alive."
Shamé has not given up ever since and attends all the events on the missing Ezidis.
I knew that even death will not comfort me
According to official numbers, more than 2,000 of the 6,417 kidnapped Ezidis are still missing.
Even though the 32 family members of Mother Shamé are counted as dead, she has no knowledge on where they could have been buried, if they are indeed dead.
"Six of my grandchildren are with me currently; they are a source of comfort for me. The rest of them have migrated to Australia and European countries."
Video of Mother Shamé lamenting in front of pictures of her slain children and grandchildren
"How can I once again gaze at the lands on which most of my family were killed? How can I go back to the place where my beloved ones were sprayed with bullets?"
Mother Shamé is not certain about anything. She doesn't think it far-fetched that they once again face other atrocities, as their history is filled with them. That's why she would not leave her tent yet.