Karzan Tariq sought to serve as eyes for the people during the protests in the Kurdistan Region of Iraq, but he was quickly attacked by a number of security personnel. They took away his mobile phone, kicked and blindfolded and then detained him.
A day later, in a Peshmerga military base outside Sulaimani City, Karzan was "forced" to sign a pledge and photographed as a criminal.
Karzan Tariq is a reporter for NRT TV channel, which is close to opposition party New Generation Movement and based in Sulaimani City. On 11 December, he was about to start covering a planned protest in front of the Sulaimani Governor's office when security took him.
The protest of that day, which turned into riots after security cracked down on protesters, was part of a wide demonstration that started on 2 December against the Kurdistan Regional Government for failing to pay civil servants' salaries, tackling corruption and providing basic services. 10 people were killed and 60 others were injured. and dozens of protesters were detained.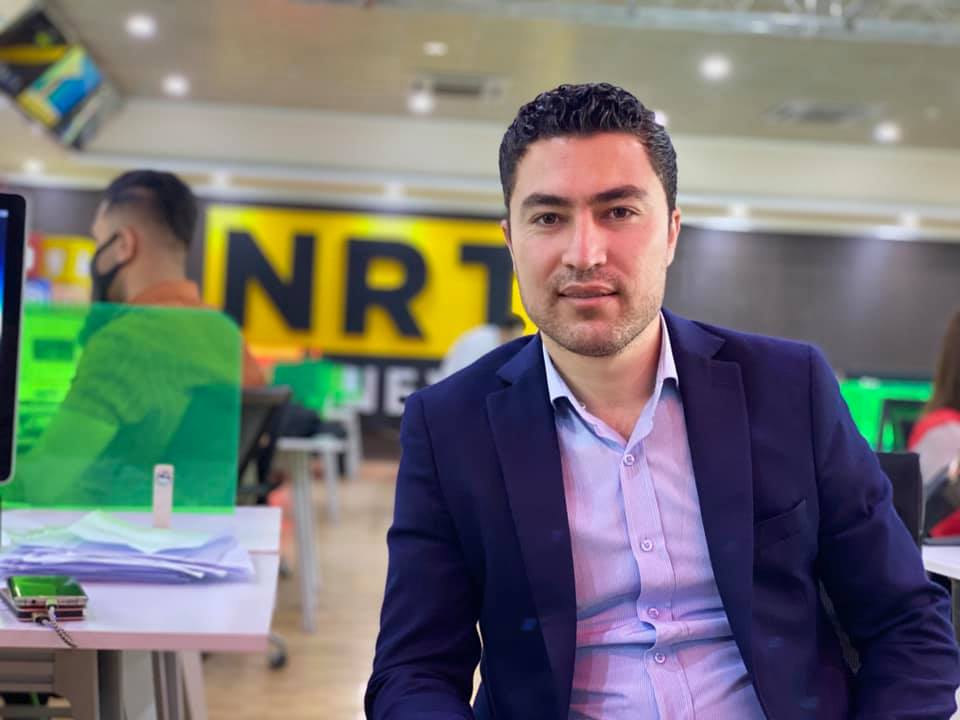 Four days before Karzan was detained, his news outlet, NRT, had been closed by the authorities for "irresponsible behaviour," but he and his colleagues kept covering the protests using the channel's Facebook page.
The Kurdistan Regional Government (KRG) has increased restrictions on the freedom of expression. Journalists get detained, interrogated and treated as "saboteurs".
The detention of Karzan Tariq and the closure of NRT are only two examples of tens of other vilations by the authorities agains journalists and news outlets during this month's protests, which lasted for at least 10 days.
"I had my press card and a microphone with me; I took out my phone to film the protests for a live broadcast. Several members of the security forces assaulted me, took my phone away and put me in a car," Karzan said, "and at that moment one of my colleagues approached and said 'he is a journalist, where are you taking him?' But they began kicking and slapping him. They also gave me a kick."
at that moment one of my colleagues approached and said 'he is a journalist, where are you taking him?' But they began kicking and slapping him
Karzan was then taken to a prison 10 km south-east of Sulaimani City, called Kani-Goma. The day after, they interrogate him while he is blindfolded, and then take him to a Peshmerga base belonging to Unit 70 (which is under the command of the Patriotic Union of Kurdistan (PUK).
"They were being condescending. Their treatment was abysmal; sometimes they would set time for toilet visits. Sometimes they would blindfold us, or they would tell us 'do not raise your heads; keep looking in front of you.'"
"The PUK force brought forth a pledge and told us to sign it. It was about not taking part in violent protests. I said that we were journalists, not protesters, but they said 'it's an order.'"
Within the first 10 days of December, according to the Kurdistan Journalists Syndicate, there were 20 cases of violations against journalists. But according to the press watchdog METRO Centre, there were 30.
On 11 December, a member of Peshmerga's Unit 70, armed and in his full uniform, attacked a reporter of Rudaw, which is close to Kurdistan Democratic Party (KDP). According to Rudaw, in addition to insulting and humiliating the journalist, he broke his microphone, burnt the cover with the channel's logo on it, and attempted to take away his camera from him.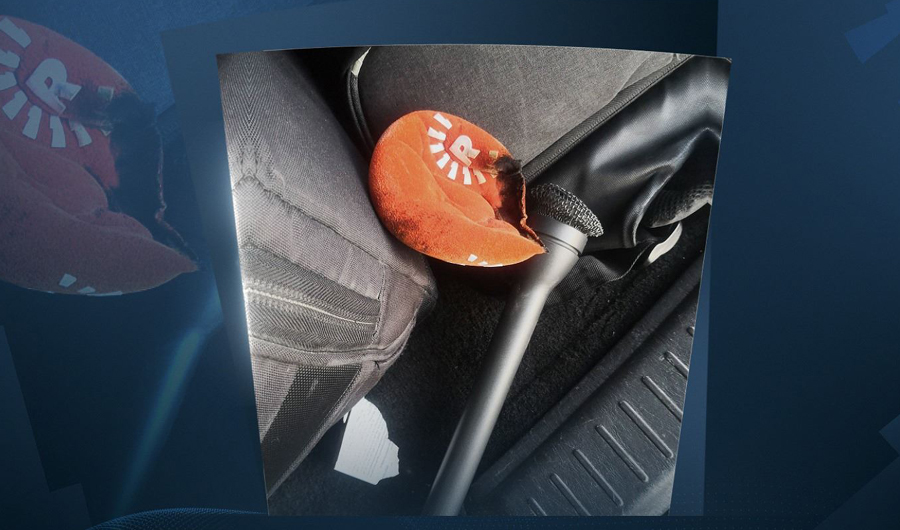 A Rudaw correspondent, Bakhtiyar Qadir, said: "On top of that conduct, the Peshmerga [soldier] tried to encourage a number of people to attack us, but a group of citizens defended us and pushed him away from us."
On 11 December, a radio called Deng and located the town of Kalar announced that one of their correspondents (named Muhammad Mahmoud) was detained by security for more than two hours in solitary confinement. "He was harshly and extensively interrogated in the cell, and was threatened due to the radio's coverage of the protests. They even threatened him to turn the matter into a tribal thing," according to the radio.
The radio requests that "if the security officials have any complaint or notice on the matter, they can take proper and legal measures, not resort to ugly, demeaning, and cowardly threats." They also demand their correspondent's phone that was confiscated.
In the same town, Kalar, two journalists of Payam TV, which is owned by opposition party the Kurdistan Islamic Group, were assaulted by security personnel on 11 December.
"They have taken their equipment and taken out the memory cards to format it. They told Payam's team to wait to get their memory cards back, but at that moment, a police squad detained both journalists and took them to the general Asaiysh headquarters," according to a news item from Payam.
"They were released from there after an hour. But they were not given back their equipment."
Another journalist of Payam TV was also detained in Sulaimani City on 11 December.
Footage of the moment two journalists of Payam TV getting harassed by security
Two journalists of al-Iraqiya TV, Ameen Ahmad and Sirwan Barzan, were also detained in Sulaimani on 11 December.
Another journalist, Harém Majeed, of Baziyan Digital Media was detained in the town of Baziyan.
On the evening of 12 December, when things simmer down, three journalists (Dalia Kamal, Hardi Hasan and Barham Jamal) of Kurdistan 24 (close to KDP) were detained in Sulaimani City while working on "a report on sunflower seeds."
Karwan Anwar, head of Kurdistan Journalists Syndicate Sulaimani office, told KirkukNow that whenever tensions rise, "violations against journalists increase" but when things are calm, everyone behaves politely.
In addition to forcibly closing NRT, the KRG issued warnings for three other TV channels: Payam, Rudaw and Speda. The latter is close to the oppostion party the Kurdistan Islamic Union.
KRG's Ministry of Youth and Culture in a statement said: "Due to NRT's violation of specific regulation guidelines for audio and visual media, especially irresponsible conduct in these times, after numerous warnings about their callousness on repeating their violations, we have decided to stop the normal broadcast of NRT channel for one week."
after numerous warnings about their callousness on repeating their violations, we have decided to stop the normal broadcast of NRT channel for one week
The broadcast ban was later extended by another week for "not abiding by the [previous] order" and "broadcasting image of violence" and "directly encouraging people to commit violence and inciting havoc."
Ameen Hawrami, the ministry's spokesman, told KirkukNow: "News outlets must not play with the sentiments and feelings of the people. Some of them do. If it wasn't for the encouragement by news outlets, I am certain that the situation would not get so tense."
The ministry based its decision on section 3 of article 3 of KRG's guidelines on the organizations of requency domains.
In its warning to the three TV channels, the ministry says the outlets "should avoid broadcasting images of violence and torching of party and government buildings and directly or indirectly encouraging viewers to [commit acts of] violence."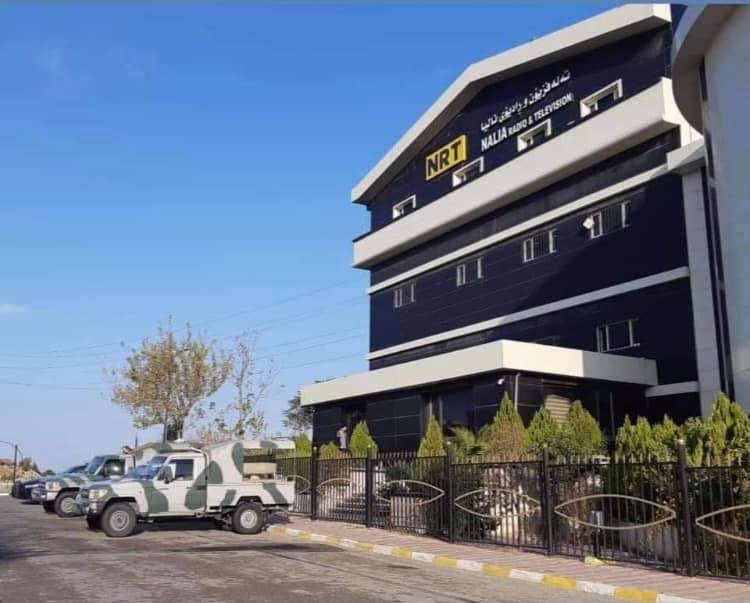 Hawrami says that the measure was based on the ministry's guidelines. "During the protests, we have noticed that those outlets violated those guidelines. What we have done is merely an administrative procedure."
Those guidelines don't have any judicial basis, but Hawrami said: "The outlets that have a permit, have signed these guidelines. Some outlets have now violated those guidelines."
According to KRG's press law from 2007, authorities may not detain journalists without notifying the Journalists Syndicate. The law doesn't contain any sections on stopping broadcast of TV channels either.
"We insist on not allowing news outlets to become a beacon of spreading chaos in this country," Hawrami added.
We insist on not allowing news outlets to become a beacon of spreading chaos in this country
In two separate statements, the Iraqi High Commission for Human Rights condemned the KRG for its treatment of journalists. "The authorities in Sulaimani province blocked social media websites, among them Facebook, Viber, Instagram and Snapchat, in addition to closing down of NRT channel."
Salma Fatih, head of the Culture and Civil Society Committee at the Kurdistan Region Parliament, told KirkukNow: "The security forces must act in accordance with the 'Obtaining [Access to] Information' and the 'Press Law'. Those laws do not give the authority to security forces to detain journalists without a court order."
Salma Fatih says that Parliament will summon the General Director of Print and Publishing of KRG's Ministry of Youth and Culture. "We will ask him based on which law they close down a TV channel, and ask them for explanations."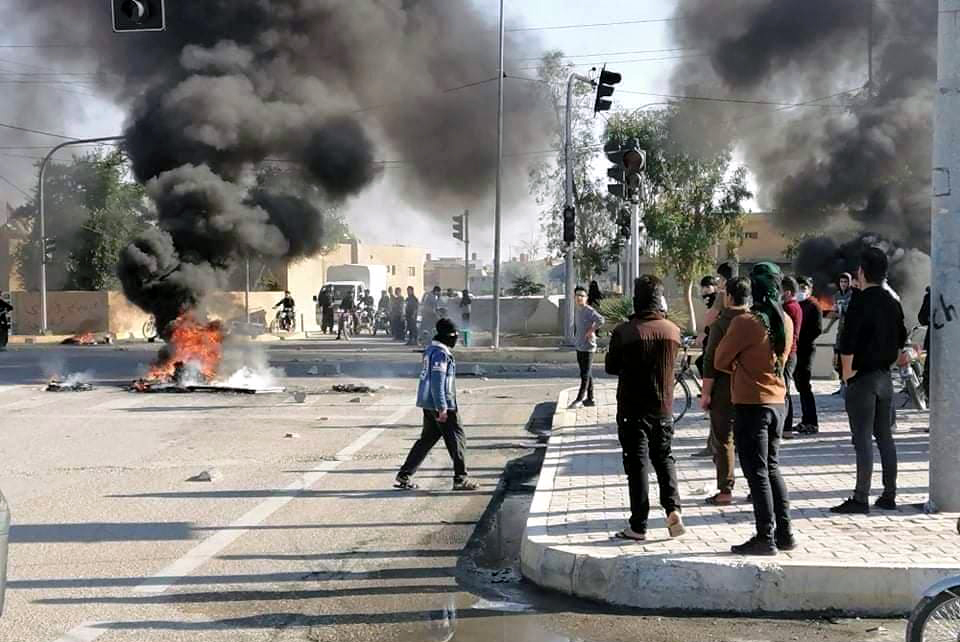 But the head of METRO Centre, Diyari Muhammad, said the closure of NRT "is more of a political decision than a judicial one," and that the warning that was issued to the other channels "is a sort of pressure on the media. They [the outlets] have merely covered [events] and were not the reason for torching buildings of political parties and the government."
Relations between security forces and journalists are generally not good and those violations are repeated during most protests. But the closure of a TV channel, beatings and forcing of signing pledges are new steps by the authorities in limiting press freedom in the Kurdistan Region.
After detaining him for two days and forcing him to sign a pledge, members of Peshmerga's Unit 70 blindfold and take Karzan Tariq to the Sarchinar Bridge where they remove his blindfold and take him to a base of emergency police in Sulaimani.
"From there, I was taken to the Journalists Syndicate where they told me that I was released by intervention of Major General Chato [deputy minister of the interior]."
That was the second time Karzan got detained within the same week. "I want the government to treat us in accordance with the 'Press Law'. He is not willing to file a legal complaint, because, he says, the judiciary in the Kurdistan Region is unable to restore the rights of journalists.