At the market of the town of Sinuné in Shingal district, where the road and its sidewalks are littered with waste and slush, shoppers get overwhelmed by a strong stench.
The shop owners often set the litter on fire where it stands, creating a dark sooty smoke.
"The shop owners burn the litter, and smoke emanating from it disturbs people. But there is no other solution, because sometimes the municipality cleans the streets once in three days," said Kalash Afdi, one of the shop owners.
The shop owners burn the litter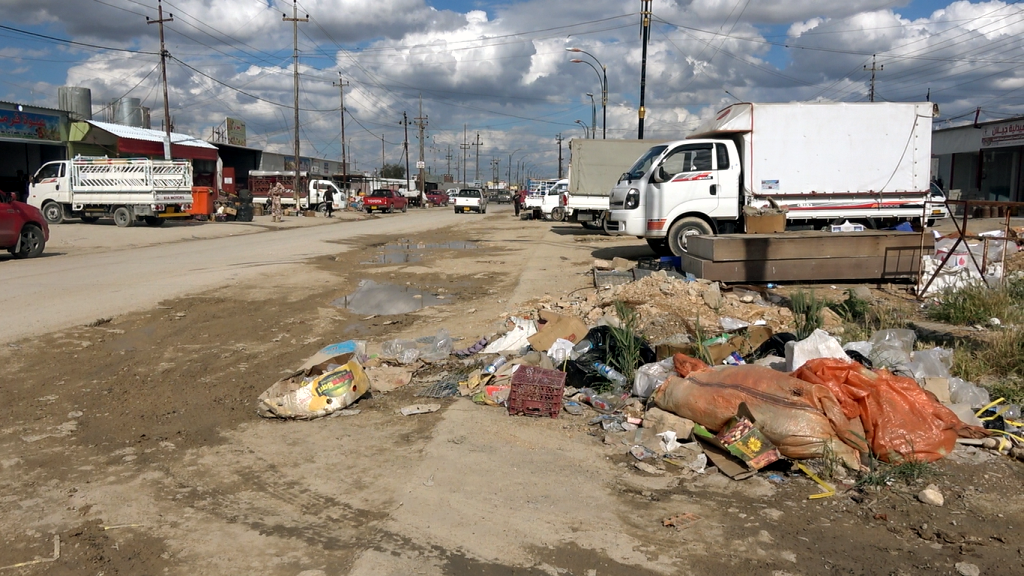 Shoppers worry when they see litter piled up near grocery shops. The waste on the streets of the neighbourhoods also forms a danger of spreading germs and diseases, especially for children who play outside.
Khaleel Sa'doun, a resident of Sinuné, told KirkukNow: "Some people send their children to the market, and the litter and waste are a danger for their lives. Next to the waste, chickens and fruit are being sold."
During the raining seasons, the main roads of Sinuné disappear under a layer of slush, and in summer under dust.
This subdistrict has been neglected for 40 years
Many parts of the town still lay in ruin from the ISIS war.
"I was born in Sinuné; this subdistrict has been neglected for 40 years. We are fed up. Even when we submit requests, nothing ever changes. That's why it is better that the shop owners and the people care for the cleanliness of themselves," Sa'doun added.
This has been the case for years in Sinuné, even though there are two different municipalities in the town. One of them is officially recognized and belongs to the Federal Government, the other is part of the Self-Administration Council of Shingal, which was formed in 2015 after Shingal was retaken from ISIS.
KirkukNow attempted to contact Jameel Safouq several times, but he wasn't willing to talk. He is the subdistrict's mayor appointed by the Federal Government.
Ibrahim Yusif, the mayor appointed by the Self-Administration, told KirkukNow: "When the government's municipality was not here yet, we were cleaning up the streets and alleys, but now that more people have returned from displacement, the task has become more difficult."
"We are not able to clean all the town's streets."
We are not able to clean all the town's streets
There are several security and administrative issues in Shingal district; it has two different mayors, and more than seven military groups are stationed there. And thousands of families still live in displacement.
Khudéda Choki, the mayor of Sinuné subdistrict, puts the blame for part of the problems on the administration of Nineveh province. Their repeated requests for assistance are being ignored, he says.
"The municipality of Sinuné owes the petrol station more than 60 million Dinars, because they haven't paid for the fuel they have bought for their cars. The government is unwilling to pay off that debt, and the result is the current situation."