"This is not smoke, this is poison," said Muhammad Shérzad whose home is at Tarjila village located a few kilometres away from a cement factory in Kirkuk's Laylan. "Young and old, we all live in hell. The plants have withered and the area has turned into a desert," he added as smog from the factory was moving over the village.
Muhammad is a farmer, but it has become hard to grow crops. Some of his saplings have died out.
The Kirkuk Cement Factory, also known as the Laylan Factory, is located in southeast Kirkuk City. It was built in the 1980s and currently has the capacity of producing nearly 2 million tons of cement.
The factory provides a substantial part of internal need for cement, but it has polluted the environment of the region, causing harm to resident's health, farming and plants.
It has no benefit to the nearby villages
"It doesn't have any benefit for the nearby villages. It only causes harm to people. The environment is polluted, and the trees and plants in the region have died out. We only were comfortable during the lockdown; we were breathing clean air then."
Smog and smoke from the factory, which residents call "poison," cover the area every day.
The main issue is that the factory is not equipped with any type of filter, letting residue particles spread in the air.
"It is odd that such a big factory is unable to filter the smoke. The environment in the villages is not just as dirty as in the cities," Shérzad added.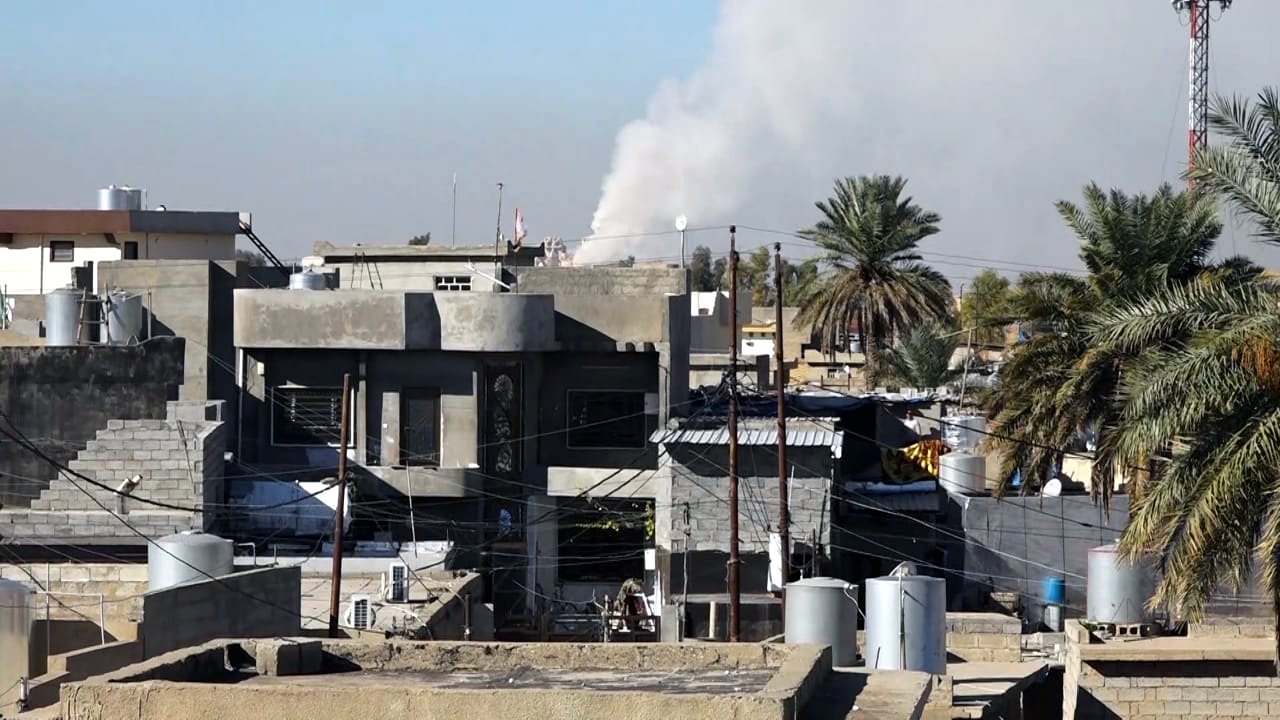 According to international standards, every factory must have 30% to 40% of the surface of its parcel covered with vegetation. But not only this cement factory doesn't have any vegetation on its parcel, nothing green can be seen in its surroundings for kilometres.
And unlike the Laylan factory, factories are also supposed to be far from residential areas.
The factory's manager, Dana Abdulla, told KirkukNow: "At the time when the factory was built, there were no residential homes in the area. This area was outside the city and far from residential homes. But nowadays the vicinity of the factory is covered with houses, and the villagers have returned."
"It is true that the factory emits a lot of smoke and dust which harms people, and we don't want that to happen. In addition to harming people, the environment and agriculture, we too are harmed financially; because the dust that is emitted could be used to produce more cement."
We are attempting to install filters for the emitted smoke and dust
Abdulla stressed that they are working with a number of foreign companies to provide filters for filtering the emitted smoke and dust, saying, "This problem will be solved in the future."
The factory has also polluted the air in Laylan, the town's residents say, while it has not provided job opportunities.
Abbas Aras, a 41-year-old resident of Laylan, said: "The factory only harms us; we view its smoke and breathe it in. That factory has become a nightmare for us. I wish I could see the stars some night, but the smoke doesn't allow it. The government must find a solution."
Abbas, who has three children, added: "I worry that my children will get cancer. Where in the world is a factory placed in the heart of a city?"
Muhammad Ways, the mayor of Laylan subdistrict, told KirkukNow: "Several times discussions on the matter have taken place between the factory's management, the Environment Committee and the local government. And the factory has been punished and closed a number of times because of the smoke. But closing it will cause a rise in cement prises and the employment of thousands of people, and that is not a solution."
The factory is currently managed by the Kirkuk's Manufacturing Committee. Ways said: "That committee must think of the residents and install filters to stop the emission of the smoke. Otherwise, a health catastrophe will occur."