Locals found a mass grave for Ezidis killed in a village near Shingal, a local official said.
Residents of Girzirg complex of Girouzer subdistrict of Shingal, west of Mosul, found a mass grave on Wednesday, they believe contains remains of three to four people,   Jalal Khalaf, mayor of Girouzer told Kirkuk Now.
"Some residents of the village told us there are several bodies in a mass grave, police immediately surveyed the area. Basic report shows three to four bodies are there," Khalaf added. They are waiting for related authorizes to unearth the grave.
The village of Girzirg fell under control of ISIS in August 2014 but it was retaken by Iraqi forces end of 2015.
ISIS/ Daesh gained full control of one third of Iraq till 2017 when Iraq announced regaining full control of the provinces of Nineveh, Anbar and Salahaddin and parts of Kirkuk and Diyala.
Khalaf said that investigations have not been launched yet and no reports about the identity of the bodies. "We are waiting for related authorities to form a team as soon as possible and unearth the grave."
 We are waiting for related authorities to form a team as soon as possible and unearth the grave 
2,293 Ezidis were killed in by ISIS, according to figures by KRG directorate of Ezidi affairs. Thousands of Ezidi women and children were taken as slaves by ISIS militants in what they call genocidal act against them. Ezidis are a religious minority living north-west of Iraq. 
Locals believe the mass grave is one of those for victims murdered by ISIS.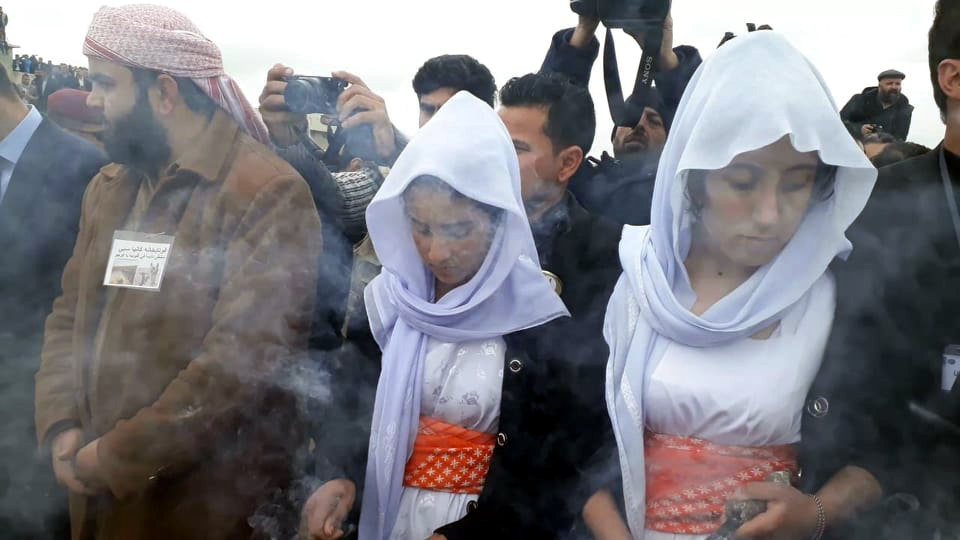 Farhan Haidar, a resident of Girzarg, said they found three to five bodies in the sewage of a deserted house. "We think the remains are Ezidi locals taken hostage by Daesh," he said. "We ask the related authorities to exhume the bodies and test it."
According to KRG figures, 80 mass graves were found in Shingal in addition to dozens of individual graves. So far few mass graves have been excavated.
In mid January, Iraqi government said its planning to excavate two main mass graves in Mosul which contains more than one thousand bodies for Ezidis and Turkmen victims of ISIS but no date set.