Pope Francis called on the Christians to return to Mosul in a speech he delivered amid the ruins of the Syriac Catholic Church of (Hosh Al-Beeia), the Immaculate Conception in Old Mosul.
On Sunday, Pope Francis flew from Baghdad to Erbil where, upon his arrival, he was welcomed by the President, the Prime Minister of the autonomous region of Iraqi Kurdistan, as well as civil and religious authorities.
Later Pope flew to Mosul and arrived at the Hosh al-Bieaa church, destroyed by ISIS in 2014, where he prayed for all the victims of war in the country and throughout the Middle East. 
"The tragic reduction in the number of the students of Jesus here and the Middle East is a big unaccounted damage not only for the marginalized individuals and groups but for the whole society they leave behind," Pope addressed the crowd.
"This weakens the cultural and religious texture rich of diversity to lose any of its members." He called on the Christian community to return to Mosul and play its vital role in the process of "recovery and renewal."
Between June 2014 and July 2017 Mosul was occupied by the Islamic State. An estimated half a million people, including more than 120,000 Christians, fled from Mosul, which had a population of 1,846,500 in 2004.
The four churches of the ancient Christian community were destroyed by the so-called Islamic State. In Mosul alone there are over 30 churches that have been completely destroyed. None of them have been rebuilt yet.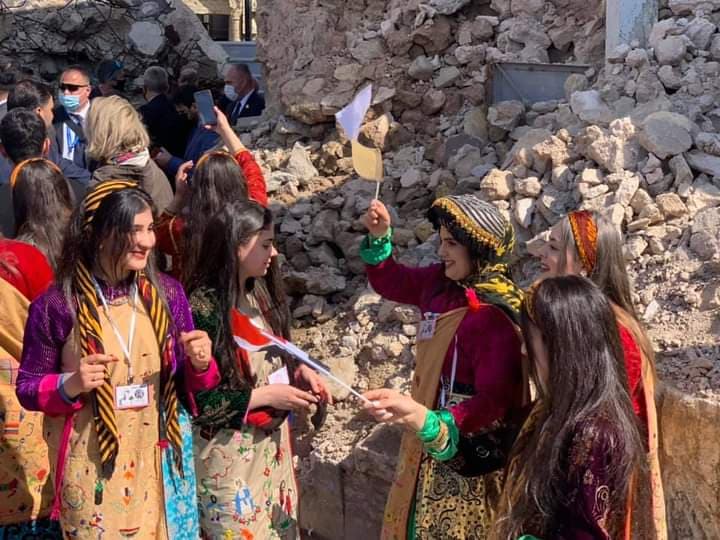 Pope thanked those who supported return of the Christians to their hometowns especially in war-devastated Mosul.
"Welcoming Christians returning to Mosul is a hope for a great future as the genuine identity of Mosul is the peaceful co-existence that the city lives in."
Images of joy and happiness where seen across Mosul that witnessed a catastrophic tragedy at the hands of the extremist Jihaddists.
"Lord our God, in this city, we see two signs of the perennial human desire for closeness to you: the Al-Nouri Mosque, with its Al-Hadba minaret, and the Church of Our Lady of the Hour, whose clock for more than a century has reminded passersby that life is short and that time is precious," he added.
Pope expressed his sadness for the brutal tragedy Nineveh, cradle of humanity, faced. He concluded with a prayer both for the deceased and for "those who caused such harm to their brothers and sisters." May they repent, he added.