A Shiite militia group in Shingal names a street after a commander killed in a US airstrike for hit ties with Iran, a similar move repeated in other disputed territories.
A month ago, brigade three of pro-Shiite Popular Mobilization Forces PMF paramilitary deployed in Shingal district, home to Ezidi religious minority, put a big poster for Abu Mahdi al-Muhandis, a key Shiite commander of PMF, in a main street of Shingal without consultation with the municipality in charge of such issues.
Key commander of PMF known as al-Hashed al-Sha'bi, was killed in January 2020 by a US drone-strike in Baghdad targeting major general Qasem Soleimani, in charge of Iranian al-Quds Corps (Failaq al-Quds) operations in the Middle East.
Local officials deny that PMF has consulted them or got official approval to name the street. Natiq Ahmed, spokesperson for Shingal police, said the street is the main one downtown and the PMF have named it (Abu Mahdi al-Muhandis) and put a big photo of him.
"The street had no name before that. Some were calling it the hospital street or others were calling it Party Street as office of KDP was there now occupied by PMF," he added.
Shingal, located 120 west of Mosul, center of Nineveh province, used to be home to over half a million Ezidi ethno-religious minority and one of the disputed territories between Baghdad and Erbil. Ezidis also live in Bashiqa and other areas in Duhok Northern Province.
Seized in August 2014 by ISIS militants whom accused the Ezidis of being "devil worshippers," Shingal has been the scene of tragedy: a genocidal campaign of killings, rape, abductions and enslavement, and the surviving community fled to safer-heaven IDP camps in the adjacent northern Kurdistan region.
In 2017, when Iraqi government announced ousting IS militants, several groups were deployed in Shingal. Currently Shingal has several administrations, one based in Duhok supported by Kurdistan Democratic Party KDP led by Masoud Barzani.
The autonomous administration of Shingal based in Shingal is close to Ezidkhan Asayish, a militant group close Kurdistan Workers' Party PKK, a group fighting Turkey and holding several territories north of Iraq. Ezidkhan Asayish, security in Kurdish, claim they have played role in liberation of Shingal and their members are all locals from the region.
According to Iraqi laws, municipalities are in charge of tidiness of town and naming streets.
Marwan Khalaf, media manager of Shingal municipality, said the PMF have not consulted them and "we did not approve such a name. We might address them about this yet currently we do not want to comment on this."
Naming of the street comes amid tension between Iraqi army and pro-PKK group for undertaking the security of Shingal district. Iraqi army asked Ezidkhan Asayish to leave Shingal downtown peacefully or forcibly.
Ezidkhan Asayish supporting Shingal autonomous administration denied leaving its bases and administration of the war-torn district. Tens of thousands are still living tens of camps in the adjacent Kurdish region. 
As IS invasion of the region and the fight against it led to vast destruction that requires tens of billions, the reconstruction process is very slow. Lack of security, stability, poor infrastructure and unemployment makes it hard for the vulnerable community to return home.
KRG figures show that IS militants captured 6417 Ezidis mainly women and children out of which almost 3,000 are still missing. Over 8o mass graves and tens of individual graves were found and so far small part of it has been exhumed.
Naming streets after political and military figures is a culture in Iraq following ousting Saddam Hussein regime in 2003. Last year, a report by Kirkknow showed streets of Daquq, southwest of Kirkuk , home to kaka'i religious minority, were named after political and military figures whom failed to provide public services, safety and security, the locals say.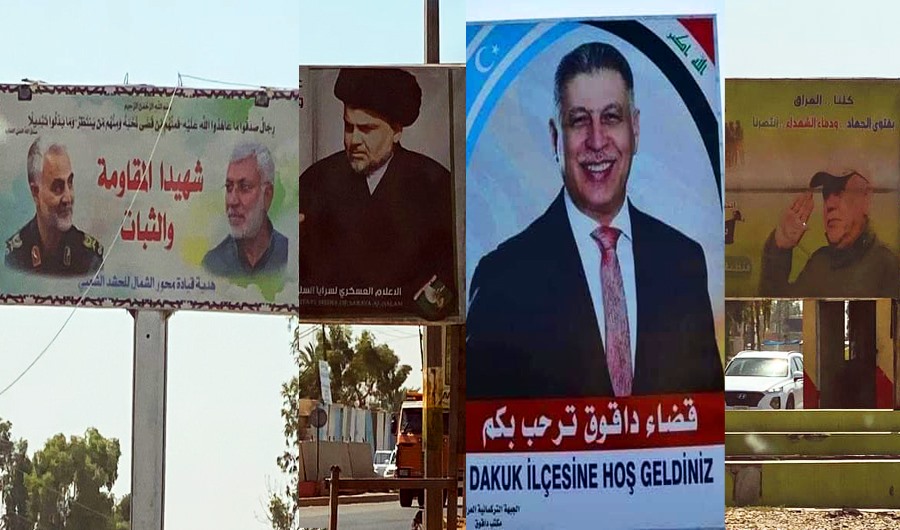 Last August, the Iraqi Turkmen Front ITF, inaugurated a big poster for its former leader Arshad al-Salihi saying (Welcome to Daquq). Big posters for Shiite cleric Muqtada al-Sadr, Hadi al0Amiri leader of Badr organization, ayatollah Ali al-Sistani, the leading spiritual Scholar for the Shiites, Ali Khamanai, leader of Iran' Islamic revolution in addition to posters for Soleimani and al-Muhandis.
Up to 2017, the Kurdish forces of KDP and patriotic Union of Kurdistan PUK were controlling the disputed territories were they laid tens of posters for their political leaders and military commanders without official approval of relevant authorities.
Since the military defeat of IS, discord over security arrangements, public services, and the lack of a unified administration, have plagued victims and survivors.
The Shingal agreement between Erbil and Baghdad includes understandings to withdraw all armed groups from the area, restore the local administration, appoint a new mayor, reconstruction and supply of basic public services in order to pave the way for volunteer return of thousands of Ezidi IDPs living in tens of camps in Kurdistan region.