Following the eight meeting for the Kurdish political parties in Kirkuk, no deal has been concluded while the deadline for registration of blocs and coalitions is at the doors on May 1st.
On April 28, representatives of several Kurdish parties have met at the Kirkuk office of Patriotic Union of Kurdistan PUK. Kurdistan Democratic Party KDP, led by Masoud Barzani, the decades ally of PUK whom together run the Kurdistan regional government KRG, Change Movement (Goran) and the opposition party Nawai New (The New Generation) have boycotted the meeting.
Hasan Shekhani, in charge of Islamic Movement of Kurdistan IMK office in Kirkuk, said they have come to know that PUK has delivered name of its candidate to the electoral commission.
"We can say the idea of forming a unified list has revoked on the ground," Shekhani said. "it's a pity that in decisive issues some parties turn back to a unified Kurdish list leading to discord in the Kurdish house."
"We can say the idea of forming a unified list has revoked on the ground," Shekhani said.
Shekhani said earlier they have agreed about the name of the list, logo, slogans and several points by 10 parties and to share the candidates in the electoral propositions in Kirkuk.
PUK led by co-presidents Bafl Talabani and Lahoor Sheikh Jangi, son and nephew for former secretary of the party and Iraqi president Jalal Talabani, is the leading Kurdish party in Kirkuk since 2005. PUK has got 6 out of 12 seats of Kirkuk province in Iraqi parliament elections of 2013 and 2018.
With headquarters in Sulaymaniyah, PUK was nominating Kirkuk governor since 2003 up to 2017 when Iraqi troops retook control of Kirkuk and the disputed territories following the defeat of so-called Islamic State ISIS. Currently deputy governor Rakan al-Juburi, of the Arab component of Kirkuk multiethnic city, is acting as governor of the oil rich city.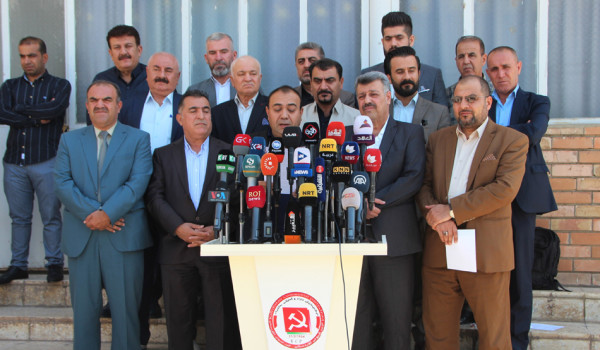 The parties were trying to convince PUK and KDP to have their candidates in the three electoral districts of Kirkuk, a district for PUK and KDP, another for Kurdish Islamic parties and the last for secular parties.
Kurds are planning to take all the five seats in the Kurdish dominant district while for the second mixed district, they plan to take two out of four yet the hard mission is to win one seat out of three in the third Arab dominant district south and southwest of Kirkuk.
"we were shocked when we heard PUK stealthily applied name of tis candidates to electoral commission while we were negotiating a list and we have only few days for the deadline," Shekhani added.
The new electoral law ratified last November, a key demand of demonstrators in 2019, changes each of the country's 18 provinces into several electoral districts in order to prevent parties from running on unified lists, which has in the past helped them easily take all the seats in a specific province. Instead, the seats would go to whoever gets the most votes in the electoral districts.
The 329-member house of representatives was elected in May 2018. The vote is held every four years, but the protesters have been demanding early elections. Kirkuk northern province is divided into three electoral districts for 12 seats.
PUK blames the no-deal meetings due to lack of unanimous agreement by the key figures of the Kurdish parties in Kurdistan and extending registration by the electoral commission.
Ali Qalayi, in charge of PUK electoral issues in Kirkuk said the leaderships of the Kurdish parties are trying to form a unified list for Kurdistan and the disputed territories. "We are also waiting for their efforts. Besides, the process is slow in Kirkuk due to extending registration by the commission."
Qalayi is optimist there is still time. "Today meeting (April 28th) was a response to those rumors that a unified list has failed." He denied registering their candidate by the elctroal commission.
"Today meeting (April 28th) was a response to those rumors that a unified list has failed."
The KDP showed its desire for a unified list have no attended any meeting in Kirkuk. Headquarters based in Erbil; it has won only two seats of 12 seats of Kirkuk parliamentary seats in 2013.
KDP is willing to run for Kirkuk 2021 elections as it has boycotted 2018 parliamentary election in Kirkuk after October 2017 events when Iraqi troops regained control of Kirkuk and disputed territories following ISIS claimed defeat.
In October, 2017, Iraqi troops backed by pro-Shiite militias expelled Kurds from Kirkuk following a referendum to join Kurdistan region held by the Kurdistan Regional Government KRG.
Since then, the KDP suspended all its political activities in Kirkuk province, and most of the officials affiliated with the party who used to occupy governmental, security and administrative positions were displaced to Erbil.
The KDP defines recontroling Kirkuk "occupation", accuses PUK of treason and cooperation with the Iraqi government and demands a pact alike Shingal agreement signed in October 2020 between the Erbil and Baghdad for appointment of a new administration, ousting militiamen to be replaced with joint troops to oversee the security all over the province.
In exchange, PUK blames KDP-led referendum has triggered Iraqi government's assault to gain power in Kirkuk.
The alternative for a unified Kurdish list is to seek partners from other ethnicities. IMK said it is ready to make a coalition with Turkmen Illi Part and Iraqi Communist party.
"If we do not come to agreement with PUK and KDP, we might make a coalition with parties of other ethnicities."
 Kirkuk is home to about 1.2 million Kurds, Turkmen and Arabs, according to KRG figures in 2018.
"We can not play the role of voter and support of PUK and KDP and have no candidate because this is unacceptable by our followers."
"We can not play the role of voter and support of PUK and KDP and have no candidate because this is unacceptable by our followers."
Gorran, Kurdistan Justice Group, Islamic Union of Kurdistan and IMK prefer to have candidate in each district.
Since the military defeat of IS, discord over security arrangements, public services, and the lack of a unified administration in the disputed territories, have plagued victims and survivors.
After toppling of Saddam Hussein regime in 2003, article 140 of Iraqi constitution in 2005 was outlined as a framework for the determination of the fate of the disputed territories.
The three-stage process outlines the normalization of the areas, conducting a census, and holding a referendum to know the will of the people to join Baghdad federal government or Iraq's Kurdistan region government KRG. Up today, part of the first stage has been implemented.
Kurdish forces were controlling the disputed territories up to October 2017 when Iraqi forces retook control in October 2017 by (Law Enforcement) operation following the declaration of ousting so-called Islamic State ISIS from Iraq.