Iraqi government is planning to turn a camp used to be home of family members of the Islamic State IS group into home for family members of IS held at al-Hold camp in northern Syria amid wide public protests.
Al-Jad'a 1, in Ninevhe province, used to be home for Iraqi families affiliated to IS members and was shut to push the residents to return home. Those who had social problems in their home towns have resorted to al-Jad'a 5 camp to escape tribal retaliation from the locals.
500 tents have been installed by the international organization for migration IOM in the camp and 100 families to be replaced from al-Hol in few days, about 700 people.
Al-Hol camp, east of al-Hasaka Kurdish province in northern Syria, is home for about 72,000 of people affiliated to IS fighters, almost 30,000 of them are Iraqi women and children. Others are Syrian and foreigners.
Farhan Ibrahim, an Ezidi activist from Shingal, told KirkukNow people are concerned about this move. "This is a threat to security and stability in the state in general and Nineveh in particular."
"These families are ideologically affiliated to Deash, extremist and dangerous ideology. Any security gap might lead to catastrophes not less than Daesh attacks of 2014."
ISIS militants stormed Mosul and controlled almost one third of Iraq. Their crimes against the ethnoreligious Ezidi minority escalated to genocide when they beheaded thousands, buried in tens of mass graves.
The extremist Islamist fighters accuse the defenseless Ezidis of being devil worshippers, enslaving over 6400 women and children as sex slaves, half of them brought to unknow destiny and the rest were freed and reunited with their families living in poverty in the IDP camps in the Kurdish adjacent region.
Shingal and Shekhan were home to over half a million Ezidis prior to IS atrocities. 300,000 fled to Kurdistan and Shingal Mount and about 100,000 left Iraq forever.
Local officials refuse the preparations by Iraqi ministry of migration and the displaced.
"We wanted to shut the camp a while ago but officials at the ministry of migration said they plan to relocate families from al-Hol camp," said Ali Omar Ga'bo, Governor of Ninvehe assistant for IDP and Ngo affairs.
The relocation he disagrees is scheduled in May yet the decision has been made be the highest authorities, Ga'bo said.
Nineveh members of Iraqi parliament oppose the plan and warn of serious aftermath.
Head of Iraqi parliament's committee for regions and provinces Shirwan Dwbrdani said it is a dangerous step.
"The relocation of 100 families from al-Hol camp in the coming days is a threat to security and stability of Nineveh province. We hold the federal government accountable for its aftermath," he said in a statement.
Dwbrdani called for Nineveh MPs and local officials to stand in a line to reject the proposal that affects the future of the province.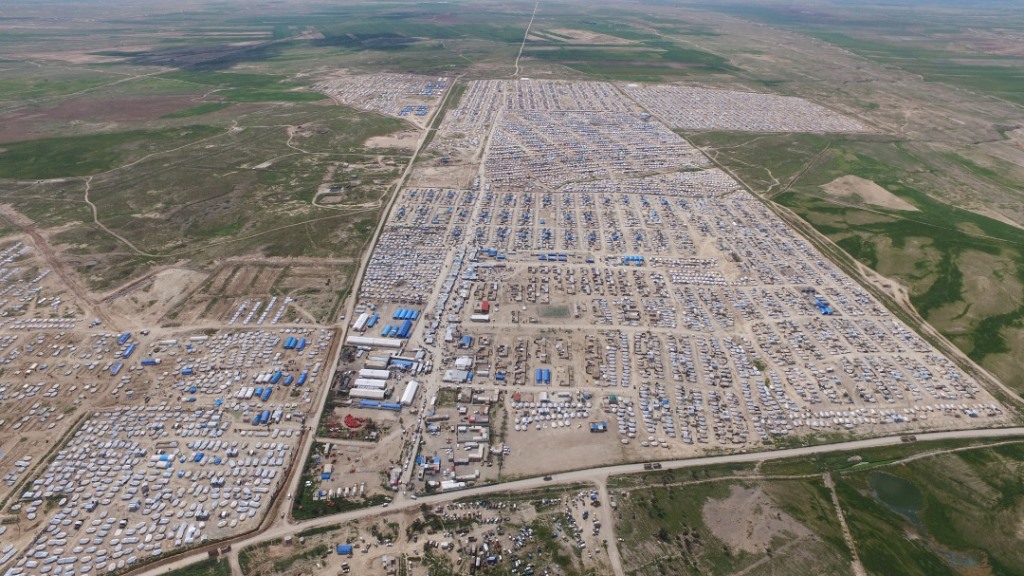 Iraqi ministry of migration and the displaced authorities said their duty is to relocate them into the camp and they are not in charge of their security.
Nineveh MP Basma Basim, said in a statement end of April she talked to the ministry of who said they are not checking the security file of the returnees and it is the national security duty.
"National security rejected return of families affiliated to Daesh criminal gangs or collaborated with them," she added. "National security adviser Qasim al-A'raji aims at no entry for any of those families into Nineveh for the safety of the region.
Iraqi government plans to close all the camps across the country including al-Jad'a camp home for 1300 families, among them 950 families of ISIS militants. 14 out of 15 Internally Displaced People IDP camps in Mosul built for the displaced whom fled ISIS atrocities in 2014 and families of IS fighters.
The plan was successful to reintegrate 66,000 families into their communities in a voluntary and smooth process, Evan Gabro, Iraqi ministry of migration said in February.