The pro-Shiite paramilitary of Popular Mobilization forces PMF (al-Hashid al-Sha'bi) are carrying out a campaign to remove debris of war-torn houses in the Ezidi-predominant district of Shingal.
The campaign launched on April 23 is to be followed by sweeping remnants of demolished buildings downtown. Locals willing of rebuilding their houses, by signing a paper showing their consent, can receive a rebuilt house.
PMF plans to renovate the streets of Shingal as well. The Ezidis are divided to supporters willing to rebuild their houses for free and others whom reject involvement of their suffering into politics.
PMF says their plan is to serve the locals.
Marwan Kamal, representative of Falih Fayaz, head of PMF, said they are cooperating with government offices and rebuild houses upon consent of the owners. "Our goal is to serve people. We want to rebuild destructed houses to tidy the city and its streets and have no any other goal."
30 locals showed consent for rebuilding their houses in a week, Kamal said.
"The campaign is covered by PMF budget and we impose no terms and conditions on any one. We try to build new houses as well."
The campaign is covered by PMF budget and we impose no terms and conditions on any one.
Kamal says this is not their first campaign as they covered other areas in Nineveh province upon approval of the governor.
Statistics by the Iraqi government shows that 85% of Shingal has been destructed under the so-called Islamic State in Iraq and Syria.
Shingal district, 120 km west of Nineveh on the border with Syria, home to over 100,000 Ezidis, was retaken by Iraqi forces in October 2015 yet up today most of its inhabitants live under tents in the camps Bersivi, Kabartw, Isyan and others in Duhok, Erbil and Sulaymaniyah.
Seized in August 2014 by ISIS militants whom accused the Ezidis of being "devil worshippers," Shingal has been the scene of tragedy: a genocidal campaign of killings, rape, abductions and enslavement, and the surviving community fled to safer-heaven IDP camps in the adjacent northern Kurdistan region.
Ezidis were estimated at half a million ahead of Daesh atrocities. Over 350,000 of ethnoreligious minority fled their homes to Kurdistan region and Shingal Mount. About 100,000 migrated to Europe, USA, Canada and Australia and over 200,000 are still living in IDP camps in Kurdistan up today.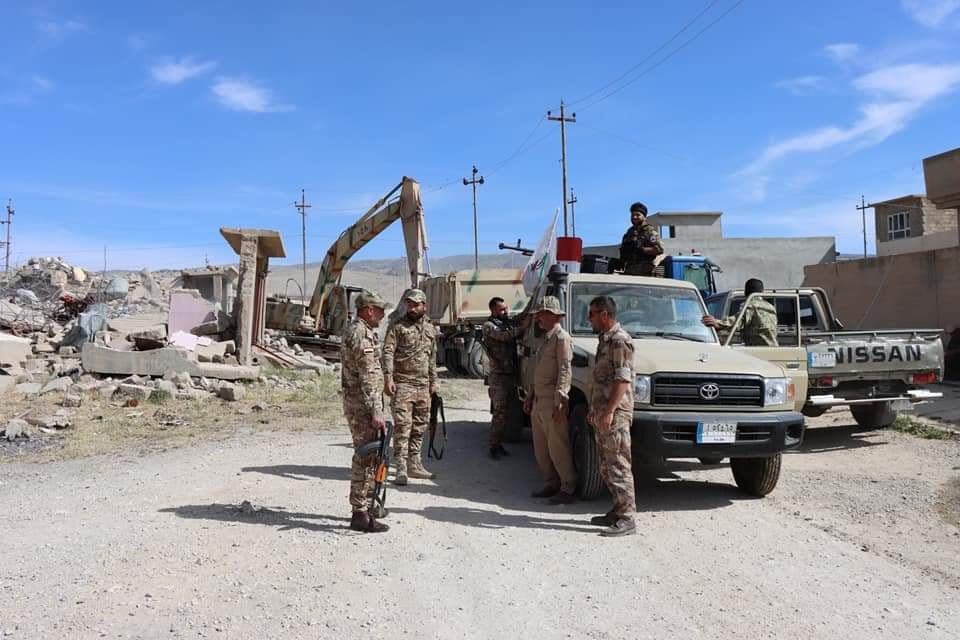 Local authorities in Shingal deny consultation, coordination and confirmation of the current campaign by PMF.
Head of Shingal municipality said they have not received any official letter from Nineveh local authorities to cooperate with PMF.
Some locals are still waiting for the government to heal their wounds.
Khairi Ibrahim lives in Khanky IDP camp in Duhok since seven years because he lost his house in the battle against Daesh yet he rejects support from PMF.
"We do not agree for Hashid al-Sha'bi to remove debris of our houses. They have political motives and they are a political party. We want our houses to be rebuilt through the government."
We do not agree for Hashid al-Sha'bi to remove debris of our houses. They have political motives
The security scene is another concern for Ezidis willing to return home. The complex texture of the security and administrative situation in Shingal is an aftermath of ISIS reign and a source of concern of the Ezidi community in general and in particular for those returned home in hope of leading a normal life post ISIS trauma.
In the Ezidi-dominant region of Shingal, only three thousand square km, Baghdad federal and Erbil regional governments compete to establish their rule: three local administrations want to administer the district, and eight different security forces are deployed, some loyal to Baghdad, others to Erbil.
The militant groups are PMF, Shingal Protection Units (YBSh) and Ezidkhan Asayish which are pro-PKK fighting Turkey and controlling some regions in Iraq), local Police, Iraqi army, Ezidkhan Peshmerga and KRG's Peshmerga (Kurdish fighter).
Since the military defeat of IS, discord over security arrangements, public services, and the lack of a unified administration, have plagued victims and survivors.
The Iraqi army is trying hard to implement Shingal agreement concluded by Erbil and Baghdad last October which aims at restoring stability and reconstruction to the region through withdrawal of all armed groups from the area, restore fresh local administration, appoint a new mayor, reconstruction and supply of basic public services in order to pave the way for volunteer return of thousands of Ezidi IDPs living in tens of camps in Kurdistan region.
Efforts by the United Nations UN, local and international NGOs have not covered needs of the vulnerable impoverished community.
 "One year ago, the government received our applications for renovation of our houses but no cooperation so far. It's just words," Ibrahim added.
Others desperately agree for their houses to be rebuilt by whoever, hopeless of the government efforts.
"I am ready to accept any one offer to rebuild our houses by any one and we thank those who support Shingalis," said Faisal Eido, a resident of Gir Ouzer sub-district.
"Our condition is they have no political goal and following their services do not ask us to support them in return."
"The forces based in Shingal have offered other services in the past and we can't wait only for the government."
As IS invasion of the region and the fight against it led to vast destruction that requires tens of billions, the reconstruction process is very slow. Lack of security, stability, poor infrastructure and unemployment makes it hard for the vulnerable community to return home.