National power is back to the sub-district of Gir Ouzer of war-torn Shingal in Nineveh following seven years of absence due to invasion of the region by the so-called Islamic State in Syria and Iraq ISIS.
Directorate general of electricity in Nineveh has maintained power network of Gir-Ouzer, west of Mosul on the border with Syria, on May 5th, seven years after the invasion of the Ezidi dominant region and one third of Iraqi territories.
Locals who spent almost a year depending on private power generators are pleased by restoration of one of the vital and basic public services that touches their daily lives.
 Ibrahim Khidir is the breadwinner for a family returned to Gir Ouzer last September. "Our main problem has been solved. WE spent very hard months without national power. We were dreaming of cold water in summer and it came true."
We were dreaming of cold water in summer and it came true.
"Now we are happy as we enjoy 16 hours of power a day. This makes more families to come back. Four families came back since power is restored and many others are prepared."
Gir Ouzer is made up of three settlements and 15 villages. Power is restored in center of the sub-district, and the suburbs to follow soon.
Local officials are willing that restoration of public services urges tens of thousands of IDPs back to their home towns.
Khudeda Hassan, acting mayor of Gir Ouzer, said the first stage power supplied to the center of Gir OUzer and the second stage is the surrounding villages. "Power supply pushes IDPs to return home."  
Gir-Ouzer, home to 5,000 returnees, and the Ezidi-dominant region of Shingal and Shekhan has been the scene of genocide at the hands of the extremist fighters of the Islamic State in Iraq and Syria ISIS in August 2014.
Though Iraqi government declared victory over ISIS in 2015, IS invasion of the region and the fight against it led to vast destruction that requires tens of billions. The reconstruction process is very slow due to absence of funding: lack of security, stability, poor infrastructure and unemployment makes it hard for the impoverished community to return home.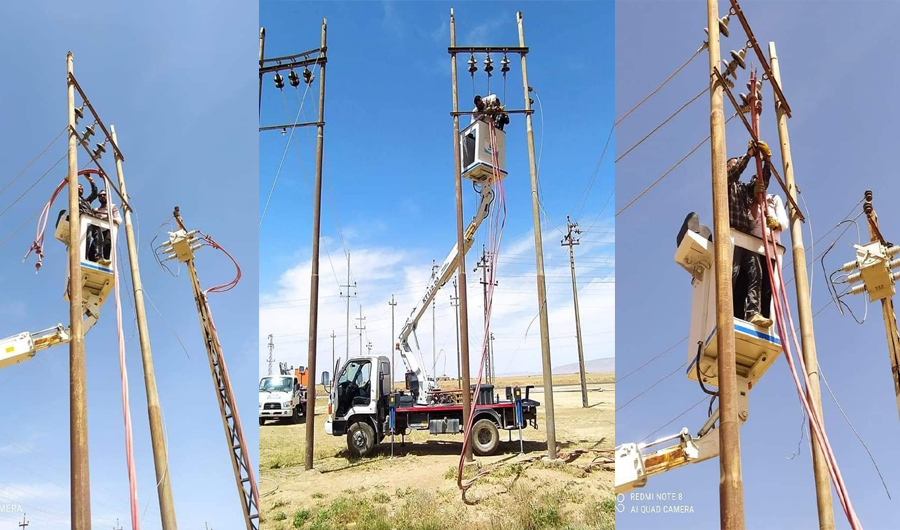 Ezidis are adherents of one of the ancient monotheist religions. Their population was over half a million in Nineveh province ahead of the ISIS atrocities.
Seized in August 2014 by ISIS militants whom accused the Ezidis of being "devil worshippers," Shingal has been the scene of tragedy: a genocidal campaign of killings, rape, abductions and enslavement, and the surviving community fled to safer-heaven IDP camps in the adjacent northern Kurdistan region.
Kurdistan Regional Government KRG figures show that IS militants captured 6417 Ezidis, mainly women and children, yet 3,000 are still missing. Over 8o mass graves and tens of individual graves were found but small part of it has been exhumed.
Daud Haji Sharo, has returned home last July. He is pleased that at the end power is restored by the local authorities.
"We have fled fire and now we are in heaven. We were tired without power. We thank the media and the government whom played role in solving this issue," Haji SHaro told KirkukNow
We have fled fire and now we are in heaven.
As the government is in charge of providing drinking water from big tanks in each town through a network to all houses, currently in Gir-Ouzer, a tanker delivers plenty of water for each family as a temporary solution.
Most of government offices are shut in Gir-Ouzer which awaits reconstruction and renovation.
Following ISIS invasion, over 300,000 Ezidis were displaced to Mount Shingal and IDP camps in Kurdistan while about 100,000 has fled the country forever.
The catastrophe has led to daily casualties in the war-torn region as no serious efforts have been spent to save the traumatized survivors of atrocities. Several cases of suicide were reported among the Ezidi youngsters in the last weeks.