A group of PKK-affiliated Shingal (Sinjar) Resistance Units YBSh has arrested 2 Kurdish Peshmerga officers in Shingal for violating "their territories," and following social efforts, it hands them over to the Iraqi army.
The two Peshmergas, Fero and Badal Othman of Shingal command were arrested in the settlement of Khanasor, an area controlled by pro-PKK groups, of Shingal on June 7th.
"Fero and Badal went to the village of Karky in Khanasor to buy a cow for sacrifice and we talked to them yet suddenly they said YBSh fighters are coming and switched off the phone," said Amin Othman, father of Badal.
The two officers are cousins, married, based in Sihela of Duhok province. They were off duty when arrested.
Following their arrest, we asked YBSh militants to free them yet they denied capturing them though we had eye witnesses."
YBSh fighters are Ezidis and close to the Kurdistan Workers Party PKK, fighting Turkey since years and holding territories in Iraqi Kurdistan. When Shingal fell under reign of Islamic State ISIS in August 2014, Iraqi troops backed by Kurdish Peshmarga (fighters) and pro- PKK fighters' ousted ISIS in October 2015 and deployed in several areas in the region.
In the Ezidi-dominant region of Shingal, only three thousand square kilometers, Baghdad federal and Erbil regional governments compete to establish their rule: three local administrations want to administer the district, and eight different armed forces are deployed.
The militant groups are Iran-backed Shiite Popular Mobilization Forces PMF, YBSh and Ezidkhan Asayish which are pro-PKK, federal and local Police, Iraqi army and the Kurdsitan Regional Government's KRG Peshmerga.
"On June 8th early in the morning, the YBSh under pressure surrendered the  2 officers to the Unit 20 of Iraqi army whom said they will question and later release them," Amin said.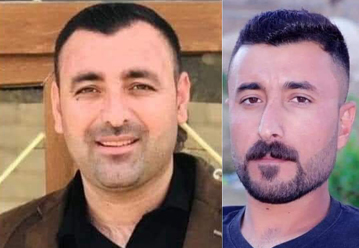 Shingal Autonomous administrative Council is a local civil administration founded few years ago, close to PKK forces, Ezidkhan Asayish, YBSh (Sinjar Resistance Units) and YPZh based in Shingal Mountain. Ezidkhan Asayish (security) has about 1,000 fighters and is part of YBSh in charge of the security in the area.
Haso Ibrahim, deputy director of Shingal autonomous council told KirkukNow the two Peshmergas were handed over to the Iraqi army but has no details for what reason they have been arrested.
The Ezidi community is divided between the Iraqi government, KRG and pro-PKK groups.
Shingal, located 120 km west of Mosul, center of Nineveh province, used to be home to over 100,000 adherents Ezidi ethno-religious minority and one of the disputed territories between Baghdad and Erbil. Ezidis also live in Shekhan, Bashiqa and other areas in Duhok Northern Province.
Seized in August 2014 by ISIS militants whom accused the Ezidis of being "devil worshippers," Shingal has been the scene of tragedy: a genocidal campaign of killings, rape, abductions and enslavement, and the surviving community fled to safer-heaven IDP camps in the adjacent northern Kurdistan region.
Out of half million population, over 350,000 Ezidis fled Shingal to Kurdistan region and Shingal Mount. About 100,000 migrated to Europe, USA, Canada and Australia and over 100,000 are yet living in tens of camps for Internally Displaced Persons IDP in the adjacent Kurdish region.
Dakhil Murad, member of Shingal tribal committee and a well-known figure in Khanasro, said "those two officers are my relatives. Karky is a military area so any goes there is questioned by the YBSh and they have the right to do that."
The two officers are under Shingal Command, a unit formed by the KRG ministry of Peshmerga in 2014. Part of the 2,000 Peshemrga unit is based in Sharaffadin temple in the center of Shingal and the other part are deployed in the Ezidi town of Sihela.
The Kurdish Peshmerga commanders were furious ate the act of YBSh.
"Shingal is for all of us and we can go wherever we want and never accept any one to stop us," said Marwan Ilyas, commander of the Peshmerga forces west of Tigris River.
The Iraqi government is trying hard to implement Shingal agreement concluded by Erbil and Baghdad last October which aims at restoring stability and reconstruction to the region through withdrawal of all armed groups from the area, restore a fresh local administration by appointment of a new mayor, reconstruction and supply of basic public services in order to pave the way for volunteer return of thousands of Ezidi IDPs.
According to Shingal pact opposed by part of the Ezidis particularly supporters of pro-PKK groups, local police, national security and intelligence will be in charge of security downtown and the federal troops to be deployed in the outskirts.