At the dawn of a new sunny summer day, a number of street dogs lay beside a wall of one of the houses in the new neighborhood of Sekanian of Kirkuk, once used to be a village next to the downtown.
Suddenly a policeman shoots one of the dogs by a live bullet dead and the others run right and left to flee shooting to death, a campaign for eradication of stray dogs. The policeman is tasked to shoot dog streets dead from 6.30am to 9.30 am.
The neighborhood is on Kirkuk-Erbil highway and its surrounding is deserted making it a safe haven for dog streets but not anymore.
A joint team of Kirkuk administration few days ago assign a policeman with a hunting gun to shoot homeless dogs gathering in the new neighborhood excluding feeding mothers and its puppies.
The campaign trigged wide protests by advocates of animal rights yet Kirkuk administration says it was forced to launch the campaign following reports of death cases and serious injuries by the dogs against civilians, mainly women and children.
The policeman traces the dogs and shoots it. A dog hit by the policeman is sunk in blood and dying. The policeman gets closer and shoots it in the head saying its mercy bullet to avoid further pain.
We don't think this is a good way to eradicate street dogs
"We don't think this is a good way to eradicate street dogs because no one has the right to kill an animal but we have no other options," said Hawry Rahman, in charge of Kirkuk mayor office committees.
Kirkuk municipality, directorate of veterinary and security forces are represented in the joint team for eradication of the homeless dogs.
Rahman affirms that the campaign followed continuous requests by residents of Kirkuk for the increase in the number of the dogs. Kirkuk administration chaired by acting governor Rakan al-Jiburi took the decision to form the team for a one-month campaign launched end of May.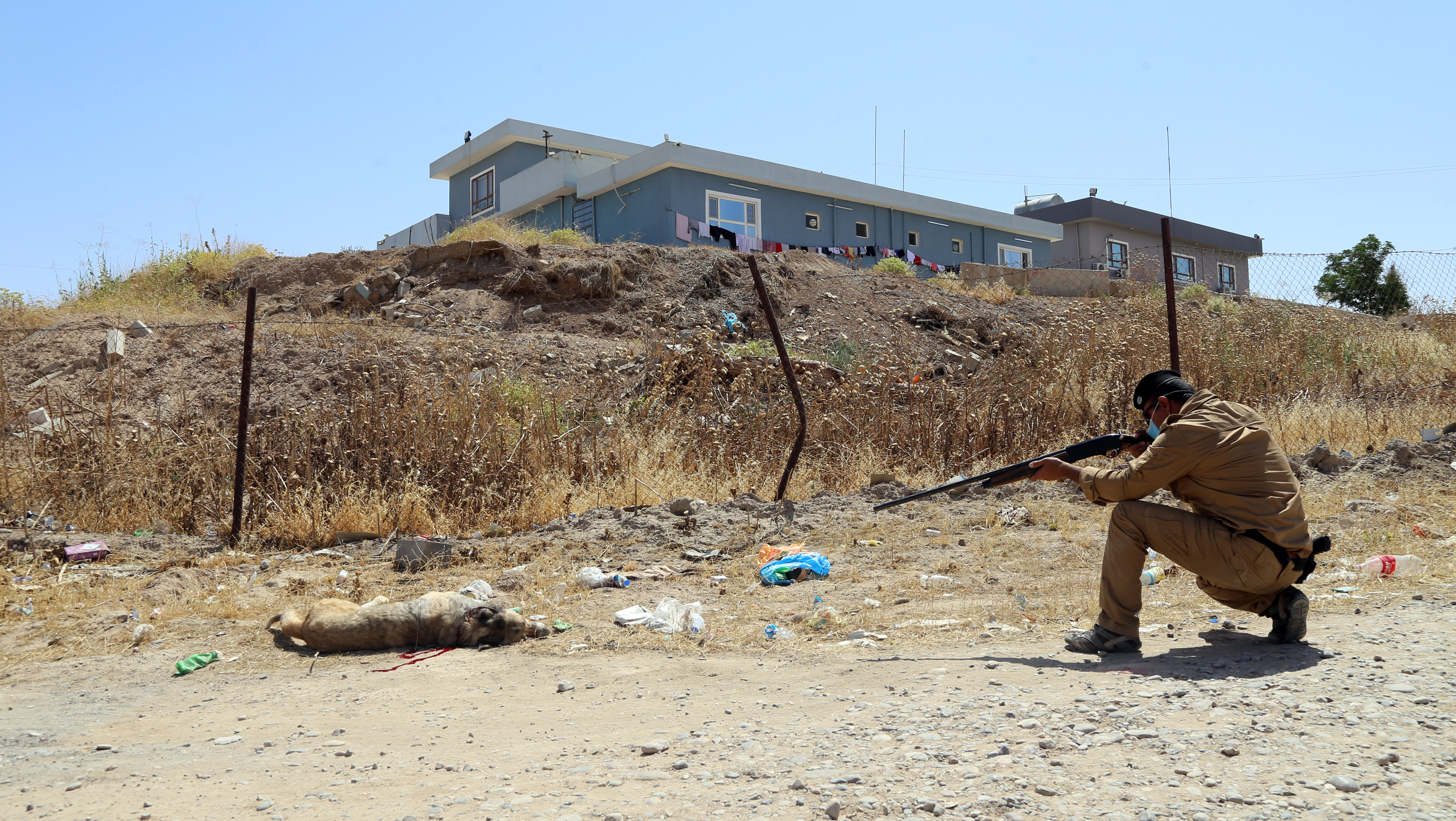 KirkukNow correspondent escorted the team in two areas of Kirkuk. The last one was in Sekanian.
Residents wake up by the sound of bullets and dogs barking.
"Those who do not live here doesn't know what a tough time we are passing at the hands of street dogs," said Mazin Abdullah, a resident of Sekanian. "Many people do not dare to a store or a mini market especially at night in fear of being attacked by a stray dog."
Abdullahs says his wife is so scared of the dogs that she stays at home till he comes back from work in the evening to escort her when hanging out.
KirkukNow has talked to many residents of Seknian and Khazar where a campaign was launched. They assured they want the issue of street dogs to be sorted out but in another way, even if killed at should not be done in the public in front of the eyes of women and children.
The campaign has been suspended due to lack of budget and hunting bullets
"We face harsh criticism over the method we use but if we had a proper budget, we could have provided a shelter for the street dogs out of town or inject it with infertility injection," Rahman added.
The campaign has already existed yet been suspended due to lack of budget and hunting bullets, he added.
Over 3,000 dogs were shot dead by bullets in 2017 and 2018 campaigns in Kirkuk.
Video: Kirkuk June 2021- 550 dogs shot dead in three weeks.
Dana Ghazi, member of Sekanian village council said the problem of street dogs exists since few years. "Kids can not go out and play in the evenings. It's risky to walk back from school as accidents occurred."
Ghazi recalls a four-year-old kid passed away when dogs attacked him in September 2018.
"Four street dogs attacked my son Anas on his way from home to my while I was working in a house behind our home," said Hawkar Sa'id, father of the kid, who strongly supports the eradication campaign.
Kirkuk team has slaughtered about 550 street dogs in three weeks, figures by the mayor office said.
One day, the policeman with the hunting gun in Sekanian has killed 45 dogs in three hours.
Feeding dogs and puppies are excluded
The dogs are shot dead without any prior tests how sick or dangerous it is.
"In our campaign, we take into consideration the preservice of milking mums and puppies since it is considered healthy and poses no threat," Rahman said.  
KirkukNow reporter confirmed he has seen milking mums and puppies loitering in Sekanian and not targeted.  
Some reports prove that dog bites might lead to serious illnesses like cysts that might cause death.
Street dog advocates argue that all religions ban slaughter of animals and education programs teaches children for mercy towards animals especially the homeless.
Shikofa Mohammed, a civic activist, says all religions ask for protection of animals.
"In curriculums, we teach the kids to protect it so it is inhuman to slaughter it in front of their eyes," Mohammed angrily said.
Iraqi veterinary health law in 2013 stated that every province to form a committee in cooperation with the security forces to eliminate street dogs.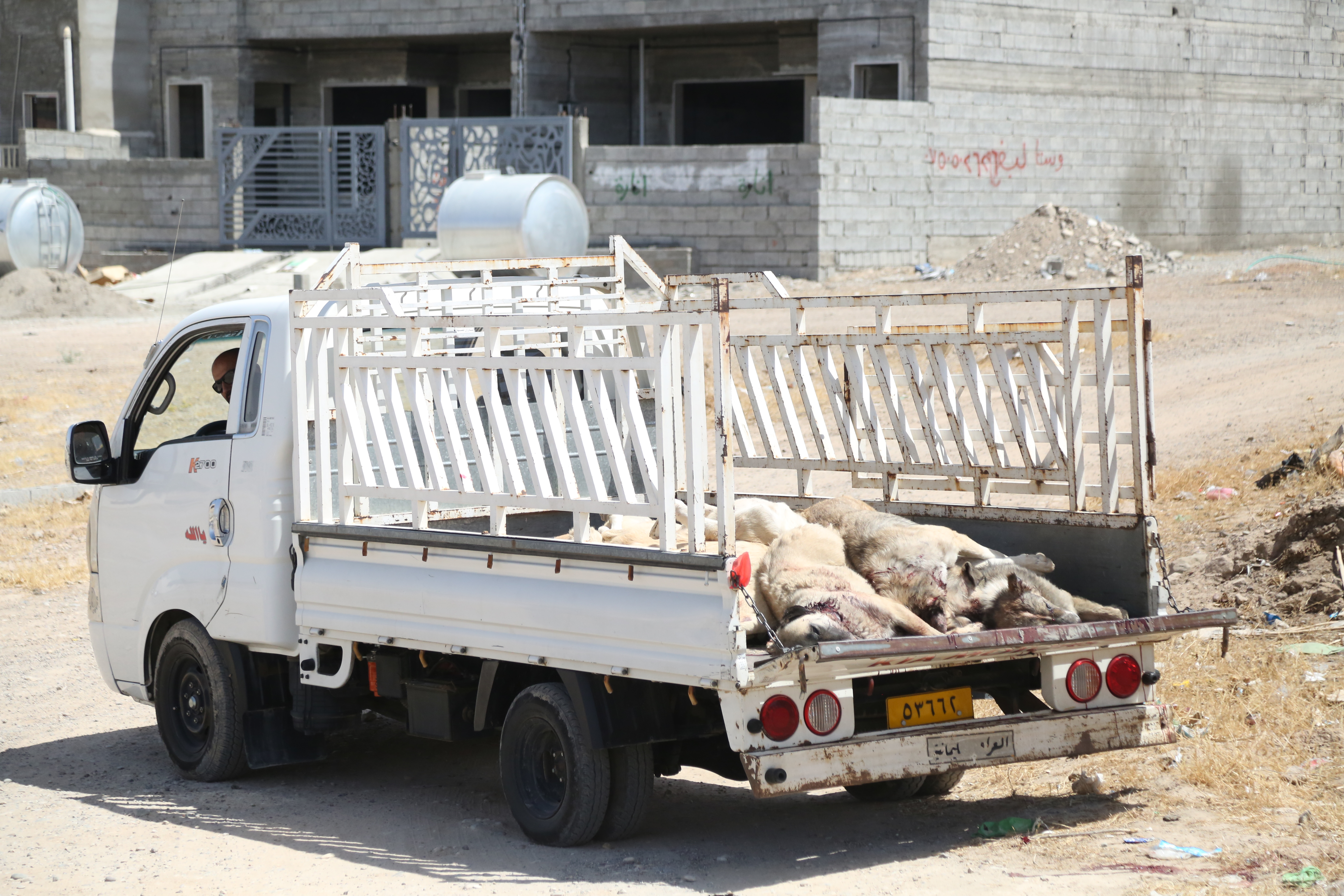 Kirkuk Now correspondent filmed several scenes of dogs swimming in its blood. A member of the team drags one of its legs into the truck leaving the pavement bloody without cleaning it.
 The trucks used by the team load the slaughtered dogs to a rear site where it is buried or burnt.
The fight against the dogs is not only in Kirkuk. Similar campaigns have been launched. In Ninewa, about 200 dogs were slaughtered in 2020 by feeding them lethal poison in the excuse of spreading diseases and posing threat to civilians.
In January 2021, the administration of Sinuny sub-district in Ninewa, it has poisoned 40 street dogs.
"Dogs are the most loyal animals close to humans. Some people pay big amounts of money to purchase one and breed it so the best way is to gather it somewhere out of town to protect it and take care of it," Mohammed said.