A displaced mother and her three kids all of a sudden leave the internally displaced Persons IDP camp of Qadia in Duhok province in a blazing mid day of June.
The issue becomes a big concern for the Ezidi IDPs and the senior officials because they doubt she headed to unite with her other three kids born of a militant of so-called Islamic State in Iraq and Syria ISIS when she was enslaved in 2014.
 On June 20, Salma Abbas, 43, takes lunch with her brother-in-law in his tent in Qadia Camp and leaves to hers, only few meters away. Suddenly she disappears with her three kids.
Salama's husband, Ramzi Mikri, was killed when ISIS took over Shingal and massacred the ethno-religious minority. He was one of those his remain was found in a mass grave in the village of Kocho of Shingal district and were buried there in a big burial ceremony in February.
In August 2014, the extremist militants of IS stormed the district of Shingal, home to hundred thousand Ezidis, adherents of an ancient religion accused of being devil worshippers, and have committed atrocities mounted to genocide.
Thousands of Ezidi women, girls and kids were enslaved and taken as sex slaves. Up today, about 2800 Ezidis, mainly women, girls and kids, are still missing.
Salama has got three kids when she was captured by IS militants: Havgar, 14, Rizgar, 12 and Bayar only nine-years-old. She was living in a tent with her three kids.
"She left our home to her tent, only 8 meters away. An hour later, I went to check over but no one was there. I asked the neighbors and camp managers, no one knew anything," said Samir Mikri, Salama's brother-in-law.
"Finally an eye witness said he saw her leaving in a car."
He told KirkukNow that the driver was wearing a vest for an NGO with English scripts.
Salama was missing her kids, whose father was an IS militant, so much
Salama is originally from the village of Kocho where the first 20 mass graves were unearthed mid March 2019 and 500 remains were found. Kocho is home for Naida Murad, one of the Ezidi women survivors of ISIS, 2018 Nobel Peace Prize Laureate and advocate for survivors of sexual violence.
Seized in August 2014 by ISIS militants whom accused the Ezidis of being "heretics," Shingal has been the scene of tragedy: a genocidal campaign of killings, rape, abductions and enslavement, and the surviving community fled to safer-heaven IDP camps on Shingal Mount and in the adjacent northern Kurdistan region.
Salama was rescued from the hands of IS militants in April 2019 and was back to Iraqi Kurdistan yet she was obliged to leave her kids born under IS reign.
"Salama was missing her kids of IS father so much so we think she was sent back to her kids but any organization is supporting her should have at least informed her relatives because they can't come like this to the camp without telling anyone," Salama's brother-in-law said angrily.
Salama's father is one of the thousand missing Ezidis at the hands of the extremist militants. Her mother also lives in the same camp. She has seven sisters and four brothers, four of them live in Canada and USA. She was nominated to migrate to France.
Marwan Jad'an, representative of Qadia IDP camp said Salam is an IS survivor "and we have no idea is she has been kidnapped or left by her will somewhere. It's still not clear."
The supervisors of the camp were not ready to give any further details about the case of Salama to Kirkuknow.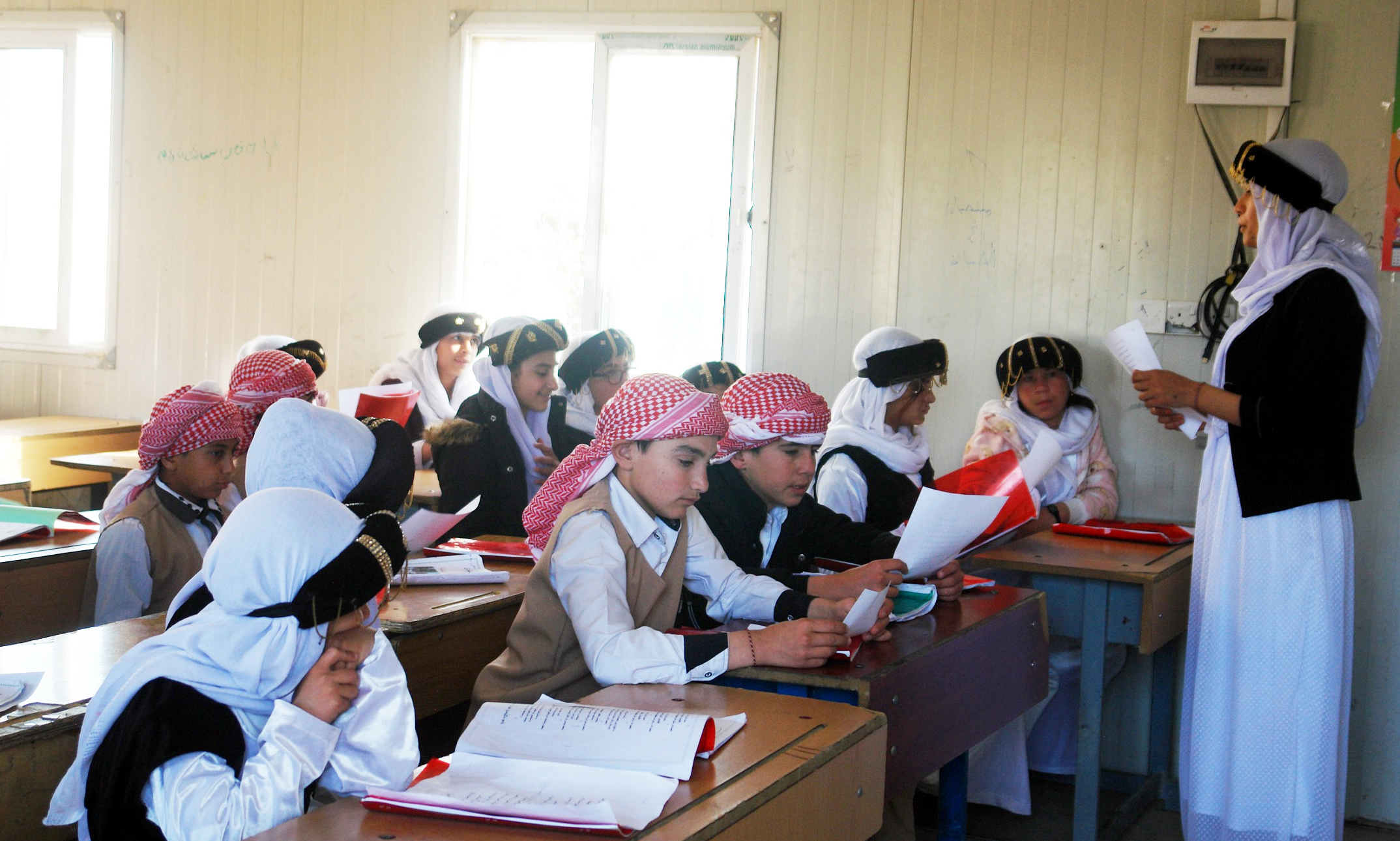 Part of the enslaved Ezidi women and girls have given birth in result of sexual abuse by ISIS militants, a matter very hard for the Ezidi community for whom marriage with non-Ezidis is a taboo.
They have rejected to receive children born for an IS father thus those women rejected to leave their kids could not untie with their families and integrate into their community.
Some of the mare still living in shelters by local and international NGOs waiting for the moment a legal framework or solution if found.
Ahmed Mishko, media manager of Baba Sheikh of Ezidis, the spiritual leader, said they have been informed that Salama has been united with her kids by an NGO.
On March 2nd, 11 Ezidi survivor women living in IDP camps have left Duhok and were untied with their kids born from an IS father leaving their homes in the excuse of participating in trainings.
Mishko said the spiritual leader and social figures proposed taking the kids born of an IS father abroad since "our community won't accept those kids cause they don't comply with our religion and culture."
Relatives of Salama are still looking for her. KirkukNow has come to know her relatives and camp supervisors either have no idea where she headed or unwilling to disclose the whereabouts.
"We ask to find her as soon as possible and to be returned," her brother-in-law said.
The Iraqi parliament has endorsed a law for reparation of Ezidi survivors yet it has skipped an article about the destiny of children born for sexual abuse by Is fighters upon the request of Ezidi Spiritual Council, the highest religious power in the Ezidi community.
Salama was one of those nominated to be taken abroad
"Salama was one of those nominated to be taken abroad, to France in order to receive psychological therapy but we were shocked when she disappeared all of a sudden," said Darwesh Chuki Jardo, manger of Tula for ISIS survivors.
Jardo in cooperation with Baba Sheikh has managed to convince the embassy of France in Erbil to ease migration for 15 Ezidi families.
Jardo said he has no idea if Salam has left by herself or an NGO helped her. "That NGO, they mean, has posted her disappearance on their (Facebook) page."
No party or person is ready to disclose any information about the place of children for Ezidi mother and is father, their accommodation and meeting points with their mothers and relatives.
Out of half million population, over 350,000 Ezidis fled Shingal to Kurdistan region and Shingal Mount. About 100,000 migrated to Europe, USA, Canada and Australia and over 100,000 are still living under tents in tens of camps for Internally Displaced Persons IDP in the adjacent Kurdish region.
Thousands of men and boys were slaughtered at the hands of Daesh militants and about 2,800 Ezidi women and girls captured as sex slaves were brought to unknown destiny.  Tens of mass and individual graves were found for the Ezidi adherents slaughtered at the hands of the extremist of ISIS yet few of it has been exhumed up today.