The Independent High Electoral Commission IHEC in Iraq in the last stage of its draw, numbered the nominees for the upcoming October parliamentary elections in the northern province of Kirkuk where 130 candidates compete for 12 seats in Baghdad's house of representatives.
 The draw held on June 7th in Kirkuk was attended by local admin, security, military officials and representatives of the political parties. The process was held the same day in all Iraqi provinces.
Louai Arkan, director of IHEC Kirkuk office, said the process was supervised by a judge and the United Nations. "We hope all other stages of preparations for the elections will pass smoothly and approved by all parties."
Two candidates in Kirkuk were disqualified and 15 others quit the race ahead of the draw for number of nominees.
Over one million Kirkukis will vote for the 12 candidates to represent them in Baghdad plus a quota seat for the Christian community in Kirkuk.
The northern oil-rich city of Kirkuk, located 238 kilometers north of Baghdad, is an ethnically mixed province for 1.2 million Kurds, Sunni and Shiite Arabs, and Turkmen. It has long been at the center of disputed territories between Baghdad and Erbil.
IHEC declared that 25 million voters select only 329-memberv3,243 candidates for the house of representatives which was elected in May 2018. The vote is held every four years, but the protesters back in 2019 have been demanding early elections.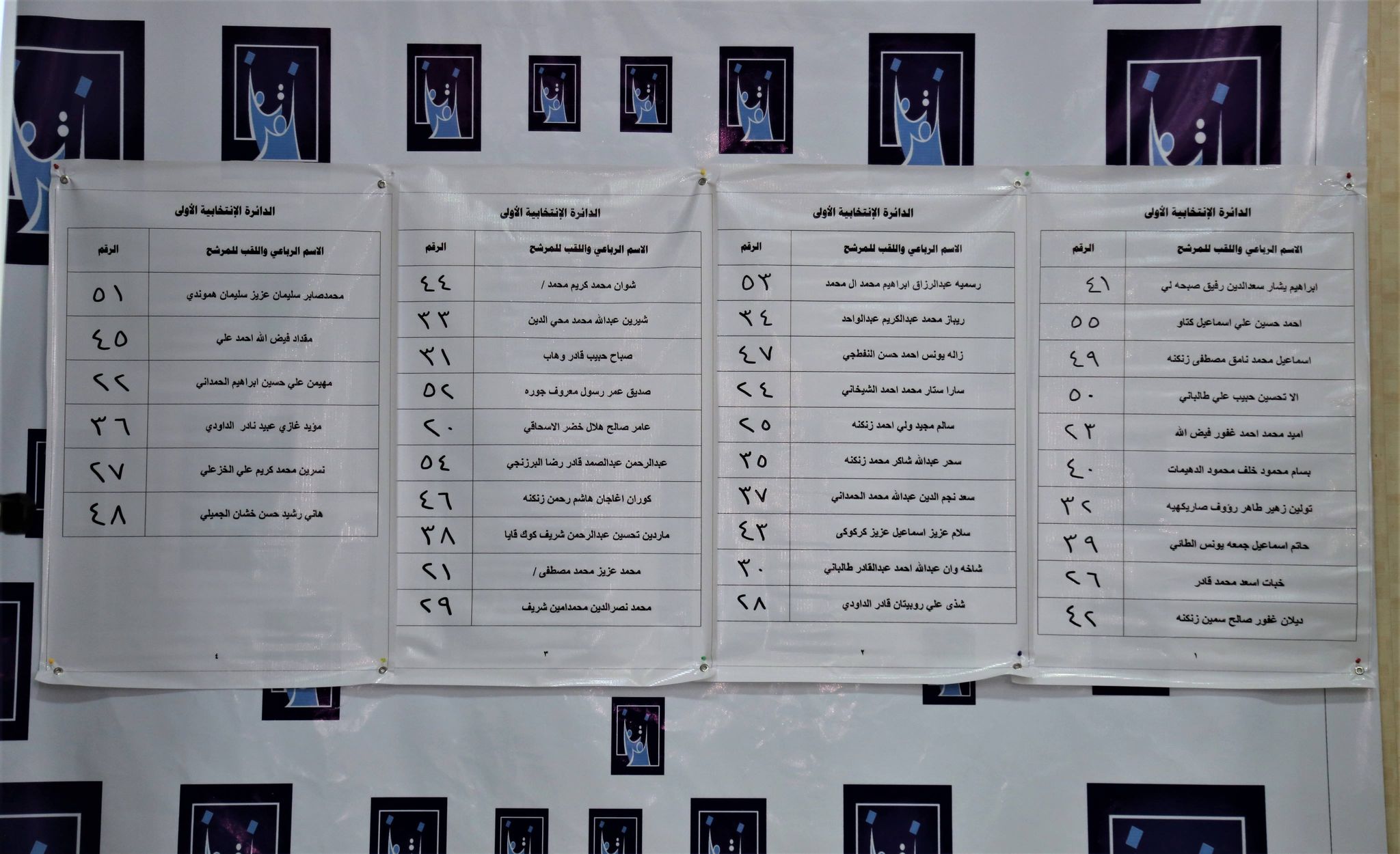 Kawa Gharib, chief of Kirkuk police, told reporters the process was free of any interference and the police will undertake procedures for the ballot day and other preparations by the IHEC.
On June 2nd, the IHEC made a series of changes in Kirkuk, where it has decided to replace director of its office in Kirkuk and several managers.
Director of IHEC in Kirkuk was replaced, beside managers for the departments of media, registry of voters, training, services, parties and candidate affairs, finance, law and administration.
The Iraqi Turkmen Front ITF and the Arab Council rejected the last changes in the senior positions of IHEC Kirkuk office and called for immediate revocation. They accused the Kurds of taking over the senior seats since 2003.
Kurds were holding the position of IHEC director in the last rounds. Arabs and Turkmens always accuse the Kurds of fraud in elections as the Kurds were holding grip over power in the oil-rich city up to 2017 when Iraqi troops ousted the Kurdish forces following declaration of victory over the Islamic State in Iraq and Syria ISIS.
In response, a joint statement by 16 Kurdish parties in a joint conference on June 8th supported the IHEC changes saying Kurds deserve more positions.
Out of 13 parliamentary seats, the patriotic Union of Kurdistan, PUK, won 6 seats in Kirkuk province 2018 elections, three seats for each Arab and Turkmens and one quota seat for the Christians.