The Ezidi families lost their tents in Sharia camp fire in Duhok last June are pleased their tents were replaced with houses built by concrete blocks.
The 136 Ezidi families displaced from Shingal since 2014 due to barbaric attacks by so-called Islamic State in Iraq and Syria ISIS turned homeless again due to June 4th fire blaze enflamed 288 tents completely and caused damage to another 90.
Several campaigns were launched to rescue the Ezidis IDP families of Sharia camp in Duhok whom were displaced again due to electrical short circuit.The local authorities have permitted building houses with concrete walls to replace the tents.
"We are thrilled that we left tents forever though fire has no limits but our fear has gone and now we can live peacefully day and night," Kahlil Murad joyfully told KirkukNow.
The fire in Sharia camp was not the only fire incident in IDPS camps causing moral and material damage to the war-ravaged Ezidi community.
Sharia Camp for Ezidi IDPs is home to 2309 families, about 12,369 people, only 20 km far from the center of Duhok province. 187 families, some had more than one tent, have lost their entire household and were housed in new tents temporarily.
Tens of thousands of Ezidis are still living in 26 of camps for IDPs in Kurdistan region despite liberation of their territories from ISIS in 2017 due to the vast destruction to their hometowns and public utilities.
In August 2014, the extremist militants of IS stormed the district of Shingal, home to tens of thousands of Ezidis, adherents of an ancient religion accused of being devil worshippers, and have committed atrocities mounted to genocide.
Thousands of Ezidi women, girls and kids were enslaved and taken as sex slaves. Up today, over 2900 Ezidi women, girls and kids are still missing, lately published figures by KRG office for rescue of abducted Ezidis shows.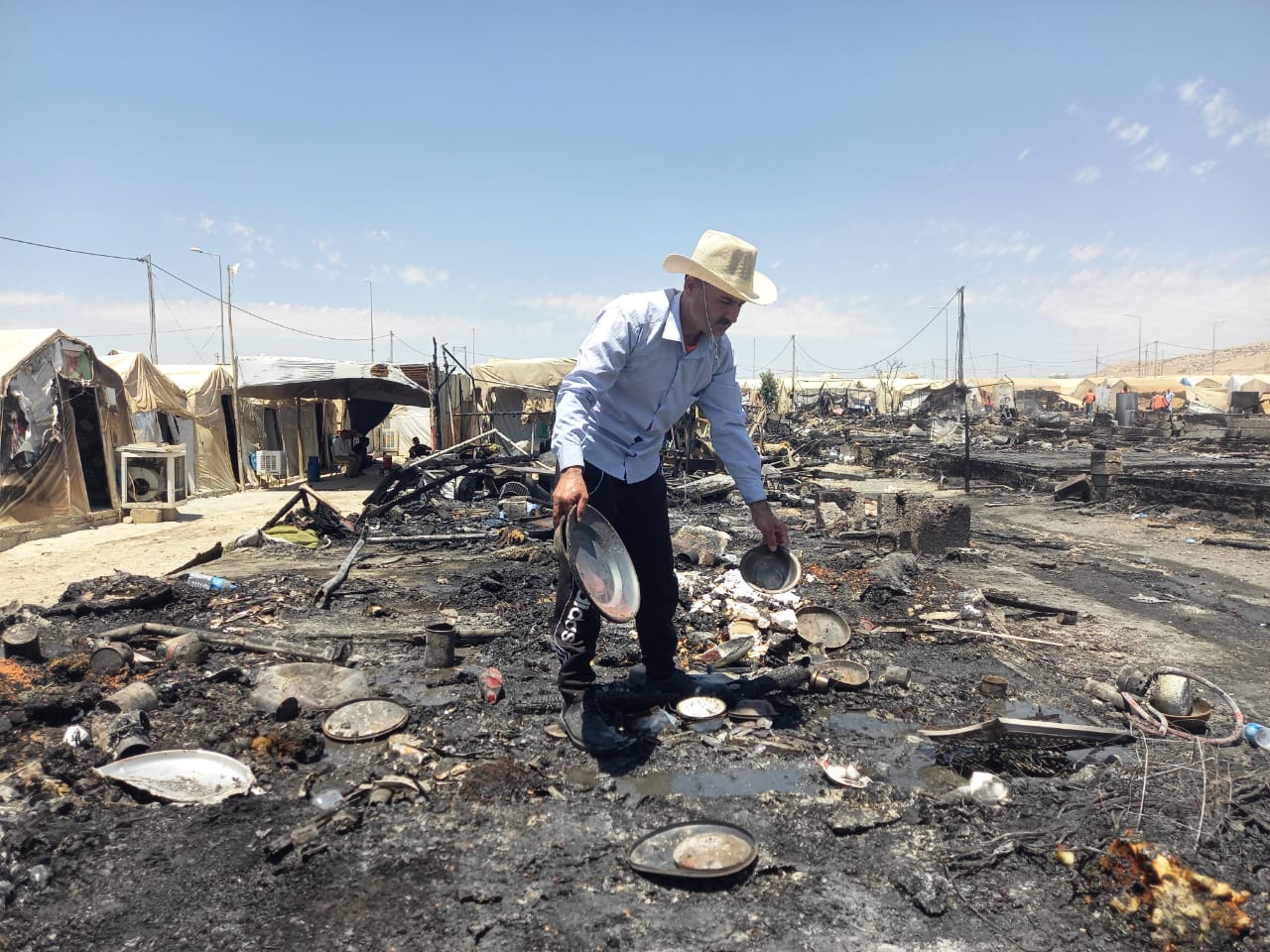 The families lost their tents and households, have receive electrical appliances in addition to cash reparation.
Ibrahim Khalil has received four million Iraqi Dinars IQD ($2700) in addition to household appliances for loosing his tent in the fire.
"I have received four million Dinars as compensation plus most of household appliances and stuff, no complains," Khalil thankfully said.
I have received four million Dinars as compensation plus most of household appliances and stuff, no complains
IDPs in the camps have been asking the local authorities to replace their tents with concrete walls and ceilings in order to avoid fire incidents that caused lives among the IDPs.
The tents are boiling in the blazing summer and fear of heavy rainfall and low temperature are serious challenges in winter.
About 130 million Iraqi Dinars ($85,000) donations has been collected along with households for the 136 Ezidi IDP families in several donation campaigns following the fire.
The Iraqi ministry of migration and the displaced has paid each family 500,000 IQD ($330) as emergency funds yet it has not covered the 90 families whom lost part of their tents and household.
Karwan Zaki, media officer of Joint Coordination Center JCC for management of IDP crisis, said 136 houses were built in 38 days. "We have provided everything and they resumed their ordinary life."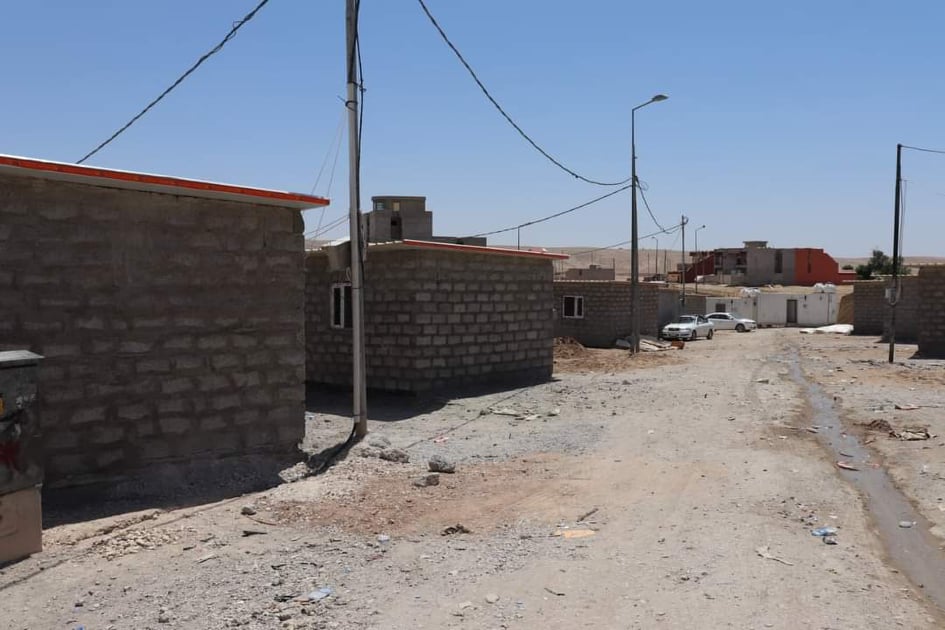 Ezidis are an ancient and secretive ethno-religious minority whose faith has long left them as targets for persecution. 
Shingal, located 120 west of Mosul, on the border of Iraq-Syria, is home to the Ezidi minority targeted by IS and one of the disputed territories between Baghdad and Erbil. 
The war against Daesh gave a blast to infrastructure of Ninewa in general and Shingal region of the Ezidis in particular.
The manager of Sharia camp Hakar Mohammed said families up to five members received a one-room house with a small kitchen while, while 6-15 member families received a two room house and over 15 members received a three room house.
The other families are still living under tents.
"Other tents will be replaced with concrete houses but we wait for further instructions from the KRG as others keep asking and want their tents to be shifted to block houses to avoid fire and its damages," Mohammed added.