13 policemen, soldiers and fighters were killed and more than 8 were injured in separate attacks and by explosive devices planted by militants of Islamic state in Iraq and Syria ISIS in the provinces of Kirkuk, Ninawa and Salahaddin, several sources told KirkukNow.
The escalation by Is militants follows an operation targeted their hideouts by Iraqi security forces ISF three days ago southwest of Kirkuk.
A militant group of Daesh, security forces said, at dawn of September 5th stormed Iraqi federal police in the village of Satih in the sub-district of al-Rashad southwest of Kirkuk.
"Daesh militants stormed brigade 19, regiment 2 of federal police deployed in the region. 12 policemen were martyred," security source on the condition of anonymity said.
"Only three were killed in direct confrontation, others were killed by three IEDs planted earlier. Six policemen of the backup troops were injured by IEDs," the anonymous security source added.
The federal police said in a short statement the confrontation of their forces deployed in al-Rashad with IS militants left deaths and injuries without giving any further details or figures.
"We heard gunfire, RPG and even mortars. The power went down so we stayed in home in fear of being targeted by Daesh militants," Mahir Lihebi, a villager of Satih told KirkukNow.
IS militants are regrouping in the rural areas of the disputed territories between Baghdad and Erbil. They are targeting Iraqi forces and civilians in the suburbs of Diyla, Kirkuk Ninawa, Salahaddin and Erbil, leaving tens of casualties and causing material damage to power towers, oil wells, houses, cattle, orchards and vehicles of the villagers.
A soldier of the Iraqi army was killed, a civilian was abducted and eight civilians and soldiers were injured in an attack by and confrontation with over 20 militants of "ISIS" in a village northwest of Kirkuk
In the late hours of September 1st, about 20 militants of armed with Kalashnikov and M4 rifles attack the village of Old Shahil in Dubiz district, 35 km northwest of the oil-rich city of Kirkuk.
Kirkuk, Iraq's second largest reserves, located 238 kilometers north of Baghdad, is an ethnically mixed province for 1.2 million Kurds, Sunni and Shiite Arabs, and Turkmen. It has long been at the center of disputes between Baghdad and the Erbil.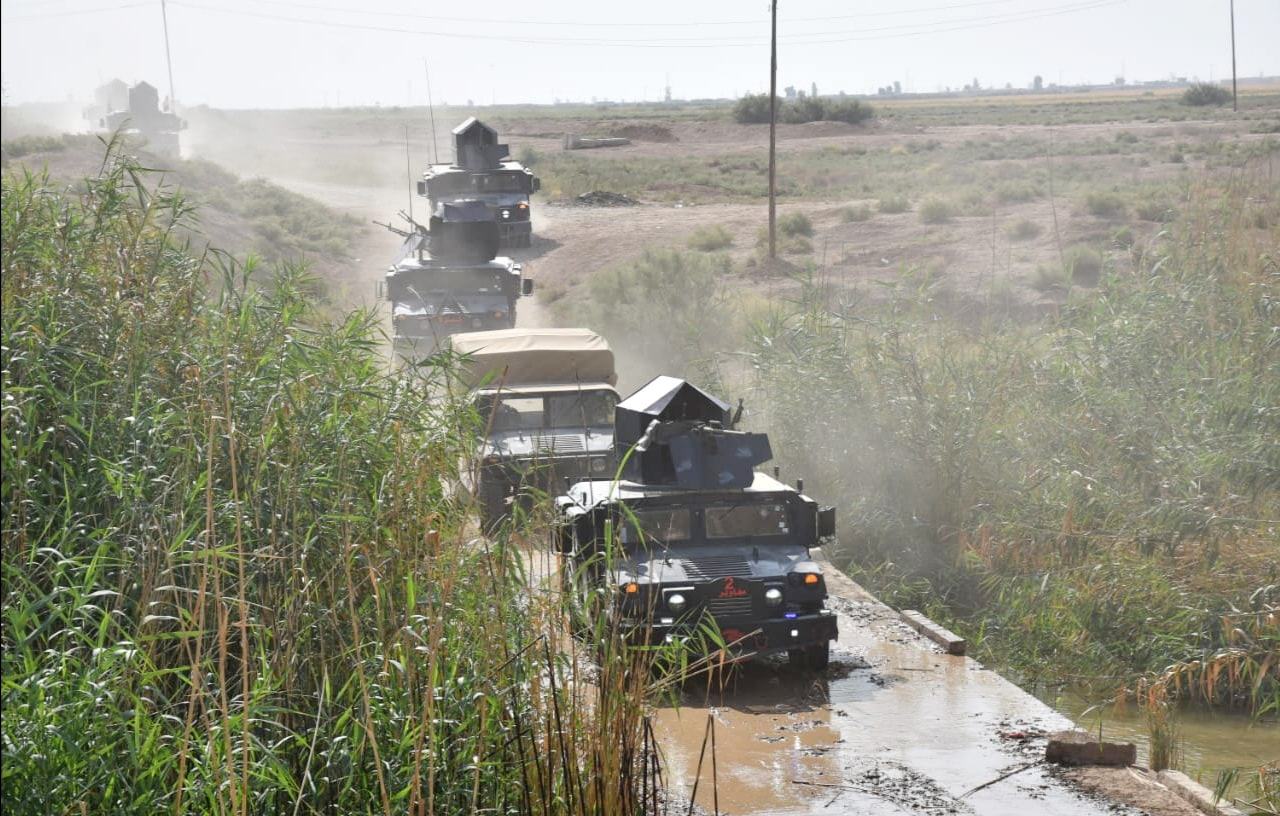 The injured were sent to Kirkuk for hospitalization.
Further troops were sent to the region and warplanes were surveying the area to avoid any further attacks by the militants, another security source anonymously added.
Al-Rashad and Hawija were under control of IS militants from June 2014 up to end of 2017 when Iraqi forces took over control and claimed victory over ISIS which took over almost one third of Iraq swathes.  
In a separate incident, a soldier was killed when IS militants attacked Iraqi army troops in Qarachukh mountains in Makhmur district on Saturday night, security source said.
The Mountains of Qarachukh are located in the triangle of Erbil-Ninawa-Kirkuk, southeast of Mosul, area swept tens of times by military operation by the Iraqi and Kurdish forces yet they could not control.
Makhmur district located about 60 kilometers southwest of Erbil yet under control of Iraqi federal government, consists of three sub-districts and 40 villages yet only four villages are still inhabited, figures from local administrations show.
Since the fall of the Ba'th regime led by Saddam Hussein in 2003 until October 2017, Makhmur, part of the disputed territories between Baghdad and Erbil, was under the control of the KRG. In 2017, Iraqi security forces took over the disputed territories following the claimed defeat of ISIS.
Most of Makhmur villages are located in areas between the KRG and the federal government, a security gap where ISIL fighters are regrouping.
In Yangija village of Duzkhurmatu district, northeast f Salahaddin, IS sniper injured a fighter of PMF, a source told on the condition of anonymity.
A security source said a soldier was injured in the village of Sobghan in Daquq district south of Kirkuk when militants attacked Iraqi army base on September 3rd.
Baghdad and Erbil have agreed to activate joint operations command in the disputed territories to raid hideouts of ISIS and restore stability in the suburbs of the disputed territories.
The disputed territories extend from Khanaqin in the east on the border with Iran through Kirkuk heading to the west of Mosul in Shingal, home to Ezidi ethno-religious minority, on the border with Syria.