The perpetrators of camp blast in Duhok Northern Province a week ago have not been arrested yet while the main target accuses local authorities of dereliction, an accusation rejected by local police.
Captain Hassan Haidar, security officer, and his son were injured in a bombing targeted his cabin in Qadia camp of Duhok on August 30 at night.
TNT explosives were planted under the cabin of Hassan Haidar, captain of Asayish (Kurdish security) in West of Tigris, in charge of security in Shingal district yet deployed in Duhok. Hassan and his family members live in the four connected cabins.
Two grandsons of Hassan were killed while he, his son and two others were injured.
"The administration and police of Qadia camp were indifferent. Such a bombing should have not taken place because they should have been more cautious to avoid such accidents," Haidar said.
Duhok police said in a brief statement that investigations are ongoing to uncover whereabouts of the accident.
Tens of thousands of Ezidis are still living in 26 of camps for IDPs in Kurdistan region despite liberation of their territories from ISIS in 2017 due to the vast destruction to their hometowns and public utilities.
Ezidis are an ethno-religious minority over half a million people, mostly residing in Shingal district of Ninewa province. The militants of Islamic State in Iraq and Syria ISIS in 2014 attacked their communities, killing thousands of men and taking thousands of women and children, in an atrocity the U.N. said amounted to genocide.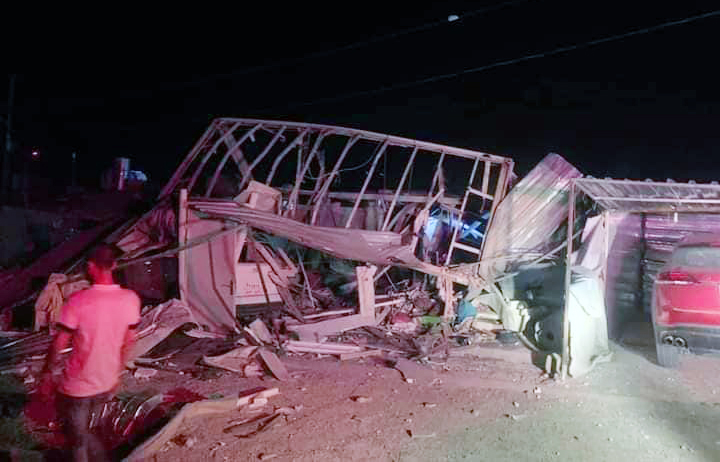 Haidar said the perpetrators put the TNT under one of the cabins he uses as a guesthouse for his visitors.
"Once I went in, I heard a blast and went subconscious. I woke up at the hospital but thank god I and the 5-6 others injured are doing well."
A week past the explosion, no suspect has been named or arrested yet.
Hemi Suleman, spokesman for Duhok police said explosions, terrorist and drug cases are related to security "so we cannot reveal any information about Qadai camp bombing neither the police in the camp."
"If the officer has any concerns, he should have shared it with us."
KirkukNow was unable to get a comment from Asayish, Kurdish security forces.
The victims have filed lawsuits without directly accusing any one or party.
"I reported the case but have no idea who is behind it: political party or a terrorist group. Sf far it is unclear and security services are investigating it," captain Haidar added.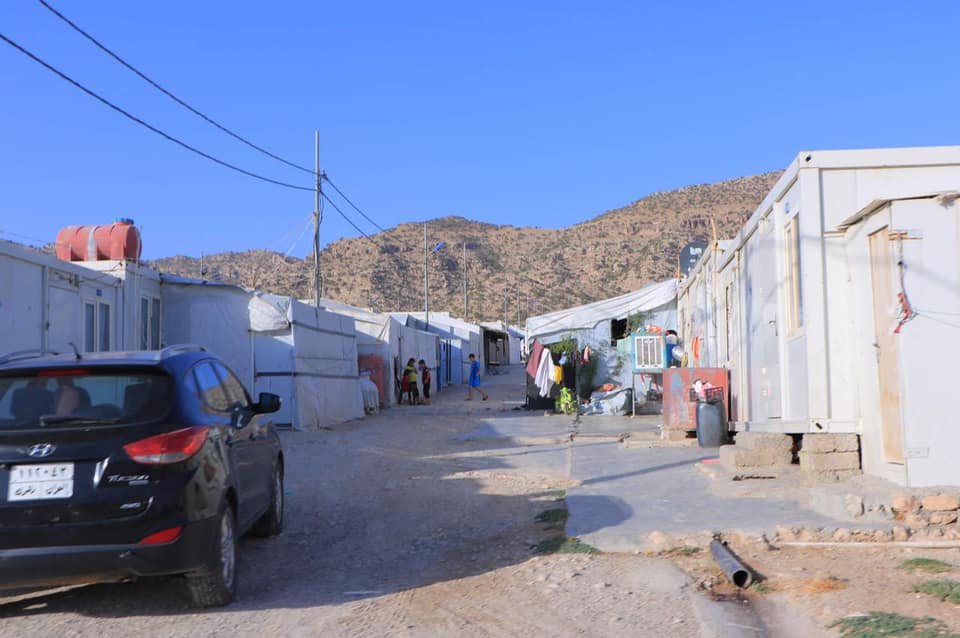 The victims and those hurt by the bombing were compensated by Kurdistan regional government KRG.
Karwan Zaki, media officer of Joint Coordination Center JCC, in charge of IDP affairs, said those got losses due to the bombing were compensated and the victims were treated.
"The security forces are leading investigations and the main suspect is not clear yet so we can not accuse any one or side."
Qadia IDP camp is home to thousands of Ezidis whom fled Shingal district, center of the war-torn Ezidi region.
Shingal, located 120 west of Mosul, center of Nineveh province, on the border of Iraq-Syria, is hundreds of years-old home to the Ezidi religious community considered by the so-called Islamic State ISIS infidels.
Mayor of Simel denied any dereliction by police or camp administration.
"Qadia camp is part of our territories and there was no any negligence by police or administration of the camp with due respect for the officer's opinion," said Khalil Mahmud, mayor of Simel.
Mahmud said the PM of Kurdistan region ordered Kirkuk administration to provide all necessities for safeguarding the camps. A fence will surround the camp with surveillance cameras in days, he added.