Last year, Ghariba has made a visit to Baghdad with her mother where she met Prime Minister Mustafa al-Kadhimi in commemoration of the massacre of Ezidis at the hands of the extremist militants of the Islamic State in Iraq and Syria ISIS.
Kadhimi put Ghariba on his seat in the meeting. She begged him to uncover fate of her father and brother and he gave her his word. The photo of Ghariba sitting in place o Kadhimi was widely circulated on social media then yet it has not touched her life. 
"The PM gave us two promises: first to free Ghariba's father and the Ezidis enslaved by ISIS and exhumation of mass graves to identify the remnants and rebury them," said Layla Shammo, mother of Gariba.
"After one year, Kadhimi has not turned his words into deeds."
VT- August 3rd, 2020- PM Kadhimi asks Ghariba to sit in his place.
Ghariba was born two months following IS attacks on the Ezidi community. She joins the Ezidi delegation which headed to Baghdad on august 3rd, 2020 to commemorate the sixth anniversary of genocide of the Ezidis with the PM and deliver the demands of the war-torn Ezidi community.
A video released by media of the council of ministers showed Kadhimi receiving the guests. Ghariba attracted the eyes of PM whom hugs her and following a short conversation, he invites her to sit in his place.
Ghariba takes the seat of the PM along the half an hour meeting and he sits on her left. Ghariba does not speak Arabic so a translator helps both to communicate shortly.
She asks him about her missing father and brother. The PM pledges to find them.
I want him to deliver on his promise
"I do really miss my father and wish he returns soon. Why he is not back yet?" Ghariba wonders.
One year post the meeting, she still has the same demands. In one month, she is turning seven-years-old.  
"I still have the same two demands for the PM: I want him to deliver on his promise."
In August 2014, the extremist militants of IS stormed the district of Shingal, home to tens of thousands of Ezidis, adherents of an ancient religion accused of being devil worshippers, and have committed atrocities mounted to genocide.
Thousands of Ezidi women, girls and kids were enslaved and taken as sex slaves. Up today, over 2900 Ezidis, mainly women, girls and kids are still missing, lately published figures by KRG office for rescue of the abducted Ezidis shows. 30% of the 664,000 IDPs in Kurdistan region are from the Ezidi community.
"I do also still have the same demands for PM, to free my husband and two kids and unearth the mass graves to identify their identities," mother of Ghariba mourns.
Over 80 mass graves and tens of individual graves were found following Iraqi government's take over of large swathes controlled by IS till 2017. Only few of it in the village of Kojo in Shingal were exhumed up today.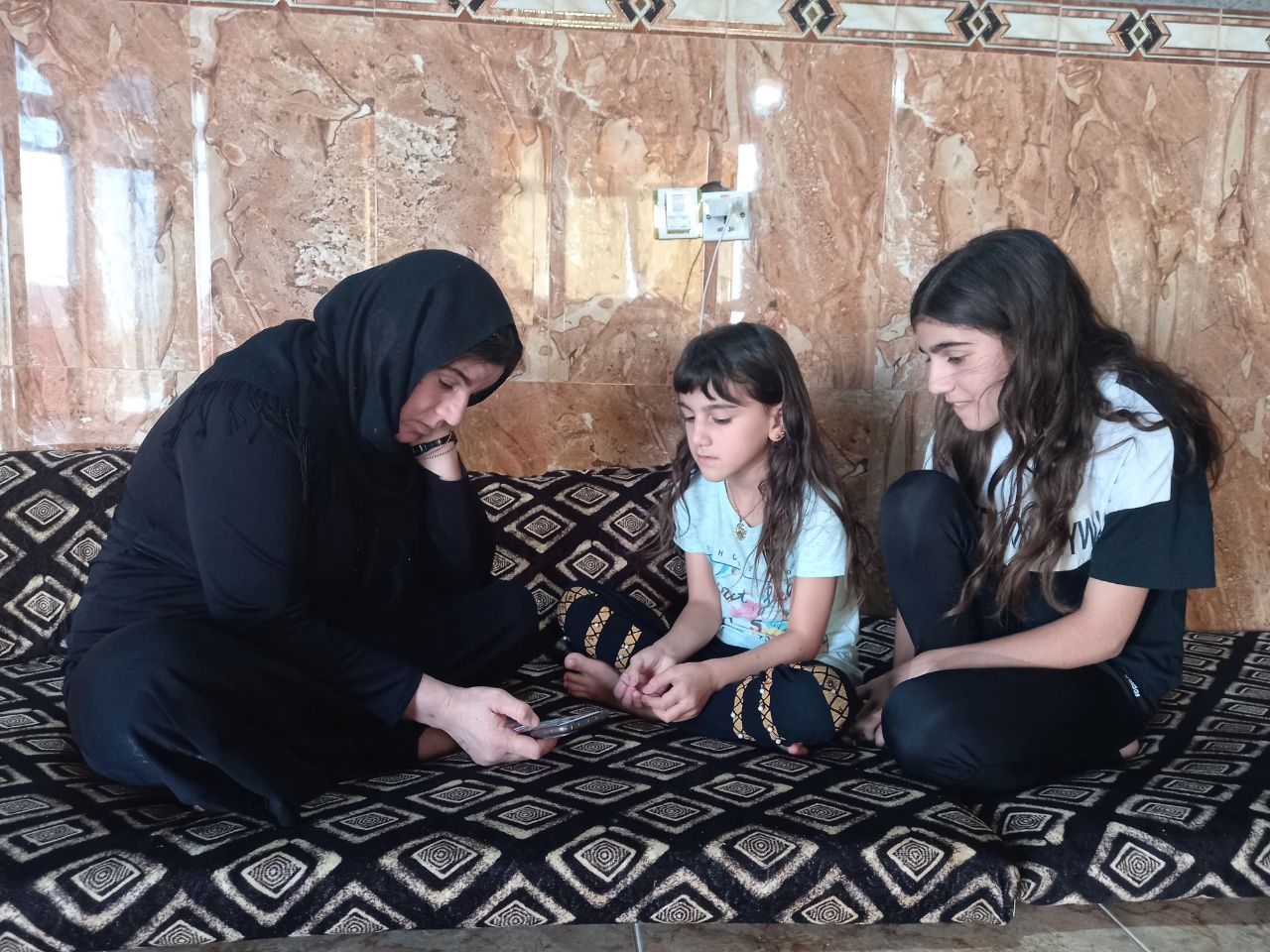 The statement by council of ministers following the meeting with the families of IS victims said the PM vowed to turn the search for abducted Ezidis into an international case and serious follow up to be carried out. Last August, he emphasized the issue of the abducted Ezdis is a priority on his agenda and works hard to rescue them.
KirkukNow has tried yet could not interview any member oof the media office for the PM.
Shammo is mother of five kids, two boys and three girls. Seven years ago, her husband with her son Othman, 11 and her daughter Hayat, 10, were abducted by IS and brought to unknown destiny up to the present.
"The government is careless to the case of the abducted and we see no future in Iraq. We are the main victims at the hands of Daesh yet we see no respect and value for us," Shammo sobbed.
The government is careless to the case of the abducted
Shammo and her tow daughters were also abducted yet freed in September 2015. In 2018, one of her sons was freed and since then, four of them live together in a house adjacent to Khanky camp for IDPs in Duhok northern province.
They are originally from Tal Banat village of Shingal district and deny to return home until they uncover the fate to their beloved.
"I have rented a house but we could not pay the monthly rent because we have no monthly salary or income. I work as a tailor and make some money," said Shammo, a mother deeply concerned about destiny of part of the family and how to make living of the rest.