The gunmen of a Shiite paramilitary have banned supporters of a Kurdish party from electoral campaign in a town northeast of Baghdad yet they denied intimidation or humiliation.
Members of the Patriotic union of Kurdistan PUK, one of the leading Kurdish parties who has an upper hand in Kurdistan region of Iraq KRI and the disputed territories, said they have been stopped while hanging banners as part of the electoral campaign for October 10th parliamentary elections.
 "We were holding banners and posters in Jalawla, a town of Diyala province, yet the militiamen of Asaib Ahl al-Haq AAH (The Righteous League) called us asking to visit their headquarter," said a member of PUK electoral team anonymously in fear of reprisal.
"There, they told us (electoral) campaign is forbidden because the situation is unstable and sensitive in Jalawla and you are creating problems," he added.
The anonymous source said he argued every side has the right fro electoral campaign. "I told them two of my sons and a brother of mine are Peshmerga (Kurdish fighter). This is the third time you humiliate and intimidate us."
He said that he reported the case to his seniors whom promised to address the issue.
A PUK official in Khanaqin district, adjacent to Jalawla, anonymously told KirkukNow they were infromed of the case and trying to sort it out. "AAH gunmen stopped our people, intimidated them and even warned they will kill them if they don't stop the extensive electoral campaign."
The eastern province of Diyala is home to 1.6 million Arabs, Kurds and Turkmens, Shiite and Sunnis. Part of Diyala is within the disputed territories between Baghdad and Erbil which extends from Kahanqin, northeast of Baghdad, on the border with Iran, through the oil rich city up to Shingal in Ninawa on the border with Syria.
Asaib Ahl al-Haq AAH is a major Iraqi armed group that has three brigades led by Shiite hardliner Qais al-Khazali, known for its pro-Iran and anti-US stands. It is part of the Shiite paramilitary Popular Mobilization Forces PMF, an umbrella for Shiite groups, and has 15 seats in the Iraqi parliament as part of Sadiqun bloc.
The new electoral law ratified last November, a key demand of demonstrators in 2019, changed each of the country's 18 provinces into several electoral districts, total 83, in order to prevent parties from running on unified lists, which has in the past helped them easily take all the seats in a specific province.
Instead, the seats would go to whoever gets the most votes in the electoral districts.
Four million voters of Diyala are distributed over four electoral districts to vote for 14 seats, four allocated for women quota, out of 164 nominees.
About 200,00 to 250,000 voters of electoral district four from the mainly Kurdish towns of Khanaqin, Qaratapa, Sadiya, Hamrin, Kifri suburbs and Jalawla will vote for 35 candidates in October 10th parliamentary elections.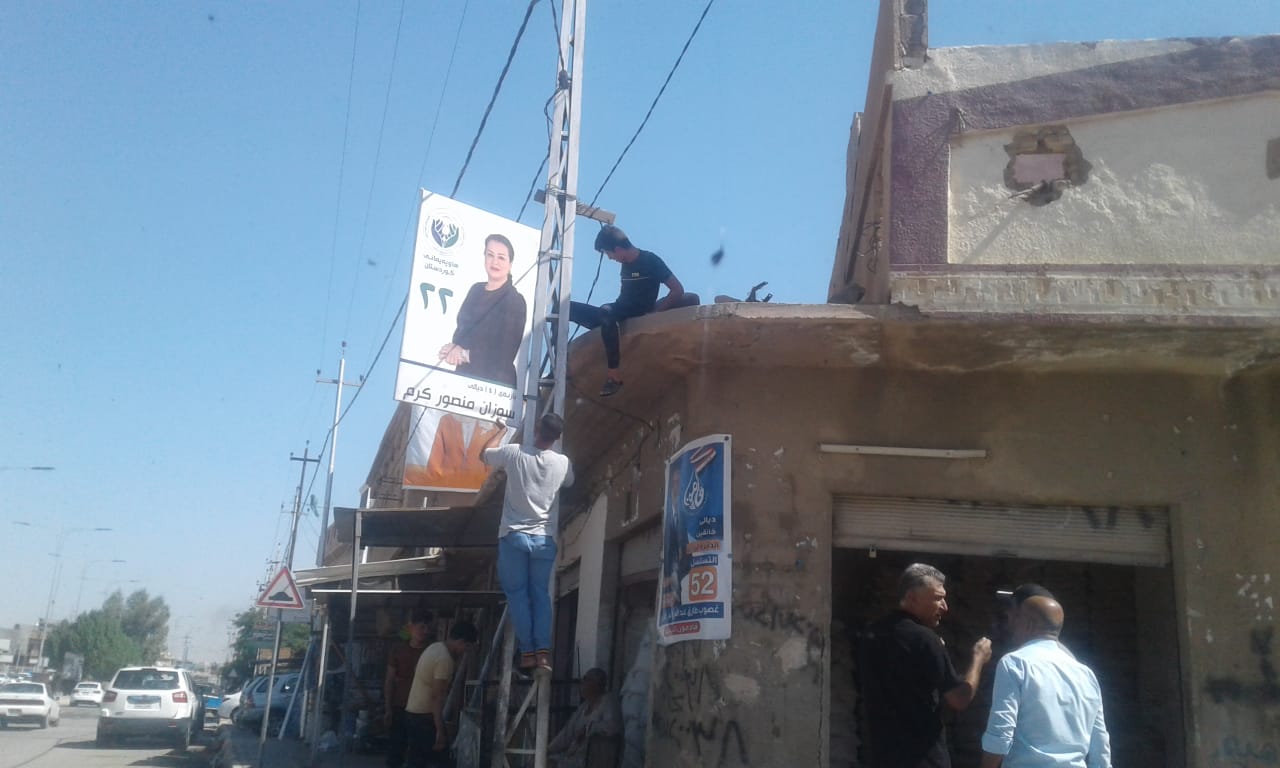 According to electoral law, any one attacks a campaigner is to be imprisoned for between a month to a year or to be fined by 1-5 million Iraqi Dinars ($650-3300).
AAH confirmed it has asked PUK team to launch their electoral campaign smoothly and calmly yet denied any abuses.
It is true we have stopped PUK team …. No one was humiliated
"It is true we have stopped PUK team in Jalawla but the issue has been sorted out… no one was humiliated." said Emad al-RIkabi, in charge of Jalawla office of AAH.
"We have no problem with any political party in the sub-district yet electoral campaign leads to tension as the security situation is not stable and we fear reaction of people against those teams due to impact of Daesh destruction on people and the town."
IS militants controlled Jalawla in mid-2014, but the Peshmerga (Kurdish fighters) took over the town end of 2014. KirkukNow follow-ups indicate that a total of 4,000 houses and other civilian properties were destroyed during the confrontations with IS.
The PUK has one candidate for one of Diyala electoral district in the mixed towns where Kurdish residents are based.
Kurds were holding the key admin and security positions in the disputed territories following the toppling of Saddam Hussein regime in 2003 up to 2014 when they marched further forward into territories where Iraqi forces retreated when the Islamic State ISIS took large swathes of Iraq.
The Iraqi troops returned to those territories in 2017 when the government declared victory over IS and ousted the Kurdish parties.
Currently, local police is taking over security responsibility in the center of Jalawla, while the Iraqi army forces and the PMF or (al-Hashd al-Sha'bi) are stationed in the outskirts.