Ilyas Qasim is originally from Tal Banat of Shingal district, home to the ezidi community, west of Mosul, and currently lives in the camp of Sharia for IDPs in the Northern Province of Duhok in the adjacent Iraqi Kurdistan Region IKR.
Qassim is furious as despite collecting his biometric voting card, he had no chance to cast ballot.
"I went to a polling station in Shrai camp and I had my card but they said you are not registered here. I tried another station in the same camp and I was not registered there as well so one of electoral commission staff told me you have to vote in Shingal."
At least 500 IDPs in Sharia faced the same obstacle Qassim faced and found their records have not been updated in the special voting day for Iraqi security forces, military and the Internally Displaced People IDPs.
KirkukNow has come to that the problem existed in 31 ballot stations for IDPs inside and outside the IDP camps of Duhok.
"In 2018, our votes were lost and today didn't allow us to vote for our candidate.
The Independent High Electoral Commission IHEC has opened the doors of 595 ballot stations for almost 1.2 million voters two days ahead of the general elections on October 10th.
About 1.075 million personnel of Iraqi security and military forces, 120,000 internally displaced people IDPs, mainly in the Northern Provinces of Duhok and Erbil, and 670 prisoners, were allowed per their biometric voting cards to ballot from 7 am on Friday October 8th up to six pm.
KirkukNow follow up for elections among IDPs back in 2018 found out that out of 450,000 IDP voters, half of them could not vote due to many barriers such as lost IDs, security challenges, easy access to ballot stations and partisan intervention.
Shingal, located 120 west of Mosul, on the border of Iraq-Syria, is home to the Ezidi community targeted by ISIS in August 2014 and one of the disputed territories between Baghdad and Erbil. 
Out of 500,000 Ezidis, 100,000 migrated abroad and about 200,000 are still living in the IDP camps in Iraqi Kurdistan Region IKR.
Footage of an IDP voter who says he could not find his name in a station ad now is trying another one in the camp of Sharia for IDPs in Duhok Northern Province. Ammar Aziz
Some IDPs said the smart machines have not recognized their finger prints.
"My records were all ok but there was a problem with my fingerprint recognition and they told me you can't vote per IHEC instructions," said Basy Piso, a woman IDP of Shingal in Sharia camp.
The IHEC have dedicated two stations for IDPs to cast ballots for 7,000 IDPs yet over 500 IDP voters has found out they were not registered in none of these stations.
Some of the Ezidi, mainly based in 26 camps in Duhok, earlier told KikrukNow they are concerned their votes will not get counted alike May 2018 elections in which most of the IDPs were deprived of ballot or votes lost.
On special ballot day due on October 8th, 120,000 IDPs were eligible to go to ballots.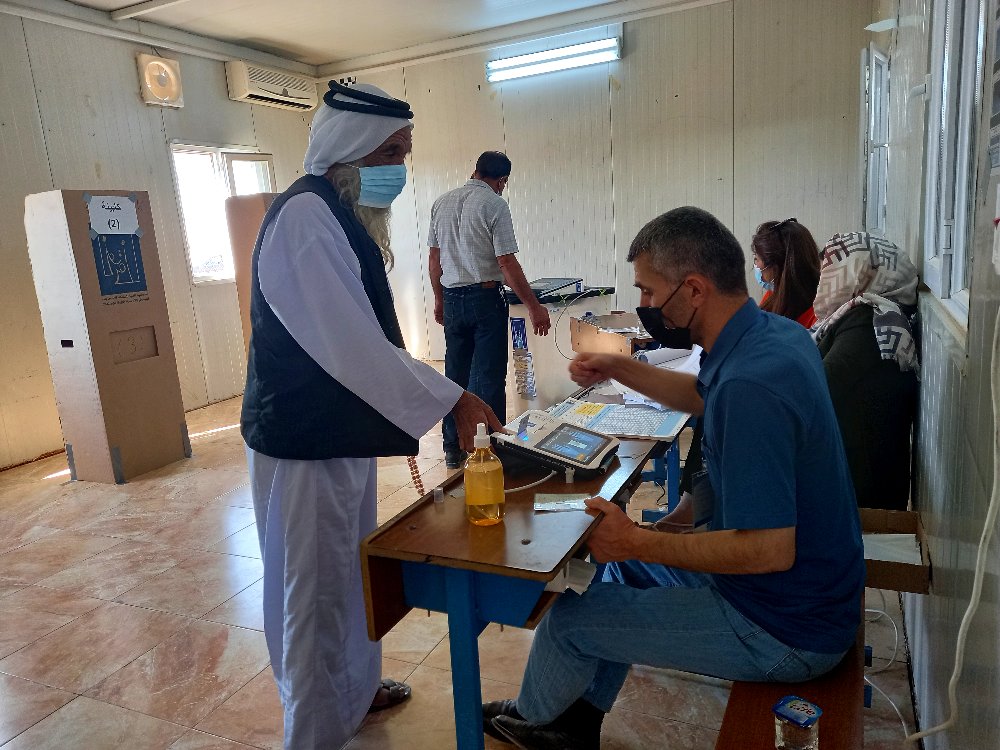 The IHEC said the IDPS were to blame as they have not check where they are registered and have the right to vote.
Chiman Khalil, manager of a polling station inside Sharia camp said, "The process was very smooth and free of fraud. We are not in charge of those who could not find their names because they have not visited the commission to check if they were registered in Shingal or the camps."
"Still they can vote in Shingal. Besides, 15-20 had fingerprint problems and were deprived of voting."
Still they can vote in Shingal
The observers also confirmed the process inside the ballot stations were running in the right way.
"There were no any cases of fraud or intimidation of voters inside the voting station but outside and in the camps, IDPs were pushed to go for voting,' said Rozhhat Qadir, an observer of Kurdistan alliance, a coalition of the Patriotic Union of Kurdistan PUK and the Gorran (Change) Movement, without giving any further details about any sides or parties.
The observers said estimates are 60% of the IDPs voted in the camp of Sharia.
The Kurdistan Democratic Party KDP, the key player in the region, said lost votes are a big loss for the Kurdish political parties.
"It's a big loss for the Kurdish parties that 500 IDPs were unable to vote because they were voters of the Kurdish parties," said Jalal Hanto, a KDP observer to monitor the electoral process.
The vote is being held six months before schedule, in a concession for anti-government protesters who rose up in October 2019 in Baghdad and Iraq's south.
Friday's so-called "special voting" two days ahead of the election is meant to free Iraqi police and army in order to provide security on Election Day.
The IHEC has opened the doors of 595 ballot stations for almost 1.2 million voters.
There are 3,234 candidates vying for 329 seats in parliament in Sunday's vote, the fifth held since the fall of Saddam Hussein after the US-led invasion of Iraq in 2003.
Almost 24 million of Iraq's estimated 40 million people are eligible to vote.