The Iraqi Prime Minister Mustafa al-Kadhimi has decided to release tens of Kurdish residents of Kirkuk arrested by Iraqi Security Forces ISF in the northern oil-rich city of Kirkuk on Tuesday night for attacking Iraqi army while celebrating results of general elections.
Media department of Kirkuk police has published photos of the detainees the moment they released in a meeting with police chief.
The Iraqi military and security forces have arrested 65 Kurdish residents of Kirkuk for disturbing security and stability and impeding smooth traffic in parts of the multi-ethnic city, Iraqi army and police said.
The young residents of Rahimawa and Shorja Kurdish predominant neighborhoods, north and east of Kirkuk were celebrating the preliminary results of general elections of October 10th in which the Kurdish political factions earned six out of the 12 seats of Kirkuk in the House of Representatives, four for the Arab political parties and two for the Turkmens.
Special Brigade 61 of Iraqi army deployed in Kirkuk and directly linked to the council of ministers in cooperation with local police sent patrols to both neighborhoods and arrested 65 young Kurdish residents of both districts and detained in Rahimawa and Azadi police stations. Some of them faced "abuse" for attacking the security forces "with water bottles and stones" as they tried to put the flags of Kurdistan and the leading Kurdish parties over the military vehicles.
Rebwar Taha, a Kirkuki member of Iraqi parliament, said the 65 Kirkukis arrested were released following a phone call between Bafel Talabani, leader of the patriotic Union of Kurdistan PUK, one of the leading Kurdish parties which won three seats in Kirkuk, and PM Kadhimi.
Media of PUK said that both discussed the security situation in Kirkuk and agreed to release all Kirkukis arrested in the last two days following the general elections.
"Bafel Talabani has told Kadhimi it is his duty to defend those arrested overlooking their affiliations because they are Kirkuki Kurds," Taha said in a joint press conference with Khalid Shiwani, a leader of PUK.
Shiwani said "the arrest is illegal as no judge issued arrest warrant and imposing martial law in parts of Kirkuk is unacceptable."
Located 238 kilometers north of Baghdad, Kirkuk is an ethnically mixed province for 1.6 million Kurds, Arabs, and Turkmen, Muslims, Christians and Kaka'is. It has long been at the center of disputes between Baghdad and the Erbil.
The Kurds had an upper hand in Kirkuk up to 2017 when Iraqi security forces declared victory over the Islamic State in Iraq and Syria ISIS and took over power in the disputed territories including Kirkuk.
Currently, Iraqi army, local and federal police, Brigade 61 of Special Forces along with Shiite paramilitary of Popular Mobilization Forces PMF, are under Kirkuk joint operations' command, an umbrella for the security forces running the security of Kirkuk province.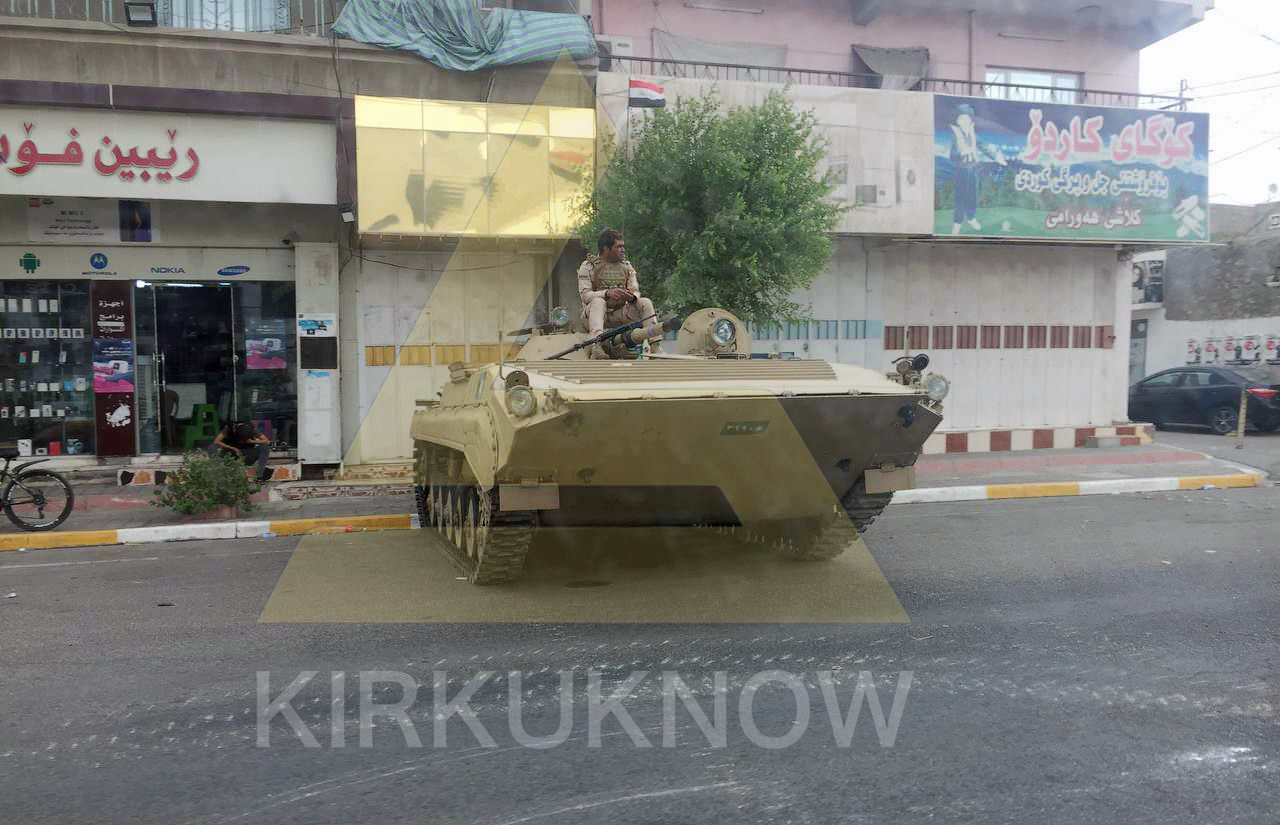 Up to midday, tanks were seen in the streets of Kirkuk following tensions on October 12th with heavy weapons and later withdrew.
The Kurdistan Democratic Party KDP which boycotted 2018 elections in Kirkuk and has earned two seats in latest elections, have accused supporters of PUK of instigating feud for losing three seats compared to 2018 elections.
The PUK has won three seats compared to six in 2018 while KDP has won two seats and the New Generation has earned a seat for the first time. The new electoral system brought forward six months as a demand of protestors, has divided the 12 parliamentary seats of Kirkuk into three electoral districts.
"Some people in PUK because of loosing couple of seats, have shot fire over the Iraqi army and the people celebrating pushing the Iraqi army, Popular Mobilization Forces, PMF, and the police to unfairly confront with our faithful people by hand and guns," said Kamal Kirkuki, leader of KDP leadership office in Kirkuk and Garmiyan.
The politburo of PUK has responded to KDP saying "some groups including members of KDP politburo endanger the cause of Kirkuk and destiny of its people for small partisan interests which is an illogical political move."
A police officer anonymously told KirkukNow "the young detainees are accused of destabilizing security and stability in Kirkuk and banning people from performing their duties." 
The Iraqi army and the special brigaded handed over the 65 people arrested per article 222 of Iraqi penal code to local police. The article states "any gathering leads to a crime, misdemeanor, hinders imposing law or local authorities' performance or the public, the perpetrators face imprisonment up to two years, fine or both."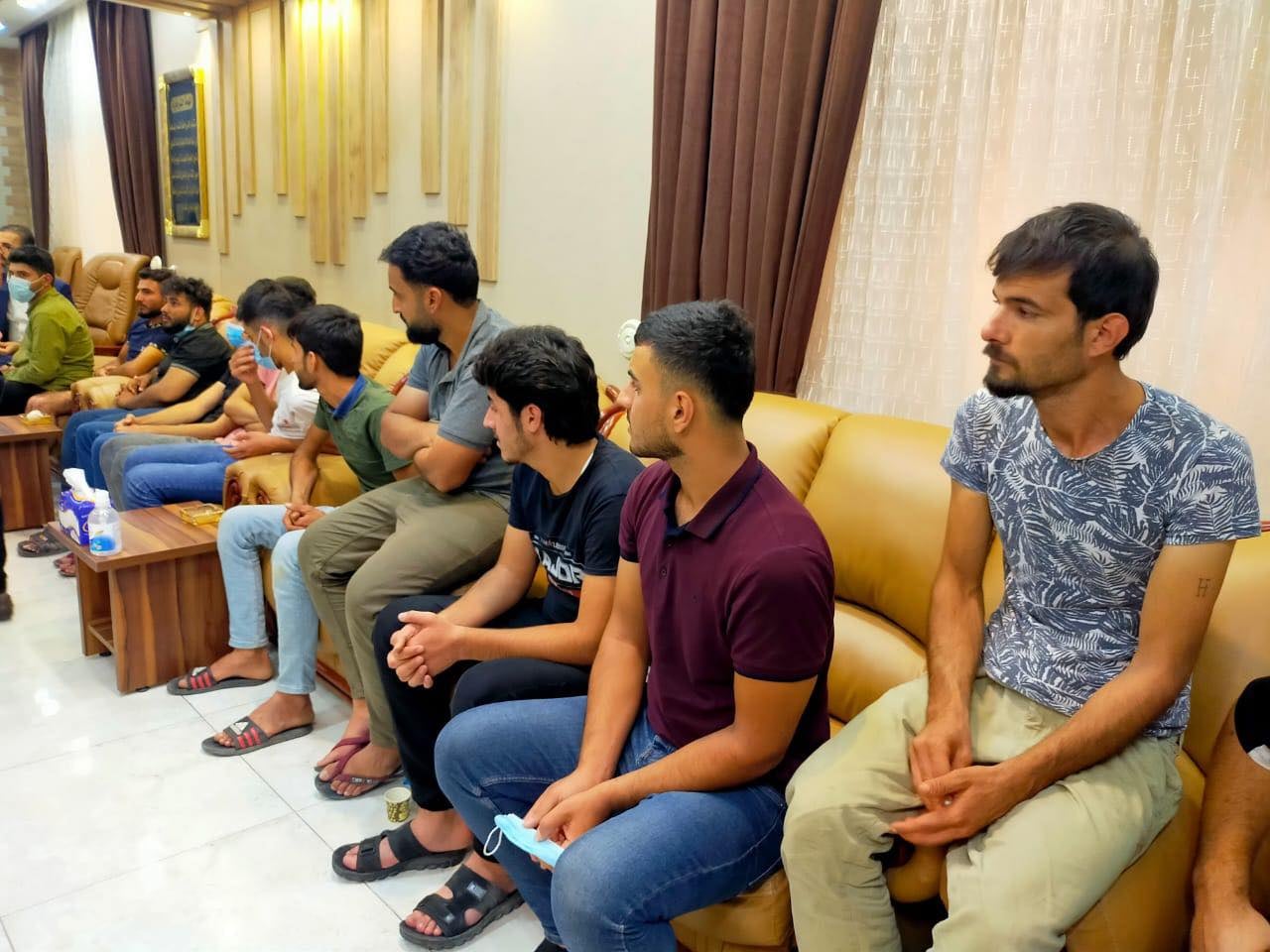 Iraqi Kurdistan Regional Government   KRG Prime Minister Masrour Barzani and Kadhimi discussed the security situation in Kirkuk following "an attempt to undermine the situation in Kirkuk following the success of the elections," said the statement by the Kurdistan regional Government KRG on Wednesday.
Both have agreed to release the detainees. "No one is allowed to instigate feud, chaos and disorder, harm the locals and cause damage to private and public properties."
No official statement released by Iraqi PM Office up to the moment.  
Shakhawan Abdullah, MP-elected of KDP, said in a press conference in Kirkuk, that "some members of a losing group infiltrated into KDP celebrations in Kirkuk to disturb the celebrations and create disorder."
The KDP has decided to halt all its celebrations in Kirkuk, he added.
Diyari Hussein, a leader of KDP in Kirkuk, told KDP media the incident was simple. "A chauvinist man insulted one of our supporters and broken his head and the case grossed otherwise none of our supporters or Peshmerga assaulted Iraqi army."
Kirkuk, October 13th 2021- a press conference by Shakhawan Abdullah, MP-elected of KDP about tensions in Kirkuk
A statement by Kirkuk police said on Tuesday "we are authorized to follow all legal procedures against those who try to destabilize stability in Kirkuk as duty is to protest people and their properties."
"Perpetrators of sabotage acts or those attempt to undermine the security situation inwill be arrested. The stability currently restored is outcome of years of struggle and round the clock service thus no sabotage act is allowed and tight procedures will be followed against those people for the interest of all."
Preliminary results show the Kurdish political parties have won six seats alike 2018 general elections while the Arab political parties have mounted their seats from three to four yet the Turkmens lost a seat and earned only two.