Another 41 identified Ezidi (Yazidi) remains of victims slaughtered at the hands of the militants of Islamic State in Iraq and Levant ISIL were returned from Baghdad Forensic Medicine to Ninewa where it was received by their families and relatives in a public ceremony and properly laid to rest.
The remains, 15 of them women and children, were flown Thursday from Baghdad to the village of Kojo in Shingal (Sinjar) to be buried in the village of Kocho of Shingal (Sinjar) district, home for the Ezidi community massacred at the hands of ISIL militants in 2014 when they took over Mosul and large swathes of Iraqi territories, almost one third of the war-torn country.
Baba Sheikh, the spiritual leader of the Ezidis, Iraqi and Kurdish officials of the Kurdistan regional government KRG have attended the ceremony.
Sabah Samir, media officer of Baba Sheikh office said the victims are originally from Kocho. Following identification in Baghdad, they are to be laid in Kocho."
The exhumtion of mass graves in Kocho village was first launched Mid-March 2019, and so far, the remains of nearly 500 victims have been exhumed in two stages from 20 mass graves. In Kocho, a 300-grave cemetery was prepared for the remains in 2019.
On February 7th, the identified remains of 104 Ezidis wee buried in Kocho and over 350 remains are still to be identified in Baghdad.
ISIS staged an assault on 3 August 2014 and committed mass killings throughout the district, including in Kocho mid of August. According to figures by the Ezidi Affairs of KRG Ministry of Awqaf (Endowment), 2,293 Ezidis were killed by ISIL militants in August 2014 and still over 2,000 are missing.
Up today, 80 mass graves have been discovered in Shingal along with dozens of single graves, all of which dating back to the time when ISIS attacked and took control of the district.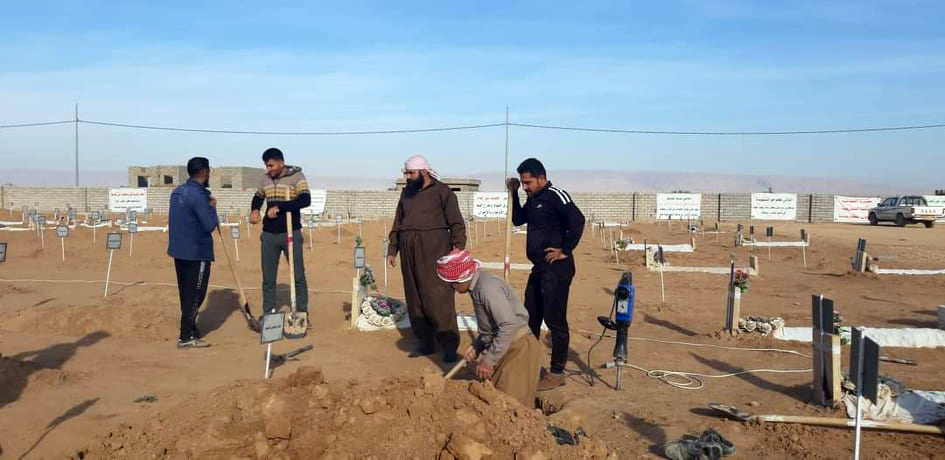 The war-ravaged and vulnerable Ezidi community was passing another tough day of its recent history for its thousands of years old religious beliefs.
"It is such a miserable day that I don't know how to describe it. It is just like Doomsday for us yet on the same time we hope for all the remains to be buried on our holly land of Shingal," bitterly said Hamid Mahmood, a resident of Kocho and cousin of the one of the remains to be laid.
Mahmoud in the first stage has buried five brothers yet still his parents, a brother and a sister are still missing.
"Our only demand is to determine the fate of the abducted in order to know if they are alive or been killed. It's about seven years we are waiting."
KRG's Office for Rescue of Abducted Ezidis' statement on August 2nd says out of 6,417 abducted Ezidis, up today 3,550 have been rescued from. Over 2,000 of them were children, and 1,206 women.
Out of 550,000 Ezidis, 360,000 were displaced, 160,000 back to Shingal, and 100,000 migrated abroad while the rest are still living under tents in camps for the Internally Dispalce Person IDPs.
Shingal, on the border of Iraq-Syria, is home to hundreds of thousands of the Ezidi community targeted by Islamic State in Iraq and Levant ISIL in August 2014 and one of the disputed territories between Baghdad and Erbil.