The director of Nineveh Agriculture says after the end of the control of the Islamic State of Iraq and Syria ISIS and due to the lack of job opportunities in the cities, the farmers residing in the cities returned to their villages and resumed agricultural activities and raising livestock.
In this interview conducted by KirkukNow, Rabie Yousef Alias, the director of agriculture described the current situation of the agricultural sector in the province as an "agricultural revolution" and pointed out that at a time when the province secures 60% of wheat and barley production in Iraq, they have established many factories for the production of dairy products and hundreds of poultry fields.
KirkukNow: After the recapture of Nineveh from ISIS grip (in August 2017), has the agricultural sector returned to what it was before?
Rabie Youssef: After the liberation operations in 2017, agriculture and livestock raising gradually began to recover. The governorate is currently witnessing an agricultural revolution in terms of cultivation and production of wheat and barley, vegetables, fruits and livestock. I can say that this revolution did not exist even before the advent of ISIS.
The Ministry of Agriculture pays special attention to Nineveh, given that the governorate produces 60% of wheat and barley crops in Iraq, as well as livestock, vegetables and fruits, especially potatoes and tomatoes. Livestock and the re-establishment of poultry fields and the production of eggs and milk products, we even export milk products to other governorates of Iraq.
We support farmers by providing chemical fertilizers and providing facilities to transport their products to other governorates, as well as supporting them to obtain modern equipment and contemporary irrigation techniques.
KirkukNow: How much land is cultivated with grain crops annually?
Rabie Youssef: This year we plan to plant six million dunums of agricultural land with crops of wheat and barley. In fact, Daesh did not damage the agricultural lands, but mainly destroyed the orchards, as more than 2,000 orchards were damaged, and they also destroyed most of the poultry fields. Currently, I do not have statistics on the extent of the damage, but these sectors are in remarkable recovery and growth compared to what they were before Daesh.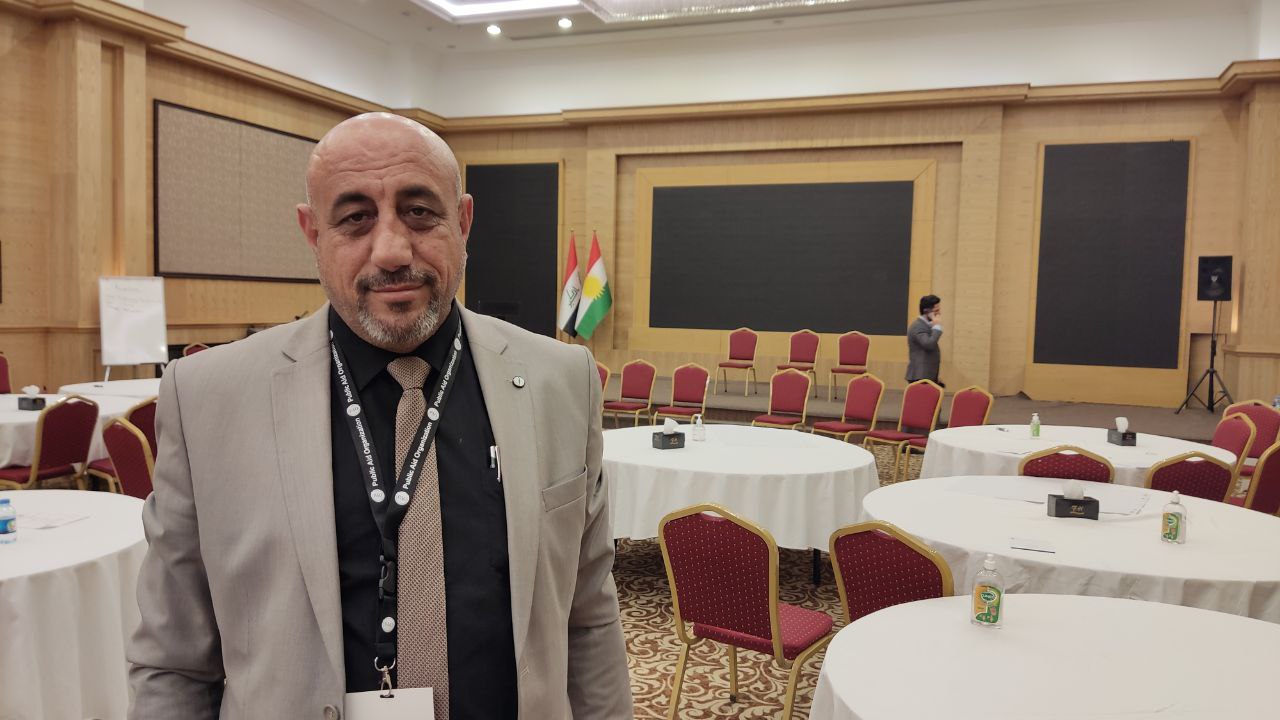 KirkukNow: In your opinion, what is the reason for the growth that occurred in the agricultural sector after the elimination of ISIS?
Rabie Youssef: There are no job opportunities in city centers, so people who previously lived in villages and owned agricultural land turned to raising livestock. Soon after the liberation of Mosul from ISIS, they returned to their lands, as agriculture was their main profession and their only source of livelihood.
Post ISIS, those who left their villages to the cities, returned again to the villages and resumed agricultural activity. For example, before Daesh attacks, there were between 100-150 poultry farms, but the number has now increased to 700. The reason behind this is due to the great interest given by the Ministry of Agriculture.
KirkukNow: What have you accomplished in the field of constructing factories and greenhouses to sustain agriculture in all seasons?
Rabie Youssef: We distributed nearly 250 greenhouses to farmers, with the support of a number of organizations. This year we plan to increase the number of greenhouses to 400.
Two years ago, we worked in coordination with the World Agriculture Organization FAO to establish factories for the production of dairy products. We established about 50 small factories for the production of milk and cheese. The products of these factories are currently available in the market and are also exported outside Nineveh Governorate.
We have also worked on establishing olive oil factories, as there are now two olive oil factories, one of which is located in Bashiqa (east of Mosul) and the other in Mosul (the center of Nineveh province), each with a production capacity of 600 liters of oil per hour, and we are currently planning to establish 15 other olive-pressing plants for farmers to produce olive oil.
KirkukNow: There are several organizations that support farmers, via microfinance up to 5,000 Dollars. Does this assistance affect the revival of the agricultural sector in Nineveh?
Rabie Youssef: There is no doubt that the support provided by the organizations is an important step, although the amount of loans is small and not for every farmer... We seek to persuade these organizations to cancel interest rates which range between 10-12% or reduce them to 5% but we have not reached a final agreement yet.