"I was deprived of cultivating my land for four years after it was liberated from ISIS in fear of war remnants and explosives, after farmers in nearby areas suffered accidents in which they lost their lives when these wastes exploded while they were plowing their lands in preparation for cultivation," says Amin Hassan, a farmer from Tal Afar.
"The explosives engineering in the Iraqi army has provided great support and cooperation with farmers in this field, but it seems that their capabilities are not as large as the mines and explosives left by the terrorist organization, so we have witnessed victims because of these remnants," Hassan added.
The last accident was on October 22, 2021, "ISIS war remnants exploded at a defensive site used by Daesh in the village of Kasr Mihrab, southwest of Tal Afar district, killing two children and wounding a third, while the security forces opened an investigation into the incident," a source in the Nineveh Governorate Police anonymously said.
Hassan and farmers in neighbor villages and rural areas of Talafar district, west of Mosul, are afraid to return to farming in fear of mines and war remnants that took lives.
Civil Defense Directorate in Nineveh Province has implemented 755 demining duties, which resulted in the dismantling of over 8,590 war remnants, and 33 bombs of various sizes.
According to the latest statistics by the United Nations UN, in December 2021, a hundred children were killed or injured in the first nine months of last year as a result of the explosion of mines and explosive remnants of war in Iraq.
Humanitarian organizations assert that this danger threatens one in four people, Iraq is usually one of the countries most affected in the world by these wastes.
An official source in the command of the 53rd Brigade (Al-Hussein Brigade) of Popular Mobilization Forces PMF (Al-Hashid Al-Shabi) stated that "the engineering unit of the brigade detonated an explosive device two weeks ago and dismantled a landmine left by ISIS in the village of Tarmi, west of Tal Afar."
"Another explosive device was detonated in the village of Kasr Mihrab, southwest of Tal Afar while the third bomb was detonated in the village of Jakan Kharab, east of Tal Afar.
Tal Afar is a Turkman-majority city located approximately 63 km west of Mosul. Sunni Turkmen account for approximately three-quarters of the 524,000 population while Shi'a Turk- men make up the remaining quarter with some Ezidis and Sunni Arabs in the neighboring villages.
ISIS captured Tal Afar on 16 June 2014, shortly after the fall of Mosul, and occupied the city for over three years. The assaults by ISIS caused the displacement of approximately 200,000 people from the city.  However, a significant part of the Sunni population, 50,000 people by some estimates remained in the city throughout the ISIS occupation.
Military operations to retake Tal Afar from ISIS took place from 20 to 31 August 2017 and were conducted by federal, coalition and PMF forces which urged 60% of the displaced to return home.
Daesh committed atrocities in June 2014 when they captured Tal Afar. 1300 people were abducted: 700 men, 470 women and 130 children, among them 400-500 in ISIS controlled prisons in Syria, a statement by Turkmen civil society NGOs said last year.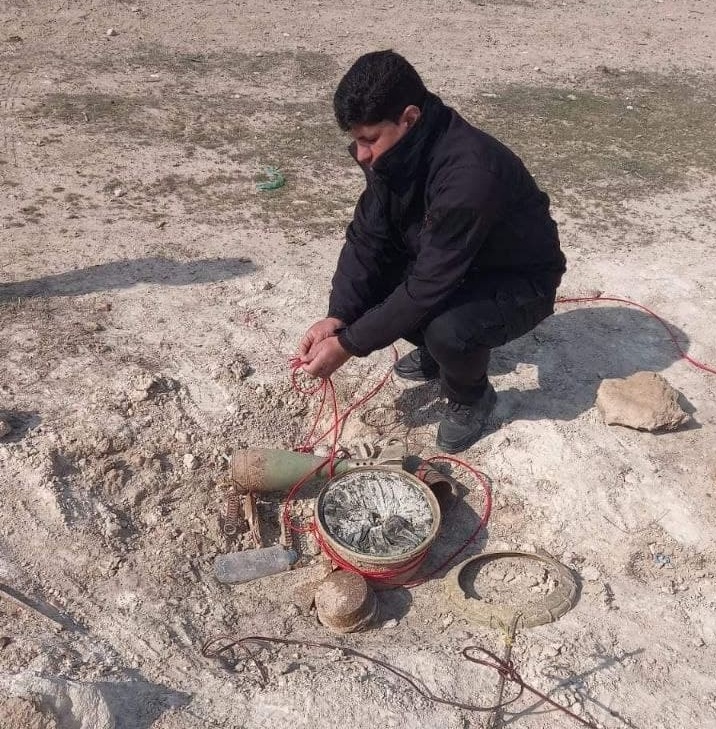 Akram Ali, a 55-year-old resident of Tal Afar, says, "War remnants are other means of killing that target citizens after the demise of the organization (ISIS), and Hashid dismantling trams contribute to purifying these areas and return of the residents."
"Talafar lost dozens of citizens after the liberation operations due to the remnants of war and roadside bombs, between houses and on farms by ISIS militants," he added.
International and local organizations are putting effort into informing the locals how to deal carefully with mines and war remnants.
"I worked with an international organization for nearly two years, and we organized dozens of awareness sessions about the dangers of remnants of war, among families, in schools, playgrounds, and farms, to avoid civilian casualties," says Muhammad Qassem, a civil activist.
"We also provided training for the young residents of both sexes in dealing with mines and were awarded special certificates."
Everything was mined, electricity poles, house doors, farms, public streets, even cans and kerosene barrels
Qassem explained that their opeartion area included the center of Tal Afar and the two districts of Al-Ayyadiyah and Zummar and its affiliated villages, the last strongholds of ISIS.
"Unfortunately, we lost one of our colleagues while treating one of the explosive devices left by ISIS on the outskirts of Al-Ayyadiyah district, north of Tal Afar, about a year ago," Qassem mourned.
He affirmed per the statistics of activists who worked on documenting victims' data, 76 victims lost their lives after the liberation of Tal Afar, due to war remnants and explosives left by ISIS after losing control of the city.
International organizations working in the field of removing mines and remnants of war confirm that the areas of Al-Ayyadiyah, Al-Asheq, Tamarat, Fiqh villages, Tal Judou, Haruna and Saja'a in Tal Afar district, and the nearby areas in the Zummar district, are scattered with war remnants, and reveal that removing mines is not an easy job, as they are buried and the technique of their work is unknown.
The removal teams may also be exposed to risks, in addition to the impact of climatic conditions on the work of the teams of the organizations.
"Everything was mined, electricity poles, house doors, farms, public streets, even cans and Kerosene barrels. The security services, with their various names, made all their efforts to dismantle and remove those explosives despite the modest capabilities and allocations for them. Rather, the security institutions provided victims during the dismantling of some explosives," a local official of Tal Afar anonymously said.
"The international organizations and volunteer teams also contributed in this field, and also organized awareness sessions for employees in their departments, school students in their colleges and schools, and families in their homes after recording victims as a result of those explosives."
Despite all efforts, locals are scared that any step they might take in their farms might led to catastrophic incidents.
"Although large areas have been cleared, I always advise my children not to pick up any objects or wires from the ground during their work on the farm, lest they be explosives," warned Amin Hassan, a farmer from talafar.
"There is no doubt that the presence of these waste directly affects the movement of displaced people back to Tal Afar."