The Iraqi federal government is preparing to double the capacity of crude oil exports from Kirkuk oil fields Ceyhan Turkish port, according to sources at the state-run Northern Oil Company.
Along with this preparation; An Italian company is planning to increase oil production from the Jabmur field in Kirkuk to 100,000 barrels per day.
"The Northern Oil Company is preparing to increase its export capacity from 100,000 to 200,000 barrels per day bpd through the Kurdistan Regional Government's KRG oil pipeline to Ceyhan Port," a source told KirkukNow on condition of anonymity.
The Kirkuk-Ceyhan pipeline, through which the Northern Oil Company exported oil, was disrupted in 2014 by ISIS fighters in Ninewa province.
Full plans are in place to increase exports
Kirkuk crude oil exports last April almost three million barrels, earning more than $ 304 million, an average daily export of about 100,000 bpd, compared to 1.5 million barrels in March.
Besides, more than 299,000 barrels of Kirkuk oil production in April were exported to Jordan by tankers, earning more than $26 million.
The source said the company has a full plan to increase exports, but they are waiting for the instructions of the State Oil Marketing Organization SOMO, affiliated to the Iraqi Oil Ministry.
The real production capacity of Kirkuk's oil fields now reaches 325,000 barrels per day, the source said, although in 2019, the Oil Ministry announced a plan to increase the province's crude oil production to 1 million barrels per day, part of it exported and the rest for local consumption.
Kirkuk, Iraq's second largest oil reserves, located 238 kilometers north of Baghdad, is an ethnically mixed province for 1,7 million Kurds, Arabs, and Turkmens. It has long been at the center of disputes between Baghdad and the Erbil.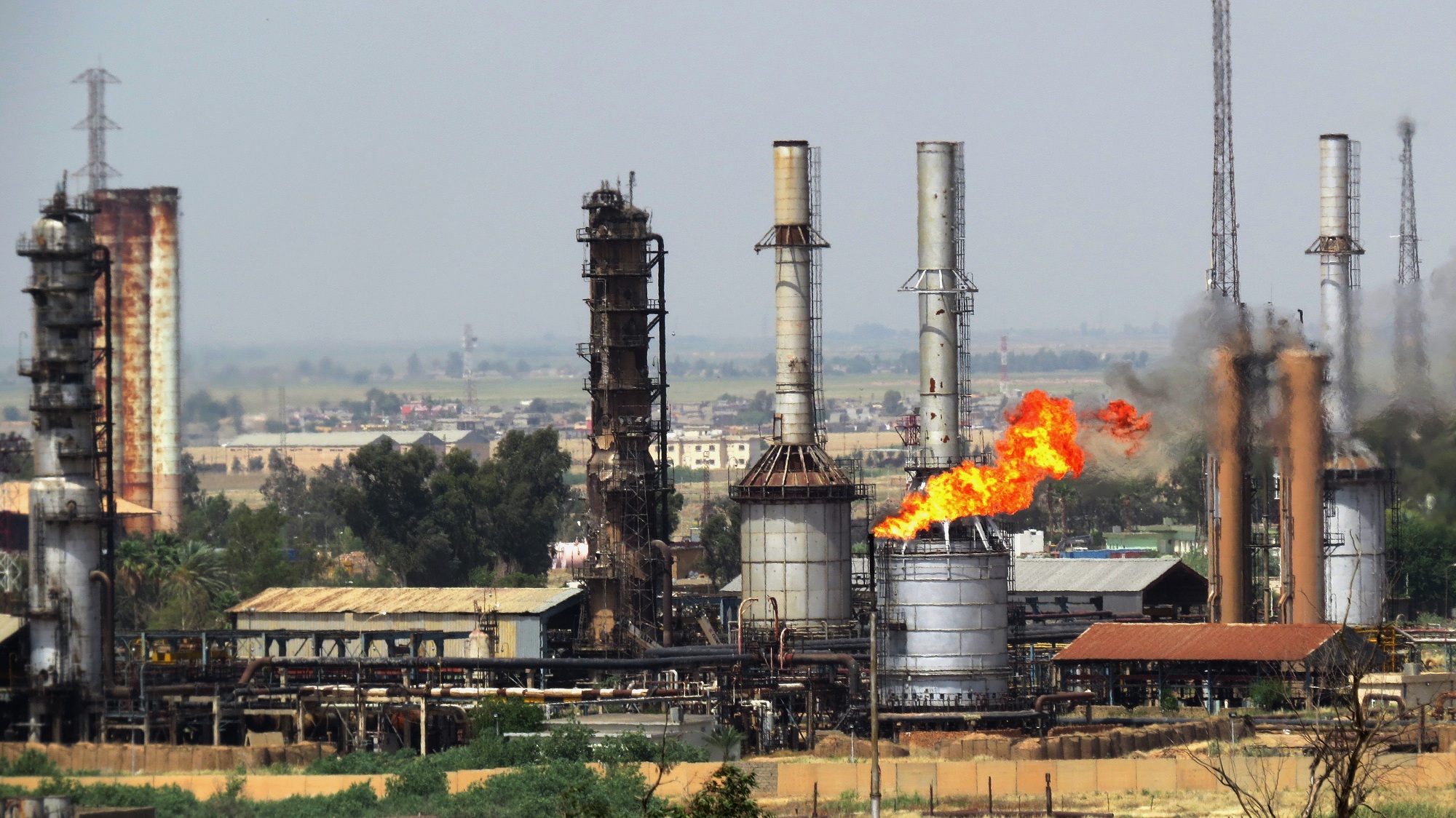 "An Italian company specializing in the oil industry has been able to implement a project to treat the crude oil and refine it at a high-quality level," an official source in the Jambur oil field told KirkukNow.
He added that the project will increase the production capacity of the Jambur field to 100,000 barrels per day,"which is considered the largest project in recent years and will play a role in expanding the scope of work in the field."
Kirkuk's oil exports to Turkey dropped by more than 1 million barrels to 1.475 million barrels last February from more than 2.5 million barrels in December.
The source said the Italian company's project is to extract salt from crude oil, which will go through several stages and result in the production of good quality oil.
The Jambur oil field is located in southern Kirkuk, contains 77 oil wells and has been operating since 1959.
The Oil Ministry can market clean, high-quality crude oil for higher revenue
"The implementation of the Kirkuk crude oil treatment project will play a major role in reducing the salt content of the oil produced in the Jambur field, which currently produces 36,000 barrels per day," Hamid Sadiq, an economist from Kirkuk said.
"Now, the ministry of oil can market clean and high-quality crude oil for higher revenues."
From July 2017 to early 2019, oil exports from the five main fields in Kirkuk had been suspended due to standoff between the between the Iraqi and the Kurdistan Regional Governments as a result of the October 2017 referendum for independence by the latter.
There five major oil producing fields in Kirkuk are  Avana, Bai Hassan, Qubbet Baba, Jambour and Khabaza, which are supervised by the Iraqi government's North Oil Company.
The exports of crude oil in March have passed 100 million barrels, the highest in the last five decades, generating over 11 billion American Dollars, according to figures of the state-run State Oil Marketing Organization SOMO compared.
Iraq has pumped out 100.5 million barrels, including Kirkuk oil, and each barrel was marketed for USD110 per barrel, the highest production capacity since 1972.
Iraq's federal crude exports in February has touched 93 million barrels of crude oil, 3.5% raise from earlier month and the revenues exceeded eight billion dollars, excluding Iraqi Kurdistan Region IKR. The average price per barrel of Iraqi crude oil in that month was more than $92.