Every year since he survived ISIS, he has been the first at school which urged the Iraqi premier to receive him in Baghdad.
Hajim Khairi, student of grade five of primary school, once again became the first in the Walidi Mixed School in the war-torn district of Shingal (Sinjar), home to the vulnerable Ezidi community, after receiving the results of the final exams.
"I studied hard every day and my father encouraged me and helped me. I like Arabic lessons very much," Hajim, 11, said.
Hajim was only three-years-old when on August 3, 2014 he and several other members of his family fell into the hands of Islamic State of Iraq and the Levant (ISIL) fighters until he was rescued on March 21, 2017 together with his brother.
"Out of the 29 members of our family, 18 have survived so far, including my wife and children," Hajim's father, Khairi Abdullah told Kirkuk Now.
Hajim's family lives outside the camp in the old village of Kherava in Sumel district of Duhok Northern Province, where he passes primary school in grades one to three at the top of the classes he attended.
Shingal, located 120 km west of Mosul, center of Nineveh province, used to be home to over tens of thousands of the adherents of Ezidi ethno-religious minority and one of the disputed territories between Baghdad and Erbil. Ezidis also live in Shekhan, Bashiqa and other areas in Duhok Northern Province.
The Ezidi community constitutes 30% of the 664,000 Internally Displaced Person IDPs in the adjacent Iraqi Kurdistan Region, while the fate of more than 2,000 Ezidis is still unknown after they were abducted and enslaved by the militants of the Islamic State of Iraq and Syria (ISIS) in August 2014.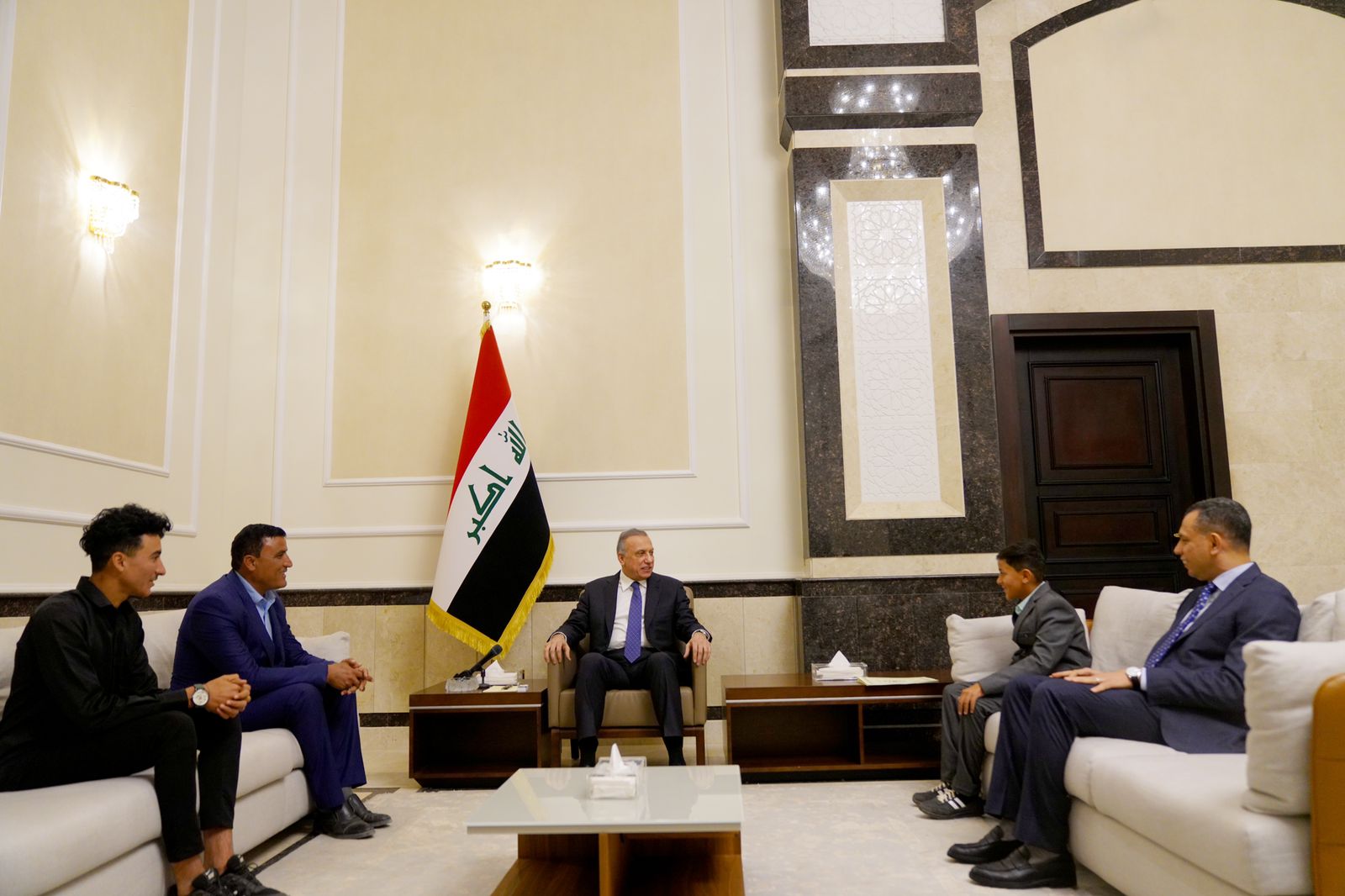 The Iraqi Prime Minister Mustafa Al-Kadhimi receives Hajim, his father and brother in Baghdad on May 26,
"I didn't ask the prime minister for anything. He asked me about the time I was captured by Daesh (ISIS), and then we talked about my education and my marks," Hajim said.
Al-Kadhimi's office said in a statement that Hajim was one of the children forced to become part of the "descendants of ISIS," an armed group of children, but "managed to turn his kidnapping into a great story of success."
Some of the Yazidi children who have survived ISIS captivity have undergone religious education to eliminate the influence of extremist thought and return to the Ezidi religion.
"We met with Kadhimi for half an hour and made a number of requests to him, including the excavation of mass graves of victims of Daesh, the reconstruction of Sinjar and service projects," Hajim's father said about the meeting.
More than 1,000 people, including children, have been killed in ISIS attacks on Yazidi citizens in Sinjar and the Nineveh Plain.
Seized in August 2014 by ISIS militants whom accused the Ezidis of being "devil worshippers," Shingal has been the scene of tragedy: a genocidal campaign of killings, rape, abductions and enslavement, and the surviving community fled to safer-heaven IDP camps in the adjacent northern Kurdistan region.
Out of half million population, over 350,000 Ezidis fled their towns to Kurdistan region and Shingal Mount. About 100,000 migrated to Europe, USA, Canada and Australia and over 100,000 are yet living in tens of camps for Internally Displaced Persons IDP in the adjacent Kurdish region.
In August 2014, ISIL took over Shingal and took 6417 Ezidis as captives and sex slaves, mainly women and children. Up today, 2781 of them are missing and brought to unknown destiny, the Kurdistan Regional Government's KRG office for rescue of the abducted Ezidis.
IS reportedly used the women and girls as sex slaves while the boys were brainwashed and trained to hold guns and forced to fight beside the local and foreign militants in Iraq and Syria.
Tens of thousands of Ezidis are still living in Internally Displaced Person IDP camps in Iraqi northern province of Duhok.