"These farms were a source of different kinds of rare fruits and vegetables, especially figs, pomegranates, berries and strawberries, (yet) it needs the support of the relevant agricultural institutions, so that it does not turn from a green area into a dead desert," Abdulrazaq Waraqa, a farmer of Tal Afar bitterly said
The farms of Tal Afar in western Ninewa province are famous in the province, covering an area of ​​at least 500 acres and are watered by the Subashi spring, which is the source of water for the farms.
The farms provide livelihoods for thousands of families and export their products to the district and the entire province, but are currently not given much attention, after being destroyed during the war against the Islamic State of Iraq and the Levant (ISIL) from 2014 to 2017.
"Rare varieties of figs are produced in the farms of Tal Afar," he said. "Farmers do not have the necessary capacity to revive their farms, some of them have given up farming and turned to other jobs to provide for their families," Waraqa said.
Some of them have given up farming and turned to other jobs
Tal Afar district, which has a population of more than 524,000, according to the Ministry of Planning in 2019, is made of the district center and three subdistricts, 69 km northwest of Mosul, center of Ninewa province.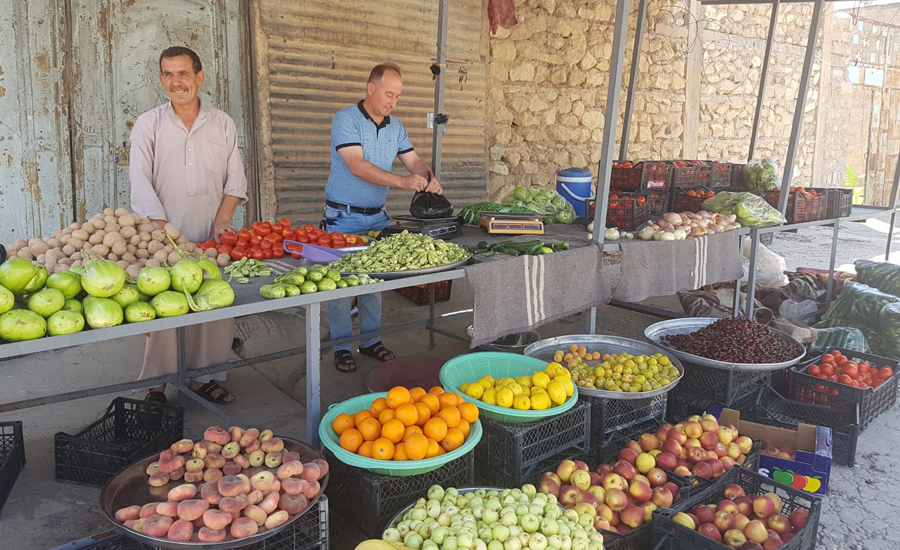 Jassim Mohammed Younis, the former director of irrigation in Tal Afar, said the climate and fertile soil are suitable for agriculture. Farmers cultivate wheat, barley, cotton, watermelon yet its famous for its figs, olive and pomegranates."
In normal years, the range of rainfall in Tal Afar is 150-400 mm, which agriculture and horticulture experts say helps revive nearby springs, including Subashi.
According to the Ninewa Agriculture Directorate, before the capture of the district by ISIL fighters, there were about 100,000 fig trees and 70,000 pomegranate trees in Tal Afar that relied on the Subashi spring.
The Subashi spring flows from the lower part of the fortress at a rate of one to three meters per second and irrigates 500 acres of farmlands, according to the former director of irrigation in Tal Afar. This is in addition to several acres planted with vegetables on the Subashi Canal.
The spring water is used to irrigate farms and vegetable crops between May 18 and October 18, then used to irrigate winter vegetables between October 19 and May 17 the following year.
Majority of Talafar residents are Sunni Muslim Turkmens, while some Arabs and Kurds reside some urban areas and villages.
Daesh committed atrocities in June 2014 when they controlled the town of Talafar. 1300 people were abducted: 700 men, 470 women and 130 children, among them 400-500 in ISIL controlled prisons in Syria, according to civil society organizations NGOs.
The disputed territories consist of 14 administrative districts, including Talafar, spread across the four governorates of Ninewa, Kirkuk, Salahaddin and Diyala in northern Iraq.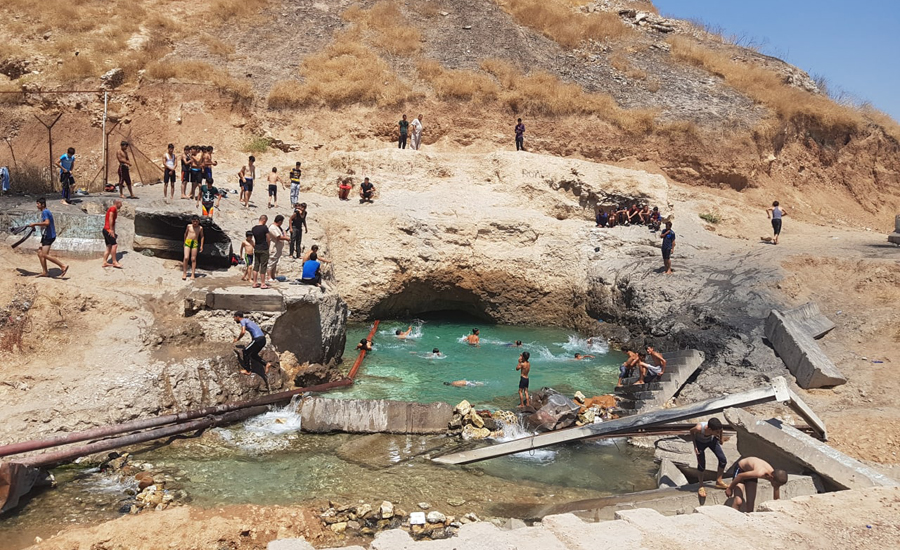 Rashid Abdulqadir, a Turkmen historian, said the farms have an ancient history and belong to the residents of Tal Afar. They were registered in the Ottoman Empire offices
Besides the importance of farms in terms of economy and livelihood, it is considered a tourism asset.
"These farms should be protected because they have a role in reducing desertification, environmental pollution and the effects of dust, is considered one of the prominent features of the city," Abdulqadir said.
After the liberation of Talafar from the control of the ISIS, in August 2017, about 60% of the displaced Turkmens, mostly Shiite Muslims, returned home while the others refrained to return, spread in a number of southern and central province, especially Najaf, Karbala and Babylon, Kirkuk Iraqi Kurdistan Region IKR in the north, and some families fled to Turkey.
Turkmens are considered the third largest ethnic group in Iraq after Arabs and Kurds, residing almost exclusively in the northern towns and villages stretching from Talafar through Mosul, Erbil, Altun Kupri, Kirkuk, Tuz Khurmatu, Kifri and Khanaqin. They are half Sunnis and half Shiite.
These farms should be protected because they also play a role in reducing desertification, environmental pollution and the effects of dust
Meanwhile, Mohammed Ali, an agricultural and economic expert in Tal Afar, believes, "the atmosphere of the farms is attractive and gives you peace, a source of beauty and peace, but unfortunately after 2014 faced destruction."
"It needs revival in order to restore its beauty and turn into a touristic area visited by tourists," Ali hopes.
"These farms suffered. They were burned and destroyed by the fighters of the terrorist organization Daesh (ISIL), who used the farms as a hideout during military operations, so it became the target of air strikes and caused great damage," Waraqa recalls.
"We hope once those days will be back when families were touring the green area and our children would return to play in the green spaces."